The General Secretary of the Irish Nurses and Midwives Organisation has criticised the Health Service Executive for not tackling the issue of hospital overcrowding.
Phil Ní Sheaghdha warned that Covid-19 spreads easily in overcrowded environments.
She said: "Going to hospital should not be a risk of itself ... we believe it now is, particularly with the overcrowding levels."
The INMO said there are 317 people awaiting admission to a hospital bed today, with 275 patients waiting in emergency departments, while 42 are in wards elsewhere in hospitals around the country.
There are 51 patients awaiting admission to a bed at University Hospital Limerick, with 41 waiting at Cork University Hospital, and 28 at University Hospital Galway.
The INMO is to write to Minister for Health Stephen Donnelly about the issue.
In a statement the Saolta University Health Care Group said: "The Emergency Department at University Hospital Galway has been extremely busy this week with higher than average numbers of people attending.
"There is ongoing pressure on bed availability in the hospital and we regret that many patients are currently experiencing long waiting times to be admitted from the ED to an acute bed in the hospital.
"We ask people to contact their GP or the Westdoc Out Of Hours Service in the first instance if their health problem is not urgent."
Speaking on RTÉ's Today with Claire Byrne, Ms Ní Sheaghdha said more beds are needed in the system.
She said the INMO wrote to the Health Information and Quality Authority at the beginning of June because overcrowding at University Hospital Limerick had gone "out of control".
She added that the hospital now has additional beds and trolleys on wards.
"This should be absolutely the last thing that is happening in the middle of a variant like this, in the middle of a pandemic," she said.
She said a lot more work should be transferred to private hospitals in order to ease pressure on staff in public hospitals, adding that she wrote to the head of the acute hospital division in the HSE three weeks ago asking them to immediately do this.
Ms Ní Sheaghdha said hospital staff are also extremely worried about their working conditions with nurses having to wear PPE in very warm conditions.
In addition, she said, ventilation in hospitals is poor and INMO members do not believe that the air exchange is sufficient and the INMO has sought an independent review of hospitals.
She said measures being implemented at restaurants and schools should also be given to hospitals.
Ms Ní Sheaghdha said that vaccine breakthrough is low among healthcare staff, but pointed out that 2.6% of vaccine breakthrough cases still translates to around 260 people a fortnight, which is still too high.
She added that it is also now clear that agency nurses are choosing to work in vaccination centres and this is leaving hospitals short.
The Regional Hospital Mullingar has over 50 shifts not covered over this week and next, she said.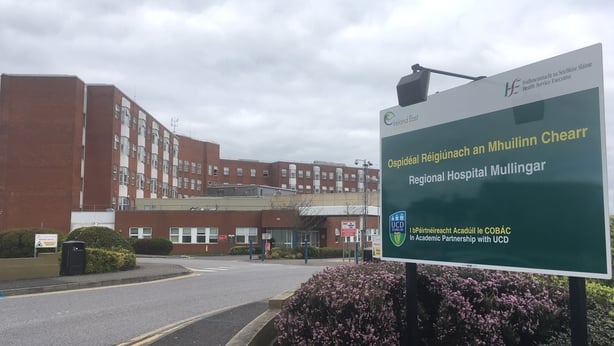 The INMO has also sought reprieve for members so they could look forward to some extra leave following the pandemic.
However, Ms Ní Sheaghdha said that this had to be referred as an outstanding grievance to the Workplace Relations Commission.
The first conciliation conference was held and it is set to be reconvened on 5 August.