A 18m (60ft) artwork featuring a 21-year-old woman with Down syndrome will be unveiled in Dublin city centre to mark Down Syndrome Ireland's 50th birthday.
The artwork entitled, 'Don't Talk Down to Me', has been created by renowned street artist and activist Joe Caslin and will be seen on the side of a building at the corner of Harcourt Street and Clonmel Street in the capital.
It will feature a smiling Amanda Butler from Mullingar, Co Westmeath.
Ms Butler said she is "so excited to be part of Down Syndrome Ireland's anniversary" and that she is "grateful I have been given the chance to shine".
Ms Butler is a friend of the artist and he said that it has been "personally poignant" for him to work on this particular piece.
'Don't Talk Down To Me'. This huge artwork featuring 21-year-old Amanda Butler from Mullingar was erected in Dublin city centre overnight to mark Down Syndrome Ireland's 50th birthday | Read more: https://t.co/a4fhPgBMh3 pic.twitter.com/kXB7UbI5KP

— RTÉ News (@rtenews) July 27, 2021
"I'm very proud to work with my friend Amanda and her family," Mr Caslin said.
"In this drawing Amanda invites you into her world - she asks you to consider her, her Down syndrome and the positive presence she can bring to a space, a place of work, a neighbourhood or indeed a city."
The unveiling of the portrait coincides with the release of a new report, The Upside – Life with Down syndrome, that highlights the gaps between the public's aspirations and the reality for people with Down syndrome and their families in day-to-day life.
It focuses on four key aspects of life for a person with Down syndrome; health, education, employment and life in the community.
Ireland has the lowest rate of employment and one of the highest poverty rates for people with disability in the EU, according to an Oireachtas Disability Group Pre-Budget Submission 2021.
"We need to change this," said Barry Sheridan, CEO of Down Syndrome Ireland.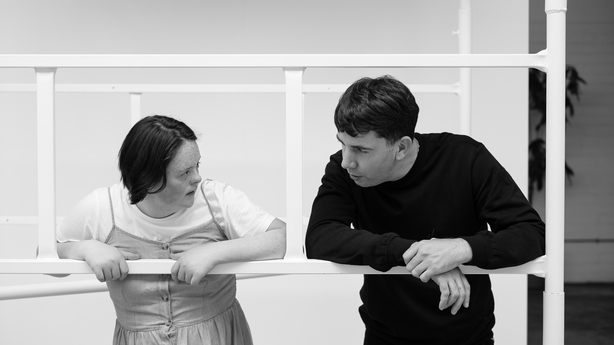 "In the past five years, Down Syndrome Ireland has submitted over 20 submissions to a wide and varied range of Government consultations. We have participated in numerous pilot programmes, but significant gaps to inclusion remain. The time for discussion has passed. Now it is time for action."
The charity is calling for full implementation of already adopted legislation and policies, as well as the need for urgent updating of long-standing laws which are out of date, irrelevant and unfit for purpose.
Mr Sheridan added: "For example, there is key legislation such as the 2015 Assisted Decision-Making (Capacity) Act, that has not been fully implemented. This leaves vulnerable people having their capacity challenged using the 1871 Lunacy Act, a 150-year-old law. It is unacceptable and shocking that it is still in place. Let's make it the last anniversary for this law.
"On our 50th birthday we re-dedicate ourselves to a world in which all people with Down syndrome have the opportunity to enhance their quality of life, realise their life's aspirations and become valued members of a welcoming society."
Speaking later on RTÉ's Morning Ireland, Mr Sheridan said: "We remain not as inclusive as we should be."
He said that prompt access to healthcare and especially to early interventions and therapies, such as speech and language therapy, are essential.
DSI said that while life has changed fundamentally for people with Down Syndrome since 1971, only 6% of adults are in employment and this needs to be much higher.
"Everyone has a role to play in that," Mr Sheridan said.