The Department of Health has confirmed 1,126 new cases of Covid-19. There are 123 people in hospital, up 18, and 22 people in ICU, up one.
Daily case numbers may change due to future data review, validation and update.
Over 5.5 million vaccines have been administered in the country, with 83% of the eligible population now partially vaccinated and over 68% fully vaccinated.
It comes as the Chief Executive of the HSE Paul Reid has urged people to embrace tomorrow's reopening of indoor hospitality safely and to "make it work".
Mr Reid said: "As hospitality, society and the economy opens up further, let's all embrace it safely and make it work."
In Northern Ireland, 1,264 new Covid cases have been reported along with two deaths in past 24 hours.
Over one million people in Northern Ireland are now fully vaccinated, according to the Department of Health.
Hospitalisations are rising in both the South and the North of the country.
In a social media post, Belfast Trust appealed for Trust nursing staff to work tonight.
We are under extreme pressure in the RVH & Mater as we care for an increasing number of Covid19+ patients, alongside emergency admissions. We are asking for help from our Trust nursing staff to work tonight & overnight & ask those available to work tonight to ring 07825 140 173

— Belfast Trust (@BelfastTrust) July 25, 2021
Meanwhile, the Minister for Education has moved to ''reassure parents'' that there is no threat to schools reopening as scheduled from late August.
In a statement, Norma Foley said the reopening would be carried out in close consultation with Public Health and education partners.
"As has been the case throughout the pandemic the reopening will be carried out in close consultation with Public Health and education partners," she said.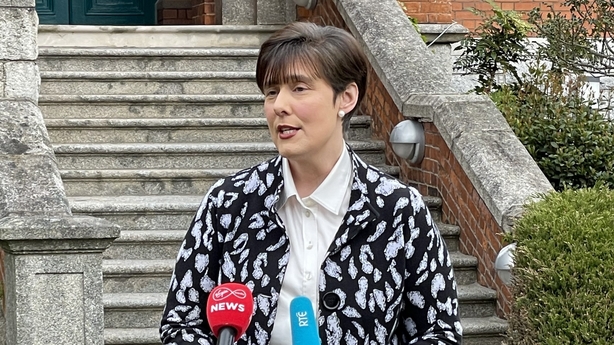 She added: "The new variants of the disease do not change the infection prevention and control measures required in schools."
Ms Foley is due to bring a memo to cabinet on Tuesday outlining her Department's ongoing plans to get schools reopened for the start of the new school year.
Ms Foley has been briefed by public health officials ahead of the final Cabinet meeting before the summer break.
The Department of Education has said public health advice is that compliance with measures, including the wearing of masks in secondary schools, ensures that schools remain low risk for children and staff.
"Schools will continue to be supported in terms of the additional resources necessary to provide for these measures," the Department said.
---
Read more: Latest Covid-19 stories
---
C02 monitors will also be available for every classroom in Ireland, and are due to be distributed to schools in August and September.
Depending on the size of the school, officials have said, between two and 20 will be distributed to primary schools, while between 20 and 35 will be distributed to secondary schools.
The estimated overall cost will be around €4 million.
Education officials have said the guidance is for schools to have windows open "as fully as possible when classrooms are not in use".
The advice is to do this during break times or lunch times, and also at the end of each school day. Experts have advised that windows be kept partially open when classes are taking place.
The ASTI has said it is happy that all teachers will have been offered a vaccine by the time the schools reopen.
"The [installation] of C02 monitors and the fact that 16 and 17 year olds will be able to register for the vaccine next week will make schools a safer environment for both students and teachers," Ann Piggott, ASTI President said.
However, Ms Piggott said the union is "worried about the Delta variant and there is every chance another variant could come along in the meantime".
The ASTI will resume regular meetings with the Department of Education in August, weeks before the schools are due to return.
Additional reporting: Dimitri O'Donnell