The world's richest man Jeff Bezos reached the edge of space after taking off on Blue Origin's first human flight.
The Amazon founder blasted off in the sub-orbital New Shepard rocket from Texas on the 52nd anniversary of the Apollo 11 moon landing.
He entered space with his brother Mark, female astronaut Wally Funk, 82, who trained in 1961 but never went to space, as well as the company's first customer, Dutch 18-year-old Oliver Daemen.
Ms Funk and Mr Daemen are the oldest and youngest people to fly into space, respectively.
The flight lasted just over ten minutes from launch to capsule landing.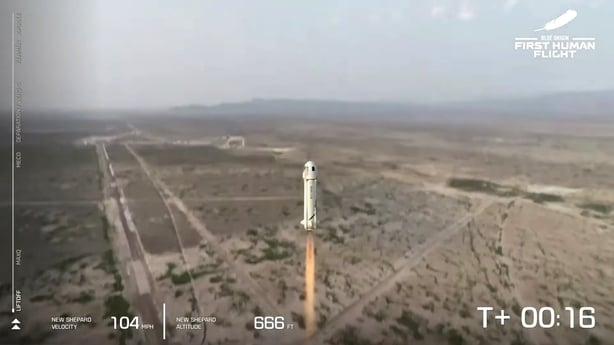 Astronauts experienced three to four minutes of zero-gravity and travelled above the Karman Line, which is considered to be the boundary of space.
After the launch the crew could be heard cheering and shouting "woohoo".
The booster that blasted the group of four into space before separating successfully landed back on Earth shortly after lift-off.
Shortly after the soft landing, a voice that appeared to be that of Jeff Bezos could be heard saying: "Best day ever."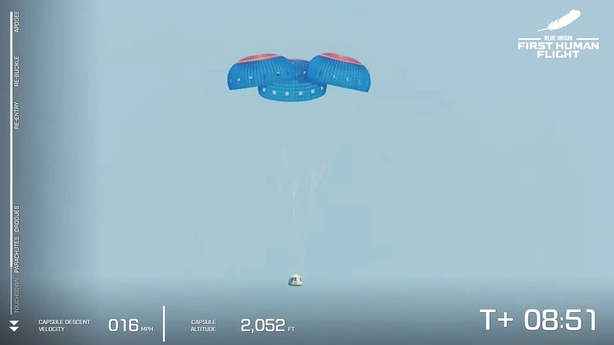 When asked by mission control how he was, his brother Mark said: "I am unbelievably good."
Jeff Bezos, wearing a blue flight suit and cowboy hat, hugged his parents Jackie and Mike as he exited the cabin.
The four adventurers were greeted with cheers and champagne from family and friends as they returned.
The mission comes days after Richard Branson flew into space on Virgin Galactic.
It aimed to reach an altitude of roughly 106km (66 miles), more than 16km (10 miles) higher than Mr Branson's ride on 11 July.
Blue Origin is planning two more flights before the end of the year.
"A very happy group of people in this capsule," said Mr Bezos after the spaceship touched down in the west Texas desert.
The four-member crew exchanged high-fives and hugged family who came to meet them at the landing site.
The wealthiest man on the planet, Jeff Bezos, is riding his own rocket to outer space, a key moment for a fledgling industry seeking to make the final frontier accessible. https://t.co/jhUkUFcCsQ

https://t.co/OueZ5vgnZv

— RTÉ News (@rtenews) July 20, 2021
Earlier, the New Shepard capsule reached at an altitude of 66.5 miles (107 kilometers), allowing the passengers to experience weightlessness while admiring the curve of the Earth.
"It's dark up here," said Ms Funk
She was one of the so-called Mercury 13 group of women who trained to become NASA astronauts in the early 1960s, but was passed over because of her gender.
Mr Bezos, 57, founded Blue Origin in 2000 with the goal of one day building floating space colonies with artificial gravity where millions of people will work and live.
Today, the company is developing a heavy-lift orbital rocket called New Glenn and also a Moon lander it is hoping to contract to NASA.
Named after Alan Shepard, the first American in space, the New Shepard suborbital rocket had flown 15 uncrewed flights to put it through its paces and test safety mechanisms.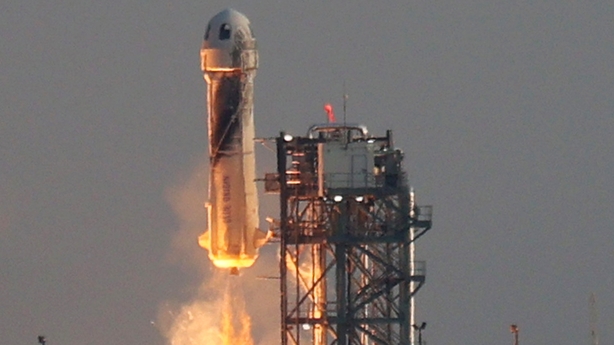 Lift-off was slightly delayed and came at 2.12pm Irish time from a remote facility in the west Texas desert called Launch Site One, some 40km north of the nearest town, Van Horn.
"This might have looked easy today, it was anything but easy," said Gary Lai, lead designer of New Shepard.
New Shepard is an 18.3m and fully autonomous rocket-and-capsule combo that cannot be piloted from inside the spacecraft.
It is completely computer-flown and had none of Blue Origin's staff astronauts or trained personnel onboard.
Virgin Galactic used a space plane with a pair of pilots onboard.
---
Read more
Can space tourism become more than just a joyride for rich lads?
---
Notably absent was the still anonymous winner of a $28 million auction for a seat, who had "scheduling conflicts" and will take part in a future flight.
Mr Daemen's father, the CEO of a private equity firm, was a runner-up in the bidding, allowing his teenage son to become the company's first paying customer.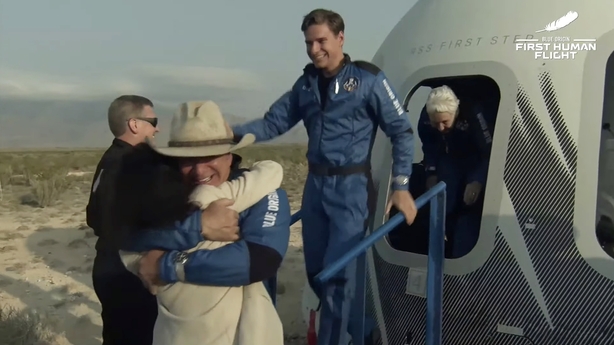 After lift-off, New Shepard careened towards space at speeds exceeding 3,700km/h using a liquid hydrogen-liquid oxygen engine whose only byproduct is water vapour.
The capsule separated from its booster, and when it got high enough, the astronauts unbuckled and experienced space for three to four minutes.
The booster returned autonomously to a landing pad just north of its launch site, while the capsule fell back to Earth with three giant parachutes, and finally a thruster, for a gentle landing.
Blue Origin has remained relatively coy about what comes next. The company says it plans two more flights this year, then "many more" next year.
Analysts say much will hinge on early successes and building a solid safety record.
CEO Bob Smith revealed on Sunday that the next launch could take place in September or October, adding "willingness to pay continues to be quite high".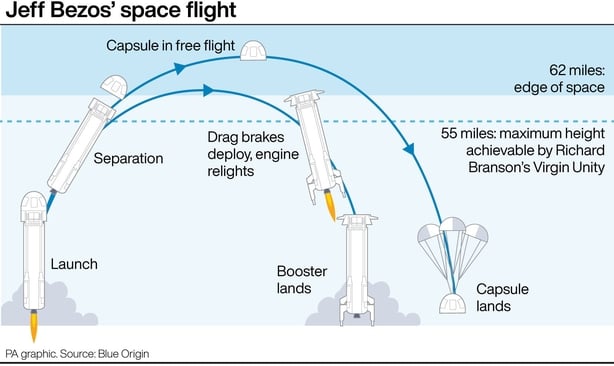 At the same time, the sector is beginning to face criticism over the optics of super wealthy individuals blasting off to space while Earth faces climate-driven disasters and a coronavirus pandemic.
Blue Origin appears to have a reservoir of future customers.
More than 6,000 people from at least 143 countries entered the auction to become the first paying customer.
Virgin Galactic has said 600 people have booked reservations, priced at about $250,000 per ticket.
Mr Branson has said he aims ultimately to lower the price to about $40,000 per seat.
Jeff Bezos has a net worth of $206 billion, according to the Bloomberg Billionaires Index.
Additional reporting Reuters/AFP