An Irish Air Corps helicopter is assisting Dublin Fire Brigade crews on Howth head as they battle ongoing gorse fires.
Dublin Fire Brigade has around 25 firefighters, as well as five fire engines and a water tanker at the scene.
The fire is burning deep in the undergrowth and has proved very difficult to extinguish, with flare ups continuing.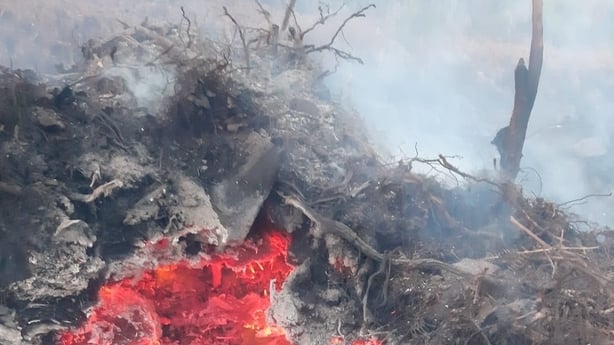 The Air Corps has deployed a helicopter to the scene a number of times in recent days to aid efforts to extinguish the blaze.
In a statement this evening Dublin Fire Brigade said warm temperatures continue to dry out the vegetation, and that crews were working to protect property and infrastructure and to prevent the fire from spreading.
Fire breaks have been put in place 30 meters from houses in the area and are being maintained by firefighters.
Dublin Fire Brigade confirmed this blaze is a continuation of an original fire that started on the 22 June.
"It is now burning underground and is popping up into dry vegetation on the surface causing "flare ups," a spokesperson explained.
Firefighting efforts are expected to continue into the night.
Two crews of Firefighters are at the #Howth wildfire monitoring and tackling hotspots and flare-ups.

Resources will be assessed and more will be called in if necessary.

Video from yesterday evening when @IrishAirCorps and @OC3OPS were assisting the efforts. pic.twitter.com/co6vMMaglq

— Dublin Fire Brigade (@DubFireBrigade) July 17, 2021