The Department of Health has been notified of 1,173 new cases of Covid-19, with people who are awaiting full vaccination urged to "take every precaution" this weekend.
The number of people in intensive care units is 23, up one on yesterday. There are 79 people being treated for the virus in hospitals.
National Public Health Emergency Team member Professor Philip Nolan has warned: "We are seeing very rapid increases in incidence in 16-18, 19-24 and 25-34 year olds.
"The rise in those aged 16-18 years is exceptional," he said on Twitter.
"Please do everything you can to stay safe, and to encourage and support those around you to stay safe too."
In a statement, Chief Medical Officer Dr Tony Holohan said that cases of Covid-19 are increasing in 22 out of 26 counties.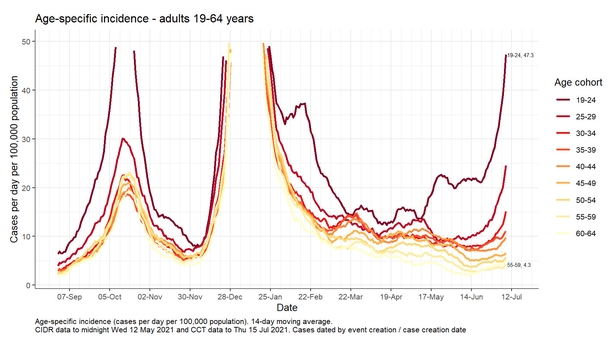 He said unvaccinated people are at high risk of contracting Covid-19 due to the highly transmissible Delta variant.
Just over 50% of today's cases are in the 19- to 34-year-old age group.
"We need those who are waiting for full vaccination to take every precaution this weekend and to adhere strongly to the public health advice as they await their vaccines - this includes limiting your social contacts, meeting outdoors, staying 2m apart, wearing masks and avoiding international travel," he said.
"If you are experiencing symptoms of cold and flu: headache, sore throat, runny nose, please let your close contacts know, stay at home and get tested as soon as possible for Covid-19."
Deputy Chief Medical Officer, Dr Ronan Glynn, urged unvaccinated people to "be patient and wait" until they had the vaccine before engaging in "risky" indoor activities.
He told RTÉ's Six One News that the pandemic trajectory was now heading towards the "pessimistic" end of the NPHET modelling scenarios, but added: "It is not too late to change course."
Dr Glynn said people have choices. "No-one is forcing anyone to do an activity or meet up with multiple different people."
He warned: "Unfortunately we still have a large reservoir of people - around 2.5 million - who are not vaccinated and a virus that transmits much more easily."
Asked about a new study showing younger adults admitted to hospital with Covid are almost as likely to suffer from complications as those over 50 years old, the Deputy CMO said: "This is not a disease you want to risk getting.
"While the vast majority of young people who contract Covid will be OK, there is a 10% to 15% risk of Long Covid."
We need your consent to load this rte-player contentWe use rte-player to manage extra content that can set cookies on your device and collect data about your activity. Please review their details and accept them to load the content.Manage Preferences
---
---
Dr Glynn also said overseas travel - allowed from this Monday for people with an EU Digital Cert - was a "risky activity" and that holiday hotspots like Portugal and Spain are in "real difficulty" with infection rates.
Earlier, the Seanad passed laws to allow for the reopening of indoor hospitality while restricting access to those who have been fully vaccinated, have recovered from Covid-19 and some children and staff.
The Health Amendment No 2 Bill was passed in a roll call vote by 39 votes to seven, meaning it has passed all stages of the Oireachtas and now requires the signature of President Michael D Higgins before becoming law.
Ahead of the vote, Minister for Health Stephen Donnelly said the infection rate for the 16-to-18 year old group is now at the same as the peak in the October wave "and the line is vertical in the page".
He said the line is also vertical for 19-to-24 year olds.
"Thank God most of them will be fine because of their age, but they won't all be fine and many of them will get Long Covid," he said.
Minister Donnelly said the numbers in hospital have doubled in the past three weeks and will continue to double.
He said there is an expectation of over 200 people in intensive care in a few months' time, and talks are beginning in his department about building extra surge capacity.
There are a number of unknowns, he said, but the range for fatalities is between 335 and 1,760 people, "put that in context, in the War of independence 2,300 people died".
Minister Donnelly warned that a significant rise in the disease could result in a curtailment of other healthcare, "which is something we have to avoid".
He added that it was now as important as any time during the pandemic that people follow the public health advice.
Mr Donnelly said he believed that the legislation was the "safe approach" and that the country should not give way to calls "to open hospitality fully".
But he said Ireland needed to find a "way that works".
Responding to Minister Donnelly, Sinn Féin Senator Fintan Warfield said his party would be opposing the bill in the Seanad.
Mr Warfield said: "What about young people who have to work indoors?"
He added that he could not support legislation that locked young people out of hospitality.
The senator called for the Government to support amendments from Sinn Féin regarding antigen testing.
Antigen pilot
Meanwhile, a pilot project on the use of rapid antigen testing in the further and higher education sector is set to begin this month.
The project is being undertaken to learn more about how such testing could be used more widely in third-level settings, and also childcare settings.
Staff and students in five further and higher education sites in Dublin, Cavan, Mayo and Galway will take part. Separately, staff in early learning and childcare sectors across the east, northeast and west.
Minister for Further and Higher Education Simon Harris said: "We have so much to learn about rapid testing, how effective the tests can be and whether they should be used on a larger scale.
"We have a pilot under way in four higher education settings already and today's announcement will see the HSE pilot commence in five further education settings."
Additional reporting Mary Regan