Bord na Móna has said it plans to create a further 885 jobs in the midlands as it transforms into a "climate solutions company" over the next five years.
It follows the creation of 550 jobs over the last 18 months.
Of the 1,435 jobs, around 1,100 of the roles are being generated directly by Bord na Móna, while 335 will be created through partnerships with third party companies.
The jobs vary from operatives to high tech and professional roles.
The company is adding the positions as it develops "renewable energy, recycling infrastructure and carbon storage through peatland rehabilitation".
The company said that direct employment is expected to return to pre-transition levels (2018) within the next five years.
It said: "Eighty percent of all Bord na Móna's operations is now focused on renewable energy production, recycling, peatland rehabilitation, and sustainable product development.
"By 2030, Bord na Móna will be able to supply a third of Irish homes with renewable energy."
We need your consent to load this rte-player contentWe use rte-player to manage extra content that can set cookies on your device and collect data about your activity. Please review their details and accept them to load the content.Manage Preferences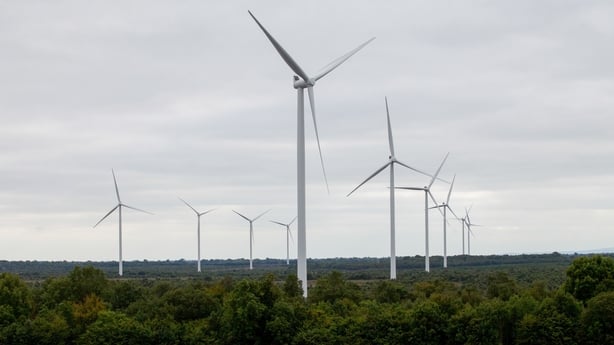 Speaking at the jobs announcement at Cloncreen Wind Farm in Co Offaly, Taoiseach Micheál Martin said: "Our world has changed dramatically since Bord na Móna was established and Climate Change is now the key long-term challenge we face.
"Building on its rich legacy, Bord na Móna has reinvented itself to meet that challenge with the continued development of over 1,400 climate solutions jobs."
According to Bord na Móna's Chief Executive Tom Donnellan, today's announcement proves that the company will continue to be a leading employer in the midlands.
"We are going beyond merely replacing old jobs, we are creating over 1,400 twenty-first century jobs," Mr Donnellan said.
"Bord na Móna's transformation shows that people and planet can both win in the coming decades."
Minister for the Environment, Climate and Communications Eamon Ryan said the new jobs are being generated as Bord na Móna continues to transform itself from peat harvesting activities to what it describes as a "climate solutions company".
Speaking on RTÉ's News at One from Cloncreen, Mr Ryan said: "The skills that were used in extracting peat from the bogs will be now used to restoring the bogs, restoring carbon and returning wildlife and nature.
He added that he thinks the positions will offer the same pay and security to the workers that jobs with Bord na Móna traditionally had for workers across the midlands.
Mr Ryan said there are "three real opportunities" for the company to grow through rehabilitation of boglands, in renewable power and in recycling.
"As a waste management company and part of the circular green economy, it too can grow, so we have everything in place," he added.