The Government has defended its plans to press ahead with legislation to introduce new rules for indoor hospitality in the face of sharp criticism from opposition parties.
It will allow adults who are either fully vaccinated or have recovered from Covid-19 within the past six months to go inside a restaurant or a bar with their children.
It is expected the new system will be operational by Monday, 26 July.
In the Dáil this afternoon Taoiseach Micheál Martin said the goal was to reopen in line with advice from public health authorities.
He said there is a responsibility to "protect those who are not vaccinated".
He added: "We need to get off the fence on this one way or the other," and added that last week the opposition was urging the Government to bring proposals forward on indoor hospitality.
"I don't underestimate the risks - I don't underestimate Delta", he said, adding that this phase of reopening will be challenging.
"Ireland would have been considered an outlier in this ten days ago - not so any more," he said.
He pointed to developments in France where the Government has said that health passport will be used in restaurants, bars, theatres and cinemas from next week.
Tánaiste Leo Varadkar, meanwhile, has said the Government has "confidence" in the hospitality industry to enforce new legislation for the re-opening of indoor dining.
Speaking on RTÉ's Drivetime programme, Mr Varadkar said he believed the public would comply with the measures.
"But of course, if there are egregious breaches then we need to be able to inspect them," he said. "We need to be able to close a business or issue a notice to cease.
"We don't anticipate this being something happening regularly and we're certainly not going to have gardaí or inspectors going to tables asking people to produce their Covid certificate."
Representatives from the restaurant and pub sector met with Government officials and senior staff from the HSE, the Health and Safety Authority, the Gardaí and Fáilte Ireland this afternoon to discuss how the legislation will be implemented.
The legislation will be introduced in the the Dáil tomorrow and is expected to progress through the Seanad by Friday night.
We need your consent to load this rte-player contentWe use rte-player to manage extra content that can set cookies on your device and collect data about your activity. Please review their details and accept them to load the content.Manage Preferences
The Restaurant's Association of Ireland said it is working with Government to have guidelines in place quickly for businesses, employees and customers, while the Licensed Vintners Association has said it still has considerable concerns about how the system will work and warned it could lead to flashpoints between hospitality staff and potential customers.
Speaking on RTÉ's Drivetime programme, LVA Chief Executive Donall O'Keeffe said there was still an "awful lot of uncertainty" as to how indoor hospitality will resume.
He said there was detailed engagement and considerable discussion around the admission of customers onto premises and how that will be facilitated.
However, he said they received no answers to some of the issues they raised, including record keeping required of the businesses, the enforcement policy and how public health guidelines will apply to fully vaccinated customers.
Mr O'Keeffe also said there was uncertainty around the role of affordable ventilation and the phasing of this approach as they move towards full trading over time as the vaccine roll out is complete.
He said there is a plan to meet the working group within two days which he hopes will bring more clarity.
Last year's Fáilte Ireland guidelines need to be amended to reflect the fact that a large proportion customers will be vaccinated, he said.
Mr O'Keeffe added that they have still received no confirmation on a re-opening date and they are still working off the Government's comments that they intend to have this in place not later than 26 July, but they are hopeful it will be 22 or 23 July.
On the reopening of indoor hospitality, Taoiseach @MichealMartinTD says it is about building up compliance; compliance is something that everyone has to buy into, and Government has to set up a sensible framework | https://t.co/rKhoJKcQre pic.twitter.com/XZGI2Su1X8

— RTÉ News (@rtenews) July 13, 2021
---
---
Despite opposition, Government politicians on the committee voted to waive the requirement of pre-legislative scrutiny of the legislation.
Speaking on RTÉ's Morning Ireland, Minister for Tourism Catherine Martin said people with certificates from other countries (including the EU digital cert and an NHS one) will be able to gain access to indoor hospitality.
These certificates will be checked by the premises before patrons are allowed access.
Ms Martin said that Covid compliance officers, appointed by the HSE or Health and Safety Authority, will be able to carry out inspections of premises at any time to ensure that conditions are being complied with.
These inspections will not involve spot checks of tables but will ensure that operators are complying with regulations.
Gardaí can be notified of breaches and fines of up to €2,500 can be applied to businesses that fail to adhere to legislation or individuals who forge certificates.
Individuals can face a fine of up to €2,000 for forging documents. A cessation order can also be issued to businesses that fail to comply.
Ms Martin said an indoor hospitality working group comprised of members from Fáilte Ireland, industry representatives, the HSA and Department of Health officials will work out exactly how to implement all of the measures.
She said that details of the scheme will be published on the department's website later.
Ms Martin said it is hoped 64% of the population will be fully vaccinated by the end of the month, with 75% by the end of August.
'Dangerous to proceed' as questions remain unanswered
The co-leader of the Social Democrats, Róisín Shortall, has said it is "dangerous to proceed" with legislation surrounding the reopening of hospitality, as she said there remains "huge outstanding questions" on how it would be enforced.
Deputy Shortall was speaking on RTÉ's News at One after opposition TDs were briefed by Government officials on the legislation.
She said they did not receive the "absolute clarity" that she said is required to ensure that the new laws can operate.
Opposition TDs do not know the detail of the plan for reopening, she said.
Ms Shortall called for more clarity on who is going to enforce this legislation.
"There's no clarity at all about the enforcement of these rules, and it really only brings the law and rules into disrepute, if there isn't clarity about who exactly is going to enforce those rules."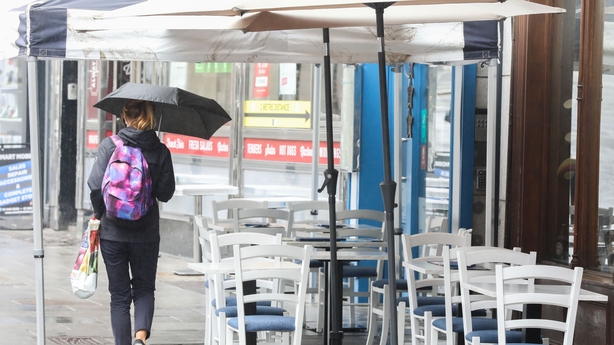 Paul Murphy, RISE-Solidarity-People Before Profit TD for Dublin South West, said he is opposed to the resumption of indoor hospitality, describing it as a mistake that risks hundreds of unnecessary deaths.
Speaking on the same programme, he said: "It's a reckless mistake that's being made, yet again, after many, many reckless mistakes made at the behest of private business lobbying and ignoring public health."
Mr Murphy said the move will endanger the health of hospitality workers, the majority of whom will not be vaccinated, and risks a fourth wave of Covid-19 in the country.
He said he understood business frustrations, and full supports must be given to those businesses affected, but it would be "a really terrible decision" if the Government pushes ahead with the plan.
The Labour Leader Alan Kelly expressed the view that the plan was a mess and full of holes, while the Rural Independent Group branded the plan as unworkable with TD Michael Healy-Rae saying it risked diving society.
People Before Profit TD Richard Boyd Barrett told reporters that rushing through the legislation "is to risk all the gains we have made".
He insisted that the new legislation needs to be fully examined and that the Dáil should sit for an additional week to debate it.
Sinn Féin's health spokesman David Cullinane said the new legislation "is not going to work".
He said there were issues about enforcement of the new rules and the opposition needed more detail about the issue.
Additional reporting Paul Cunningham