Almost a million EU Digital Covid Certificates are being issued by email to people who were fully vaccinated at a Health Service Executive vaccination centre.
The Department of Health said that it expects all of these to be issued by Thursday.
While issuing these certs by email is easier, the department said it had to be careful not to trigger spam filters on email systems.
For people vaccinated by a GP, pharmacy or hospital, they will get their cert in the post.
Almost a million of these are being issued and delivery is due to be completed by this day next week.
However, the Irish Medical Organisation has said that any letter, or email, from GPs will not be valid as a digital Covid certificate as the Government faced criticism from the Opposition on the matter.
People who have recovered from Covid-19 will have to request their certificate from a national call centre, which will be run by the Department of Health.
Details of that call centre have yet to be released, however a helpline number for emergency calls is available on 1800 851 504.
The HSE clarified that it has no responsibility for the establishment, or operation, of the national call centre which will answer queries from the public regarding the EU Digital Covid Certificate.
We need your consent to load this rte-player contentWe use rte-player to manage extra content that can set cookies on your device and collect data about your activity. Please review their details and accept them to load the content.Manage Preferences
Minister for Tourism Catherine Martin had told RTÉ's Morning Ireland that the call centre will be run by the HSE. However, the HSE subsequently told RTÉ News that it is not in any way involved.
HSE CEO Paul Reid said today that the HSE's role is "specifically to provide the information and the data to central Government departments and they are involved in issuing the certificates and also handling queries".
He said a call centre is being established by the Department of Health, to which the queries should be directed.
Mr Reid said "the HSE role is just the provision of the data to those central government departments, not handling the call queries."
Minister Martin also said that the call centre would open today for emergency calls only, but become fully operational from Monday 19 July.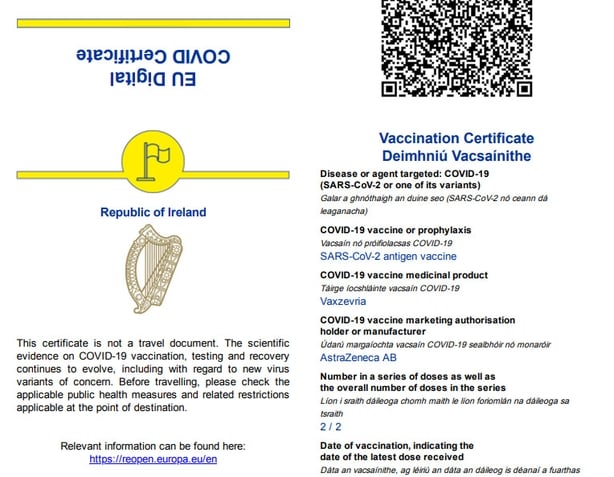 ---
---
Minister of State Ossian Smyth said GPs would not have a role in issuing recovery certificates and people looking for one must contact the national call centre.
Minister Smyth also said anyone who does not have proof of a positive Covid infection cannot be issued with a recovery certificate and that the call centre will not be able to facilitate the earlier issuing of digital Covid certificates.
Fielding questions on the matter in the Dáil this afternoon, Taoiseach Micheál Martin said that the vaccination certifications are being generated by the Office of the Government Chief Information Officer, using information from the HSE.
Labour leader Alan Kelly had put it to Mr Martin that there had been three different statements from Government in relation to the role of GPs in issuing the new certificates.
"That's not the way to work with opposition - you don't know what you're doing yourselves", Mr Kelly said, criticising what he called "the lack of consistency".
GPs cannot spend all day issuing letters, Deputy Kelly added.
Sinn Féin leader Mary Lou MacDonald had also asked Mr Martin to clarify the role of GPs.
Dr Ray Walley, a member of the National Covid-19 GP Advisory Committee, said there was no engagement with GPs on the issue and that calls over the certificates are sidelining clinical issues.
He said that test results from central HSE referrals, walk-in centres and schools tracing are not with GPs, and this is all compounded by the cyber attack on the HSE's IT system in May.
The Irish Medical Organisation has said that any letter, or email, from GPs will not be valid as a Digital Covid Certificate.
In a letter to its members, seen by RTÉ News, the IMO said that GPs have "no role in issuing documentation to patients in respect of the Digital Covid Certificate".
The letter is signed by Dr Denis McCauley, Chairperson of the IMO's GP Committee.
Yesterday, 150,000 certs were issued by post, with similar numbers of certs being posted each day.
The department expects to complete what it called "delivery to doorstep" by next Tuesday, 20 July.
Revenue is now working to a 7am to midnight cycle until the job is done.
Donnelly expects Ireland to cross 5 million vaccine mark this week
Minister for Health Stephen Donnelly said he expects more than 5m vaccines will be administered in Ireland by the end of this week.
'It's another strong week for the vaccine programme', Minister for Health @DonnellyStephen says. He says recent data showed only one fully vaccinated person was admitted to ICU over a three-month period | https://t.co/R3eQLxwLYg pic.twitter.com/Qxwvs8Rjg7

— RTÉ News (@rtenews) July 13, 2021
Speaking on his way into Cabinet this morning, he expressed concern over the Delta variant and said: "We've a few things that we're doing in response to that first and foremost, obviously, is public health measures covered with the vaccines.
"It's another strong week for the vaccine programme, so by the end of this week, we expect to have administered over 5m vaccines, which I think is just a really good milestone for the country.
"There's more Janssen coming in and we'll be pushing that straight out to the pharmacies, and several 100,000 doses of Janssen are expected in August as well."
Vaccinated at HSE centre - Digital Cert comes by email Vaccinated by GP, Pharmacy, Hospital - Cert comes by post Recovered from Covid - you request Cert from helpline/call centre (details awaited). Email Certs should arrive by Thurs, by post by next Tues

— Fergal Bowers (@FergalBowers) July 13, 2021
The minister said online portal will be opened this week to give people a second option, whereby an mRNA vaccine is still the preferred vaccine, but if they would like to opt for AstraZeneca then they can do so.
Minister Donnelly also said that the National Immunisation Advisory Committee was examining the potential for boosters as well as the potential for mixing vaccines.
"The programme as we're going now, it doesn't envisage any mixing right now," he said.