This is a spectacular win for Ivana Bacik. She was the right candidate in the right constituency to capture the Dublin Bay South seat for Labour after two previous failed attempts to get into the Dáil.
The scale of her win has surpassed expectations. She topped the poll with a commanding lead over her Fine Gael rival. But what does the result tell us about all the main parties?
Labour
This is a massive fillip for Labour and the leadership of Alan Kelly at a time when the party has been languishing in the national polls.
But the win is tempered by the realisation that this is very much about Brand Bacik rather than presaging a Labour resurgence.
Voters in liberal Dublin Bay South rewarded her years of campaigning and public profile. It does not indicate an immediate upswing in the party's fortunes but does inject momentum into the rebuild.
Labour has recaptured a seat held for many years by Ruairí Quinn and later Kevin Humphreys. But the party will also be analysing the shift in the party's base in this constituency, favouring more middle-class areas.
It's worth noting that Labour's win came at the expense of Fianna Fáil and the Greens. Both those parties will hope their votes are on loan for an exceptional by-election rather than an indication of a permanent realignment.
Fine Gael
Fine Gael is coming to terms with having no TD in what is thought of as party heartland. That is a terrible loss, but it will take much comfort from the fact that the party vote held up well at 26%, down one point from 2020.
Still, this was the best possible by-election for Fine Gael to contest and it lost.
For that reason, it can't be dismissed as a Government party being dealt the typical by-election kickback, although that is how the party is spinning the result.
The other reason this will spark internal recriminations is that it had a popular, well-known candidate willing and able to serve. Yet former TD Kate O'Connell maintains she was blocked locally and nationally from selection.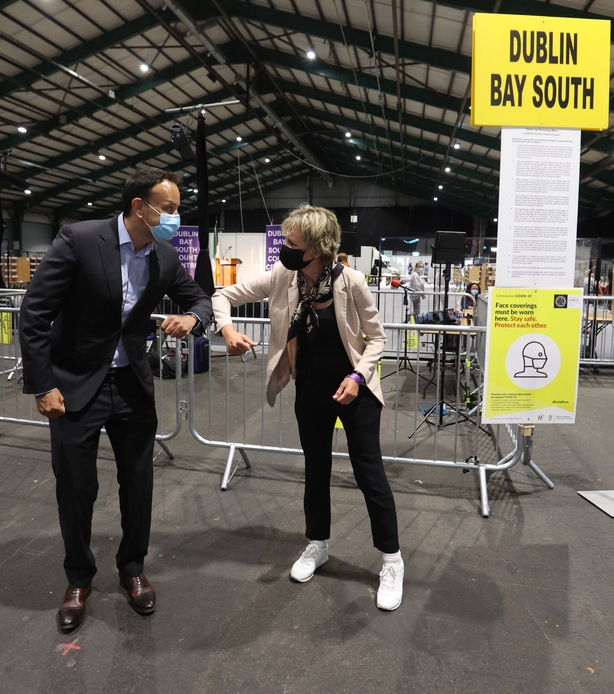 Ms O'Connell would have been the better candidate to combat the threat posed by Ms Bacik. She is also a liberal woman who campaigned loudly to repeal the Eighth Amendment and would likely have eaten into Labour's lead.
That fateful decision not to run the former TD lands squarely with party leader Leo Varadkar. He could have pushed for her to be the candidate yet took a public hands-off approach.
Many believe there was a bigger plot to oust Ms O'Connell who sparred publicly with the Tánaiste.
This makes for a series of disappointing elections for the man who took over as Fine Gael leader in 2017. Nobody seriously thinks this will stoke up any leadership rumblings but it's a very bad day for him.
What also backfired miserably is the strategic decision to attempt to frame the contest as solely between Fine Gael and Sinn Féin. The tactic of trying to squeeze out the other parties may have to be re-examined.
Within the party, people feel councillor James Geoghegan handled the campaign well. That means there's always the possibility of a Geoghegan–O'Connell ticket in the next election.
Sinn Féin
Sinn Féin will be content with its showing of just under 16%, nearly the same as its general election result. Although it didn't achieve a breakthrough, this indicates that the party brand remains strong especially in an area which is not seen as fertile territory.
Senator Lynn Boylan will return to building in Dublin South-West and TD Chris Andrews will be glad not to have to contend with a constituency colleague in the Dáil.
What's also clear from the breakdown of votes is that Sinn Féin succeeded in getting out the vote in its strongholds of the inner city. That's particularly impressive in a by-election and augers well for holding its seat next time out and cementing a foothold in the constituency.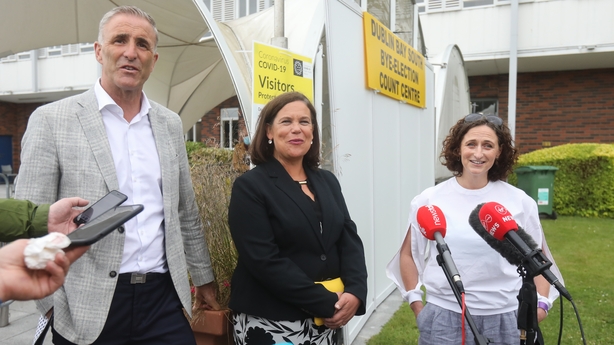 Green Party
This is a deeply disappointing result for the Green Party and councillor Claire Byrne, who would have hoped for better. She was never expected to come close to the 22% achieved last year by Eamon Ryan when the Greens were in the ascendant, but 8% is a good deal lower than projected.
However, this doesn't automatically mean that Green voters are disaffected with the party in Government.
Ms Byrne's vote probably suffered from the Ivana bounce and she has been perceived to have had a good campaign. To what extent Green supporters loaned their votes to Labour remains to be seen.
Fianna Fáil
The biggest losers may well be Fianna Fáil. This was never about winning but a decent showing was important.
The 4.6% achieved by councillor Deirdre Conroy spells trouble for a party that needs to build in Dublin if it is to ever escape its low poll ratings.
The question internally is where the blame lies – with director of elections Jim O'Callaghan or party leader Taoiseach Micheál Martin.
This may be Fine Gael territory but Fianna Fáil has always held a seat here except for 2011 when its vote collapsed.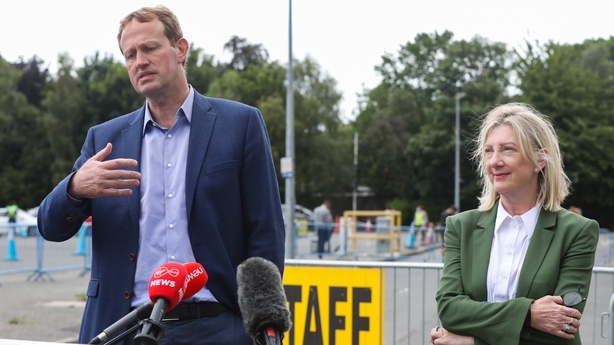 For Mr O'Callaghan, this calls into question his ability to campaign for the party – a key criteria for anyone with leadership ambitions.
But it also presents a real problem for him in holding his seat next time round. In 2020, he got the last seat on just under 14% of the vote.
In the next election, Fine Gael are guaranteed to elect one TD in Dublin Bay South so a sitting TD will lose out and he will be feeling very vulnerable.
Mr O'Callaghan has said that, while he takes his share of the responsibility, the reasons for the collapse in support are more complex.
When asked if Micheál Martin should lead Fianna Fáil into the next election, he said that would depend on timing and the party would have to think about it.
For the Government parties, the narrative that it would be rewarded for its handling of the pandemic has not been borne out.
That said, Dublin Bay South is never a bellweather of the national mood and the three parties will attempt to excuse the result as another example of the unique dynamic of by-elections.