Twin brothers from Brosna in Kerry, who were spotted wearing GAA jerseys at last night's Euro 2020 semi-final between Italy and Spain, have expressed amusement at their newfound online fame.
Seamus and Niall O'Connor, now living in London, were snapped behind one of the goalposts in Wembley by eagle-eyed viewers.
They had managed get their hands on two of the coveted tickets and befriended a number of the Italian contingent, according to Niall.
"We were in with the Spanish originally, but we met the Italians going in. They were a bit better craic so we rocked in with them," Niall told the Ray D'Arcy Show on RTE Radio One.
"They knew we were bandwagoning a bit with them, but they were right up for it. They were great craic as well."
Italy won the game on penalties after a 1-1 draw and will play either England or Denmark in Sunday's final.
The pair even got a close encounter with Italian centre-back Leonardo Bonucci after the game.
"We got a great view actually. Bonucci ran over at the end as well, which was deadly craic.
"Then he realised were weren't Italian and left."
Kerry Abú 😂💚💛
There were a couple of Kerry men spotted at last night's #EURO2020 #ITAESP game supporting the Italian's as they're "better craic". 🤣@RadioRayRTE tracked them down and chatted to Seamus & Niall O'Connor about their night in Wembley. pic.twitter.com/B09QGzdt9q

— RTÉ Radio 1 (@RTERadio1) July 7, 2021
The twins, who both work in IT, said their phones have been "blowing up" all morning, after their Kerry GAA jerseys were spotted in the crowd.
Kerry GAA's Twitter account posted: "It is almost a requirement at this stage to have at least one #KerryGroup Kerry GAA jersey at all big events," which racked up around 2,400 engagements.
CNN reporter and Kerry native Donie O'Sullivan tweeted: "There's always a guy with a Kerry jersey".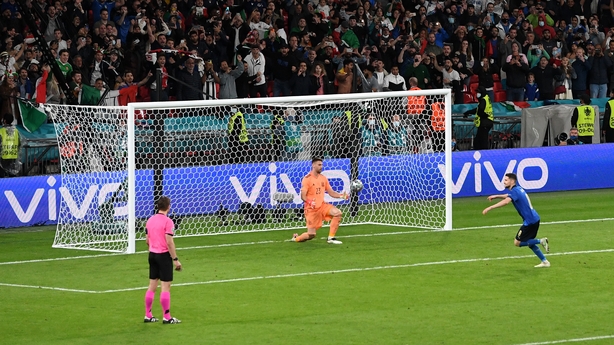 Munster rugby's Simon Zebo tweted out a picture of one of the twins, with the caption 'Legend'.
"It's great auld craic," says Niall.
The pair hope they might still get the chance to attend the Euro 2020 final this Sunday.