A man charged with the murders of two men and five attempted murders on Bloody Sunday in 1973 will not stand trial. Who is 'Soldier F' and why can he not be named?
Who is 'Soldier F'?
'Soldier F' is an ex-paratrooper who was accused of murdering James Wray and William McKinney on 30 January 1972, when British troops opened fire on civil rights demonstrators in the Bogside area of Derry, killing 13 people.
He was also accused of the attempted murders of Patrick O'Donnell, Joseph Friel, Joe Mahon and Michael Quinn.
He faced a seventh supporting charge of the attempted murder of a person or persons unknown on the day.
The decision to prosecute 'Soldier F' was announced by the Northern Ireland Public Prosecution Service in March 2019.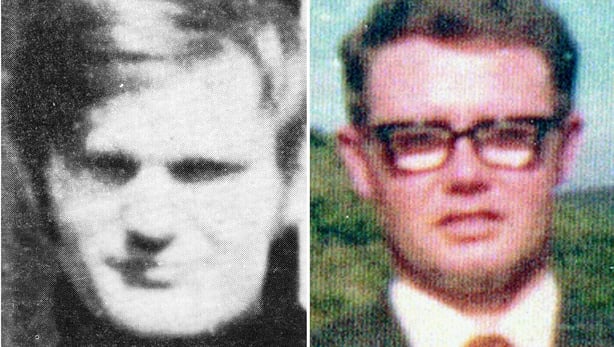 ---
Why is 'Soldier F' not named?
Due to an interim court order granting him anonymity, Soldier F cannot be named.
Representatives for one victim's family had previously argued that there is no legal basis for not identifying him.
They had asked for an explanation of the legal basis for the decision.
"Providing this former soldier with anonymity marks a very, very serious departure from accepted norms and principles of open justice," solicitor Ciarán Shiels said.
---
What about victims' families?
Relatives of those killed in January 1972 had described the previous decision to prosecute the former paratrooper as historic.
Speaking outside court in September 2019, Mickey McKinney, the brother of William, said: "This is a very significant event for us on the journey towards achieving the third and final demand of the Bloody Sunday justice campaign - the prosecution of a solider for murder and attempted murder on Bloody Sunday."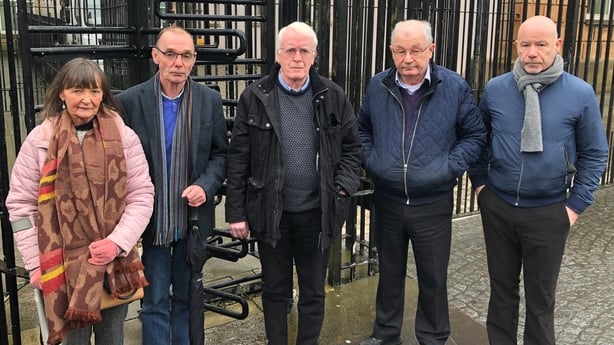 Last year, James Wray's brother Liam spoke out after a final decision on the venue for future hearings involving 'Soldier F' was adjourned for another month.
He had urged court authorities to "get real" and ensure the case against 'Soldier F' is heard in Derry.
"The atrocity happened in Derry," he said.
"It was witnessed by many, many people. The majority of witnesses in this case are going to be Derry people. For them to have to trip up to Belfast, which is not an easy journey, would be ridiculous."
Some relatives of the 13 killed have campaigned for prosecution, while others argue that 'Soldier F' should not face trial.
Those relatives claim a form of immunity given to paramilitaries during the Northern Ireland peace process should be extended to British soldiers who served in the country.
---
What is the view of the British and Irish governments?
A statement was issued by Minister for Foreign Affairs Simon Coveney's department, reacting to today's developments:
"This is deeply upsetting for all the families involved who have spent so many years in pursuit of justice for their loved ones and our thoughts are with all of them today.
"While it is important that nothing is said or done that could be seen to prejudice ongoing due legal process, it is vital that the rationale for these decisions is clearly communicated.
"All victims' families must have access to an effective investigation and to a process of justice in accordance with the law and regardless of the perpetrator.
"Officials from the Department of Foreign Affairs are keeping in contact with the families at this time on behalf of the Government."
In March 2019, the UK Ministry of Defence said its serving and former personnel cannot live in constant fear of prosecution. The UK's then Defence Secretary Gavin Williamson said the individual affected by the ruling will be offered full legal support.
He said: "We are indebted to those soldiers who served with courage and distinction to bring peace to Northern Ireland.
"The welfare of our former service personnel is of the utmost importance and we will offer full legal and pastoral support to the individual affected by today's decision. This includes funding all his legal costs and providing welfare support."
---
What were the Saville Report findings on Soldier F?
The Saville Report into the events of Bloody Sunday was published on 15 June 2010. It was the most expensive and longest-running inquiry in British history. It was led by Lord Mark Oliver Saville.
'Soldier F' gave evidence for the Saville Inquiry in 2003. He claimed to have few memories of Bloody Sunday.
The 5,000-page report stated none of the casualties posed a threat of death or serious injury and that soldiers had lost their self-control. The report also stated 'Soldier F' had changed his story over the years.
The report said one soldier, Lance Corporal F, had shot dead three men and possibly two others.
Responding to the findings, the then British Prime Minister David Cameron said: "What happened should never, ever have happened."
"Some members of our armed forces acted wrongly. The government is ultimately responsible for the conduct of the armed forces, and for that, on behalf of the government, indeed on behalf of our country, I am deeply sorry."
Speaking to BBC Radio 4 in May 2019, Lord Saville expressed reservations about a proposal to prevent the prosecution of British Army personnel after a set period.
"There are very strong views on both sides - those families who have lost members through the action of soldiers can say with considerable justice that the soldiers should face a trial if they appear to have committed a criminal offence," he said.
"On the other side, as the years and indeed the decades go by, it can be said that it is starting to become unfair that soldiers should face such prosecutions so long after the event."
---
Is there support for 'Soldier F' in Northern Ireland?
In April 2019, protesters opposed to the prosecution of 'Soldier F' gathered outside Belfast City Hall.
They claimed a form of immunity given to paramilitaries during the Northern Ireland peace process should be extended to British soldiers who served in there.
Around the same time, thousands of bikers took to the streets of London in a similar protest against the legal action against 'Soldier F'.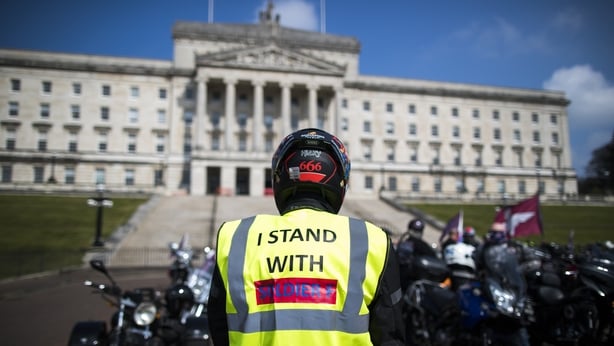 ---