Twenty-eight unaccompanied child refugees from the Greek island of Lesbos are due to travel to Ireland shortly.
Their arrival was thrown into doubt, as a result of health and safety concerns expressed by gardaí, due to the Covid-19 pandemic.
The Irish Government agreed to take in the 28 minors at the end of last year, following a devastating fire at the Moria refugee camp in September 2020.
Twelve families from Syria and Afghanistan, who were selected to come to Ireland, are also due to arrive soon.
It follows the resumption of selection and security missions by the Department of Children, Equality, Disability, Integration and Youth, which had been put on hold due to the pandemic.
Plans for their arrival were almost derailed in April this year, when gardaí raised safety concerns about travelling to Greece during the pandemic.
In a statement to RTÉ's This Week programme, they said performing security checks on the refugees would be "a breach of Employer Health and Safety Regulations, in addition to potentially endangering the local population in Greece, given the prevailing nature of Covid-19".
This was despite the fact that social workers from the child and family support agency Tusla had been given permission to make the same journey.
However, at the end of last month, members of An Garda Síochána travelled for the joint mission, along with Tusla and members of the department.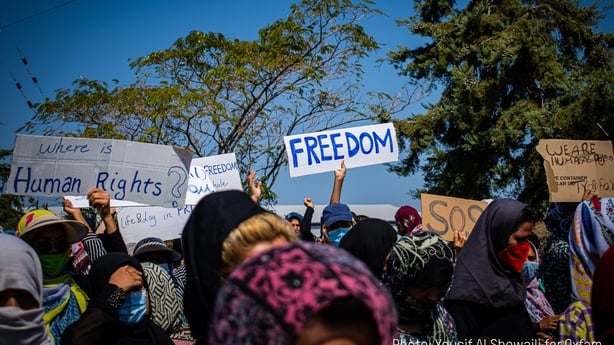 In a statement, the gardaí said the mission had resumed following a request by the Garda Commissioner Drew Harris to Government, allowing for the vaccination of 525 garda personnel, scheduled for Monday 12 April.
These included personnel to participate in the overseas missions to Greece as part of the EU Relocation Programme.
Members of the force then travelled to Athens, over a month later, on 29 May this year to assist the Irish Refugee Protection Programme and Tusla in relocating refugees as part of an EU Relocation Programme.
They said the mission was compliant with all regulations relating to Covid-19.
Inspector Gordon Woulfe and members of @gardainfo in Athens to assist @tusla and @DeptJusticeIRL Irish Refugee Protection Programme as part of an EU Relocation Programme met with Eibhlinn Byrne Head of IRPP Mission and Irish Ambassador @IrlEmbAthens Iseult Fitzgerald pic.twitter.com/sGMUb4KCz3

— Garda Info (@gardainfo) June 2, 2021
Commenting on the mission, Minister for Equality Roderic O'Gorman said: "While selection and security missions have been on hold since March 2020 due to Covid-19, I am pleased to report that earlier this month a selection and security mission took place in Greece.
"Subject to final security checks, the families will travel to Ireland as soon as possible and will be resettled under the Irish Refugee Protection Programme. The arrival of 28 young people will be overseen by Tusla."
Catherine Connolly, Independent TD for Galway West, said it was the least Ireland could do and she said Ireland should live up to its commitments to help the now more than 82 million displaced around the world, according to a UN report earlier this year.
"I'd be unhappy with the slow rate generally. I mean we are talking about unaccompanied minors, we're talking about children," she said.
Ms Connolly also called for additional funding for Tusla to help deal with the needs of the child refugees when they arrive in Ireland.
"If we're serious about living up to our commitments, we can't commit to numbers and taking them in and then not provide the resources. Children have been traumatised enough and Tusla at the best of times is struggling," she added.
Restrictions and safety concerns
Travel restrictions and safety concerns due to the pandemic have also delayed other refugee arrivals in Ireland, with just 62 refugees arriving in the country to date this year.
Over the course of last year, 195 refugees, all Syrian nationals, arrived in Ireland from camps in Lebanon and Jordan, but many other arrivals from there have also been put on hold.
This is despite a Government commitment to resettle 2,900 refugees here by the end of 2023, resulting in a call by the UNHCR for the Irish Government "to urgently scale up their ambitions, to make up for lost time".
"The pandemic has severely reduced global refugee resettlement and worsened the situations in refugee camps around the world," said Nick Henderson, Chief Executive of the Irish Refugee Council.
"Governments, including Ireland, have struggled to effectively restart this process after the pandemic. We call on the Government to recommit to resettlement, including the targets it set itself in December 2019.
"This should include increased resourcing to the Irish Refugee Protection Programme and other supporting agencies such as Tusla."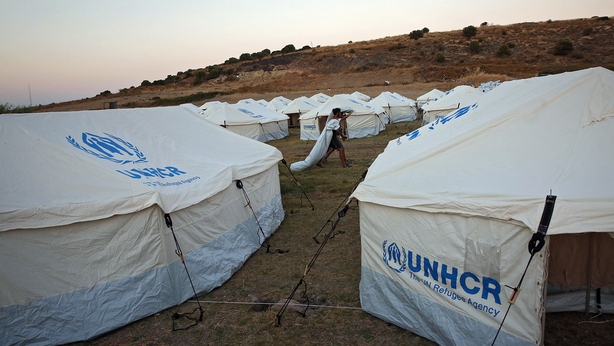 In just the last five weeks, four Syrian families comprising of 19 people, arrived in Ireland under Community Sponsorship schemes, which involves local community fundraising and support including accommodation, to help refugees rebuild their lives.
Two of the families are staying in communities in Dublin and two other families have arrived in Cork.
There are also plans for the Irish Refugee Protection Programme to resume its missions to camps in Lebanon and Jordan by this autumn. The first mission is expected to be to Lebanon, as early as this September.
The Department of Children, Equality, Disability, Integration and Youth said one of the families from Lebanon was still awaiting an exit permit to allow them to travel to Ireland, but it added that in such cases, the family will be contacted as flights to Ireland become available. The department is aware of cases where families refused exit permits have eventually received them.
All of the families interviewed by the UNHCR and Irish Government officials in Lebanon and Jordan are from Syria.
The families left living in camps, some of them in desperate conditions, over the last year have faced a long wait since March 2020 for news as to when they can finally travel to Ireland.
However, they are not expected to have to be reassessed for travel here, with the department stating that: "In the normal course, where a person has been security cleared for entry to Ireland, the need for reassessment does not arise."
One Syrian refugee in Jordan who told RTÉ he had been selected to come to Ireland, said the wait to travel here has caused a lot of worry for him and his family.
"I am afraid that closures will return in Jordan and Ireland by the winter, which will cause my travel delay," he added.
He described conditions in one of the camps there as "very harsh" adding that "a feeling of instability accompanies me all the time".
He said his biggest fear was forced deportation to Syria and said he hopes that he can start a new life in Ireland soon.
When he first heard he could be travelling to Ireland, he said: "My family and I celebrated that day because we would say goodbye to the days of torment and misery, settle down and lead a normal life in Ireland."
He added that he hoped the resettlements to Ireland from Jordan would resume quickly.