Britain's Health Secretary Matt Hancock has said he was "very sorry" after pictures of him kissing and embracing an aide were published in a newspaper.
Mr Hancock said: "I accept that I breached the social distancing guidance in these circumstances.
"I have let people down and am very sorry. I remain focused on working to get the country out of this pandemic and would be grateful for privacy for my family on this personal matter."
The publication of the photos of him with Gina Coladangelo, taken in Mr Hancock's office last month, raised more questions about his judgement.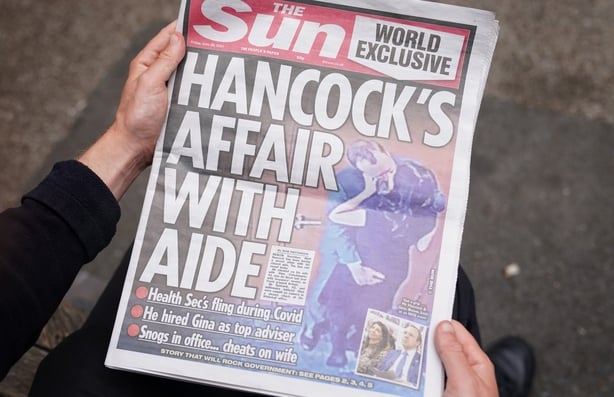 Mr Hancock, who has been under fire for his handling of the early months of the pandemic, was found in February to have acted unlawfully by not revealing details of contracts signed during the health crisis.
Labour, which had accused the government of "cronyism" in awarding millions of pounds of contracts related to the pandemic, said today's report needed to be looked into.
"Ministers, like everyone, are entitled to a private life", a Labour spokesperson said.
"However, when taxpayers' money is involved or jobs are being offered to close friends who are in a personal relationship with a minister, then that needs to be looked into."
The Sun said the picture of Mr Hancock, who is married, and the aide was taken last month.
Mr Hancock has been criticised for his department's handling of the coronavirus pandemic, particularly in the early months when it struggled to deliver testing and protective equipment for hospital staff treating Covid-19 patients.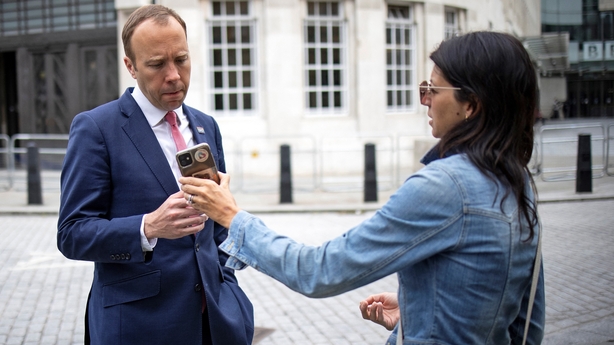 Downing Street said Prime Minister Boris Johnson has accepted Mr Hancock's apology for breaching social distancing guidelines and "considers the matter closed".
"You've seen the Health Secretary's statement, so I would point you to that," a spokesman for the Prime Minister said after being asked by reporters why Mr Hancock remained in post.
"I don't really have anything further to add.
"The Health Secretary set out that he accepted he had breached the social distancing guidelines and he has apologised for that.
"The Prime Minister has accepted the Health Secretary's apology and considers the matter closed."
Asked whether Mr Johnson had "full confidence" in Mr Hancock, the spokesman replied: "Yes."
Meanwhile, the Metropolitan Police has said that it will not investigate Mr Hancock over any alleged breaches of Covid regulations.
A statement from the force said the Met was "aware of the distribution of images alleged to have been obtained within an official Government premises".
It added: "No criminal investigation has been launched. At this time this remains a matter for the relevant Government department."
On whether Mr Hancock could be investigated the force said: "Where the Met receives allegations of breaches of the Health Protection Regulations 2020, we will focus on those that are live, or where police action can enable a change to behaviour that is posing a current public health risk.
"As a matter of course the MPS is not investigating Covid related issues retrospectively."
Additional reporting PA