The UNHCR in Ireland has said the Covid-19 pandemic has made it much harder for refugees to resettle here, with arrivals over the last two years falling well short of government commitments.
It said the Irish government committed to resettling 2,900 refugees by 2023 but so far only 250 have arrived between this year and last year.
The United Nations said World Refugee Day, which is today, should serve as a stark reminder to politicians around the world, to do more to prevent and resolve conflict and crises.
When 26-year-old Ahmad Muselmani left his home city of Aleppo in Syria in his late teens, he did not know that it would be five long years before he would see his parents and youngest sisters again.
Their emotional reunification happened six months ago at Dublin Airport on 10 December 2020, with the help of the Irish Red Cross.
When 26-year-old Ahmad Muselmani left his home city of Aleppo in Syria in his late teens, he did not know that it would be five long years before he would see his parents and youngest sisters again. | https://t.co/bADmCk3rFj pic.twitter.com/Duat8DOfLc

— RTÉ News (@rtenews) June 20, 2021
"I was so excited. I was shaking, looking forward to seeing them, to hug them," he said of the moment his family left the airport building as he waited outside.
He said he faced an anxious wait for an hour as they cleared security:
"And the first person I saw was my dad, so I just went to him and gave him a big hug and then my mother and my sisters came after."
The whole family now lives in the Irish countryside in Baltinglass on the Kildare-Wicklow border, a long way from the bustling streets of central Aleppo.
They secured a house there, when the whole family could be accommodated, with the help of the Irish Red Cross.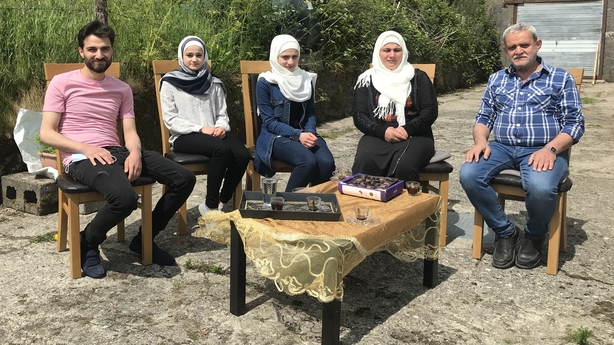 Ahmad's teenage sisters Rayan, 18 and Bayan, 15, have been attending the local school having first begun their lessons online due to school closures under Covid-19 restrictions.
Whilst the Muselmani family faced a six-month delay to their reunification, the UNHCR in Ireland said many other refugee resettlements here have been put completely on hold as a result of the Covid-19 pandemic.
"Obviously, the pandemic has made it much harder for people to move around and public health and travel restrictions have made it much harder for refugees to move both in family reunification and in resettlement," said Enda O'Neill, Head of Office with the UNHCR in Ireland.
"We would call on the government, over the months and years ahead, to urgently scale up their ambitions, to make up for lost time."
Representatives from the Syrian community in Ireland say they are getting almost daily contact from families here in Ireland, who are anxious to be reunited with their loved ones.
They say the current reunification act is very narrow and excludes family members who are married, leaving some families here with a single member still in Syria or Lebanon, who cannot join them.
Some have applied, but have been rejected, from two different waves of the government's Humanitarian Assistance Programme IHAP, which was last opened for applications in 2019.
Proposed candidates for the scheme must be nationals of one of ten countries, including Syria, Afghanistan, Sudan, Myanmar or Somalia and be residing in that or a neighbouring country and should be registered with the UNHCR.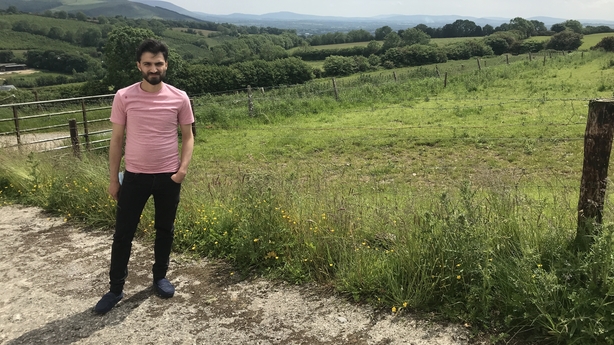 The Red Cross is now calling on governments across the EU to draw lessons from the pandemic to ensure that reunification requests like Ahmad's are not complicated further by border controls and other containment measures.
The Irish Red Cross said that the Covid-19 pandemic has caused significant challenges to their work, through their Migration Department and their Restoring Family Links Unit.
Spokeswoman Lynda McCarthy said: "There are still migrants, all across Ireland, who have been separated from their families by conflict, migration and other situations of violence.
"The Irish Red Cross, through its partnership with IOM, implemented a Family Reunification Travel Assistance Programme to help migrants who have been granted family reunification but who can't afford travel costs for their families to come to Ireland."
Mr O'Neill said: "A selection mission to Beirut in March of last year had to be abandoned because of the imprending restrictions and it hasn't been possible to go back to do selection missions since then."
He added that the next missions are scheduled to happen in September and he hopes that activity will increase steadily from there.
A report published by the UNHCR on Friday, found the number of people forced to flee their homes due to conflict, persecution and human rights abuses around the world, doubled in the past decade to over 82 million at the end of last year.
"Every 1 in 100 people these days is a displaced person, so despite the pandemic, people are forced to leave their homes because or war and persecution, more and more," Mr O'Neill said.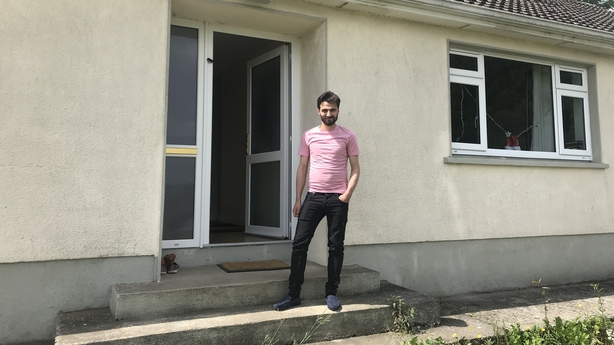 Before being able to bring his family to Ireland, Ahmad had to prove that he could find accommodation here, so, with the help of the Irish Red Cross, he left Dublin, to move to an unfurnished house in Baltinglass, working hard to get it ready for his family's arrival in the middle of the Irish winter.
The whole family including his parents Salaheddin and Amal are slowly learning English and he said the whole family were very surprised by the welcome they received here:
"Day by day, I got my family settled in here, got them bikes to use and they got to know some locals in Baltinglass. They were so nice to them. So when they came here, my family, they didn't believe that they would get this warm welcome from the locals, so they were so overwhelmed."
He has now applied for Irish citizenship and hopes to study computer programming at Carlow Institute of Technology.
He said getting citizenship here will mean a lot to him.
"I have been in this country for over four and a half years and what I have achieved here is much, much more than I achieved in Syria, because what happened to me in Syria, makes me lose the hope to have a future there."
He said he will be forever thankful to the people he has got to know in Ireland as well as the government for allowing him to bring his family here. "Everyone helped me to get my family here and to settle in this country and to rebuild my life here."