The United States has eased its warning against travel to a number of major nations including Olympics host Japan, Canada and Mexico after reassessing Covid concerns.
The State Department issued an advisory asking Americans to reconsider travel due to the risk of Covid-19, upgrading a blanket warning earlier not to go.
Other countries for which US travel advice was eased include close allies such as France and Germany as well as Greece, which has been welcoming vaccinated US tourists, and South Africa, which has battled a Covid variant.
Such travel advice has been closely watched for clues on when the United States will ease restrictions in place for more than a year on travel from European nations.
The State Department said it revised its travel guidance after new recommendations a day earlier by the Centers for Disease Control, which called on Americans to be fully vaccinated before traveling but non-vaccinated people to avoid trips.
"As conditions evolve, we regularly update our advice to US travelers," a State Department official said.
Jake Sullivan, the national security advisor, said yesterday that any easing of travel restrictions for Europeans to the United States would be transparent and "guided by science and evidence."
"We have heard very clearly the desire of our friends in Europe and in the UK, to be able to reopen travel across the Atlantic Ocean, and we want to see that happen," Sullivan told reporters.
"But we have to follow the science and we have to follow the guidance of our public health professionals. So we are actively engaging with them to determine the timeframe."
The State Department made headlines last month by warning against all travel to Japan, which in July will hold the Olympics that were already put off by a year due to Covid.
The Summer Games have stirred public opposition within Japan, which is barring foreign fans from coming.
---
---
China approves vaccine in children
China has approved the emergency use of a Covid-19 vaccine for children as young as three, making it the first country to offer jabs to young children.
Since the coronavirus first emerged in central China, Beijing has mostly managed to bring the country's outbreak under control and has administered over 777 million vaccine doses after a sluggish start.
A spokesperson for Sinovac said its vaccine had been approved for use on children.
"In recent days, the Sinovac vaccine was approved for emergency use in three to 17-year-olds," the spokesperson said.
But he did not confirm when the children would be able to start receiving the shots, saying the schedule for the rollout will be decided by the National Health Commission "according to China's current epidemic prevention and control needs and vaccine supply".
The company has completed early phase trials of the vaccine in children and adolescents, with results to be published shortly in the Lancet scientific journal, the spokesperson added.
State broadcaster CCTV reported over the weekend that an unnamed official in the State Council's epidemic response task force had said vaccines had been approved for children, and "the safety and effectiveness" had been proven.
A spokesperson for China's other major vaccine, Sinopharm, said that experts had demonstrated the effectiveness of its vaccine in children, but did not confirm whether it had been approved for use.
Chinese officials have said they are aiming to inoculate 70% of the population of 1.41 billion by the end of this year.
The World Health Organization has approved both the Sinopharm and Sinovac vaccines for emergency use in adults aged 18 and older, and both jabs are being administered in several countries around the world.
While the WHO does not currently recommend vaccinating children against coronavirus, the United States, Britain, Singapore and the European Union have approved the Pfizer vaccine for those as young as 12.
China reported 33 new Covid-19 cases today, including 19 in southern Guangdong province where authorities have been battling a local outbreak.
Brazil braces for third wave of Covid-19
Already reeling from one of the highest death tolls in the pandemic, Brazil is bracing for the threat of a third wave of Covid-19, fuelled by vaccination delays and a lack of containment measures.
So far, each pandemic wave has been successively worse in Brazil, peaking at a weekly average of around 1,000 deaths per day in July last year during the first wave and 3,000 deaths per day last April during the second.
The curve has since turned down, with an average of around 1,600 deaths per day over the past week, and Brazilians have largely gone back to business as usual.
But with the southern hemisphere winter approaching again, experts say warning lights are flashing, raising fears of a return to scenes of overflowing hospitals and mass graves from the darkest days of the pandemic in Brazil.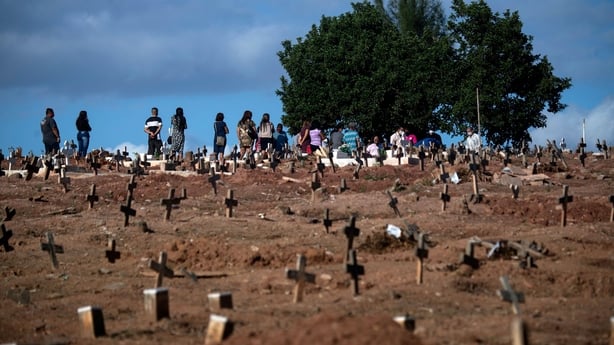 Brazil has been slow to vaccinate its 212 million people, and hasty in lifting state and local stay-at-home measures, epidemiologists say.
Meanwhile, risky virus variants, including the "Gamma" strain that emerged in Brazil itself, plus the first cases of the "Delta" strain that emerged in India, threaten to accelerate the disease's spread.
Covid-19 has already claimed more than 470,000 lives in Brazil, second only to the United States.
The South American country's per capita death toll, more than 220 per 100,000 inhabitants, is one of the world's highest.
But many Brazilians seem unconcerned by the threat of a new surge, not least President Jair Bolsonaro, who continues to regularly defy expert advice on containing the virus.
"Brazil has taken an unprecedented health catastrophe and turned it into something normal. The majority of people are acting like there's no pandemic," said infectious disease specialist Jose David Urbaez.
"That's why predictions are for a very intense third surge," he said.
Celebrities call on G7 to share vaccines with poor nations
Nearly 30 celebrities, from singer Katy Perry to footballer David Beckham, have called on the G7 to share Covid-19 vaccines with poorer countries ahead of a summit in Britain this weekend.
The entertainment and sports figures urged the seven countries, France, Italy, the UK, Canada, Japan, Germany and the United States, to pledge at least 20% of their supply between June and August, amounting to 150 million doses.
"The world has spent a year-and-a-half battling the Covid-19 pandemic, but the virus is still spreading in many countries and producing new variants with the potential to put us all back where we started," the letter warned.
"This means more school closures, more healthcare disruptions, and greater economic fallout - threatening the futures of families and children everywhere," it said.
UNICEF Goodwill Ambassadors and supporters urge G7 leaders to commit to sharing at least 20% of available COVID-19 vaccine doses.#DonateDosesNow https://t.co/ABBDzwjjOD

— UNICEF (@UNICEF) June 8, 2021
Among the other signatories on the letter, which included a number of UNICEF goodwill ambassadors, were actors Liam Neeson, Orlando Bloom, Priyanka Chopra Jonas, and Whoopi Goldberg.
Singers Billie Eilish and Angelique Kidjo plus football star Sergio Ramos, Formula One driver Fernando Alonso and tennis star Andy Murray also signed the letter.
Britain is hosting the G7 summit in Cornwall starting on Friday.