This week the Irish education system will embark on a process that would appear to be unique worldwide.
Tomorrow the Class of 2021 will begin their Leaving Certificate exams – or at least those who have opted to sit exams.
But those same students will also have access to calculated grades based on estimated marks supplied by their teachers.
The Department of Education says it does not know of any other country in the world that has adopted this dual approach, one that offers students the best of both worlds.
The State Examinations Commission is overseeing both processes, processes that Minister for Education Norma Foley says will run parallel, not intersecting in any way.
Last Thursday, schools submitted the estimated marks that teachers have agreed upon for every student in each of their subjects.
Over the summer months, those marks will be adjusted by the SEC to fit into a national "bell curve".
And tomorrow the exams begin, with, as always, English Paper 1.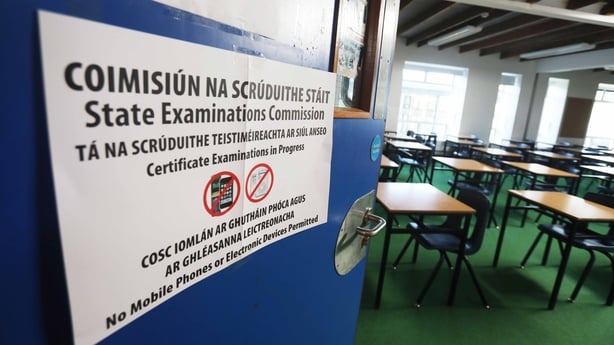 The papers have been modified, in recognition of the disruption students have suffered this year and last.
There will be more choices on the papers for instance, to compensate for the fact that not all students have been able to complete their courses.
The majority of students have opted for a mix of exams and accredited grades. (Those who choose both options in a subject will receive whichever is the higher grade.)
A precise breakdown of how many intend sitting exams in each subject has not yet been published, but if the picture at the largest second-level school in the country is anything to go by numbers sitting the exams this year will be greatly reduced.
Gorey Community School has 236 students following the traditional Leaving Certificate programme, and 18 who were pursuing the Leaving Certificate Applied.
Just 133 or 56% of its traditional Leaving Cert students have registered to sit tomorrow's English exams.
165 or 70% intend to sit Leaving Cert Maths papers, but only 92 or 39% have registered for Irish.
Across other subjects it's a mixed bag; 67% of Geography students at the school have opted for the exam, the same proportion as Biology. 47% of the school's French students intend to sit the paper.
But of course, some students who have registered to sit an exam may well change their minds.
Virtually all of those who have registered for exams have also opted for accredited grades and some at least are likely to be tempted at the last minute to forgo the exam.
There may also be students who are prevented from sitting exams because of illness or because of close contact with a case of Covid-19.
Every school community is hoping to avoid this last scenario.
Schools are reluctant to predict just what proportion of those who have registered for an exam will actually turn up.
But they are preparing for full attendance, and schools across the country will be hives of activity today doing just that.
Exam superintendents have strict routines to follow in relation to hand hygiene and handling the exam papers.
Every centre will be cleaned after every exam.
Social distancing requirements mean that students will be spread out across many more classrooms in their schools.
This has been made possible in part by the cancellation of this year's Junior Certificate exams.
This year every student will be assigned a specific seat which only they will use over the course of their exams.
As students make their last minute preparations for these exams it remains to be seen how many of those seats will be filled.