Gyms, swimming pools and leisure centres are reopening for individual training from today.
In Northern Ireland restrictions eased slightly earlier than the Republic for similar facilities.
The island's only ice rink, in Belfast, reopened on 24 May.
Last week, for the first time since before Christmas, a teenage member of the Irish Figure Skating National Team skated back onto the ice.
Sophia Tkacheva, who is 15, was up early to travel to Dundonald Ice Bowl from her home in Gorey, Co Wexford.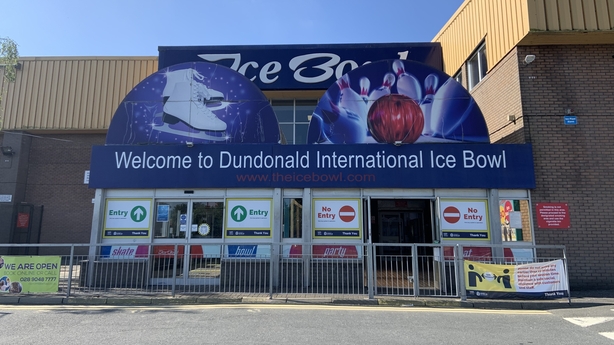 "I feel like I've been waiting for this for so long, I couldn't train at all. And because there's no rink in the Republic of Ireland, I have to drive so far just to train. It's really difficult," she said.
Sophia has gained international recognition for her ice skating despite not having regular access to an ice rink.
Her mother Olga Harelik said they are used to travelling as Sophia has been training for around 10 years.
"It's 300 kilometres from Gorey so it's very early morning. We leave the house at around 4.30am or 5am. Its quite tough but we've gotten used to it. It's something the girls enjoy, they love sport and live their dream when they are on the ice," said Olga.
When the rink shut down before Christmas due to Covid-19 restrictions, Olga said it was frustrating for Sophia.
None of the temporary Christmas ice rinks in the Republic of Ireland opened either so there was no opportunity for ice training.
"It was quite tough because she is an achiever and she's been doing it for so long she got to the point where she was offered to place in the national team.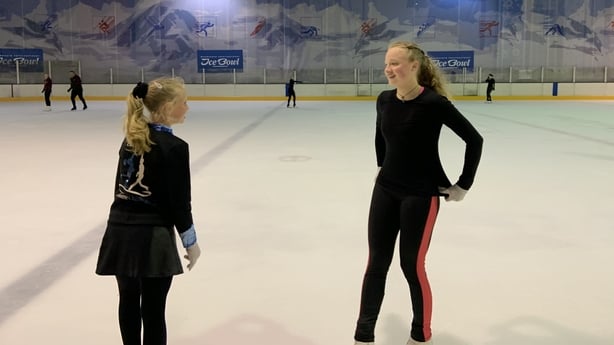 She won the national junior category, so she was at the top of her sporting career, and then everything just stopped all of a sudden," she said.
Olga's 11-year-old daughter Justina is also a figure skater.
Sophia and Justina were allowed just half an hour training time each due to ongoing Covid-19 restrictions which they are hoping will ease soon.
Just like her older sister, Justina also dreams of being a champion.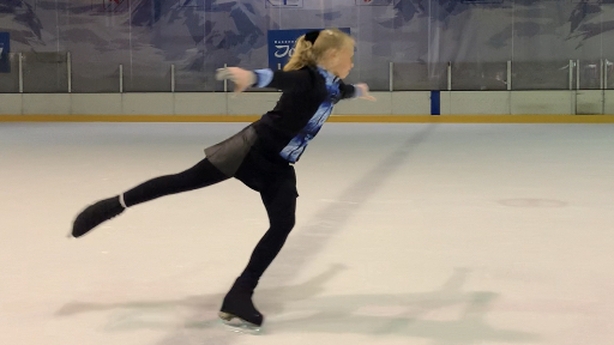 "I would love to be a champion figure skater because it's really cool, and I always see people on the TV.
"I think, I'd need to train every single day for like at least an hour. But I can't do that here since the rink is in Belfast," she said.
Sophia was born in Dublin after her parents met in Ireland. Her mother is from Belarus and her father is from Russia.
Her love of skating grew while the family temporarily lived in Moscow when she was five. There were three rinks within a 20-minute drive of where they lived.
Orla was surprised there was no rink in the Republic of Ireland when they moved to Wexford and believes a rink would be a great addition for indoor sport.
"Now we have so many Eastern Europeans coming over that ice skating, figure skating, ice hockey would be in their culture so I am sure that if someone would come up with this initiative to build an ice rink in Ireland, they definitely would benefit. I think the demand would be huge," she said.
Over the last year restrictions have created a shift from indoor to outdoor sports.
This Covid-effect is a concern for the President of the Ice Skating Association of Ireland, Karen O Sullivan.
She has seen locally the uptake among young children in sports like tennis and other outdoor activities that restarted earlier than indoor sports.
She said: "Many of our members, they're active and like everybody they want to be physically challenged going out there doing something and they're gone to other sports.
"For instance, with the figure skating we have seen a huge increase in inline skating. Will they all come back? I don't know."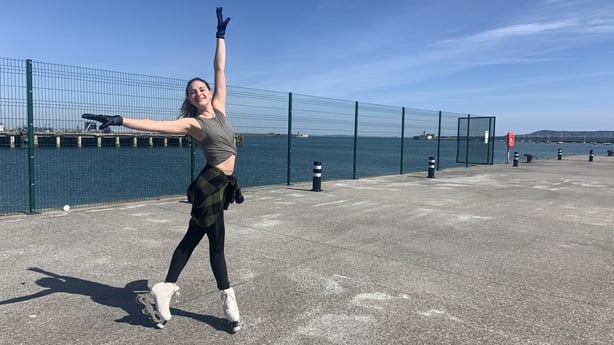 Kori Shagun is an ice skater who has taken to inline skating on Dún Laoghaire pier while there is no available access to ice.
From Portland, Oregon in the United States, Kori is the 2008 Pacific Northwest Regional Ice Skating Champion.
"I moved to Ireland about eight years ago and I began coaching with the Ice Skating Association of Ireland. I really love to coach, that's kind of the new love now," she said.
Kori's first love is ice skating but said it is so difficult to maintain skills and techniques when there is no rink, but inline skating is not quite the same.
"It's blades versus wheels. Being on wheels, you don't have a lot of the same scraping abilities, they just don't feel as graceful," said Kori.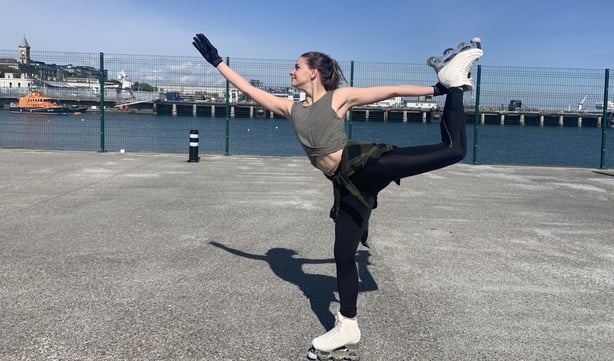 As a coach and a champion skater she understands the mindset for skaters like Sophia getting back on the ice.
"If I could say or give any piece of advice to them, I would say go easy on yourself, you know, you have to retrain, you have to, you know, allow that transition period of getting back into it. Don't let it discourage you," she said.
At Dundonald Ice Bowl in Belfast, the training session was a success.
Sophia's conditioning training through gymnastics and athletics over the past 5 and a half months maintained her strength and stamina.
"It was wonderful. It was incredible. It was just not long enough," she said breathlessly.
Olga was delighted to see her daughters Sophia and Justina back on the ice again.
"It was great just to see them doing or trying to do what they used to do, and it didn't take that long for them to feel more confident, and actually performing those jumps again," she said.
With the current limit of half an hour for training sessions. The girls will have to work hard to make up for lost time.
"We have some way to catch up. So that's why we have plans to go to skating camps for July and August, in Czech Republic," said Olga.
Sophia believes all the effort is worth it.
"Yes, Yes, I really like to participate and win the really tough competitions like the World Championships, and the Olympics maybe," she said.