A children's charity that offers specially designed camps for children living with serious illnesses has reopened its doors after being closed for 15 months due to the pandemic.
Barretstown in Co Kildare has offered free activities for children and their families since 1994 but in March of last year the charity made the difficult decision to postpone all residential camp programmes, as well as many of its key fundraising activities.
However, each weekend starting from today, families have been invited back to the grounds to take part in a range of activities including mini golf, canoeing, baking and drama.
There was "tremendous excitement" in the Byrne family from Balbriggan, Co Dublin, ahead of their return visit this weekend.
Ten-year-old Cian Byrne developed cancer two-and-a-half years ago and his parents say visits to Barretstown have been helpful.
"It's an opportunity for the kids to meet other kids in a similar situation, it does help the kids an awful lot," said Cian's father Mark.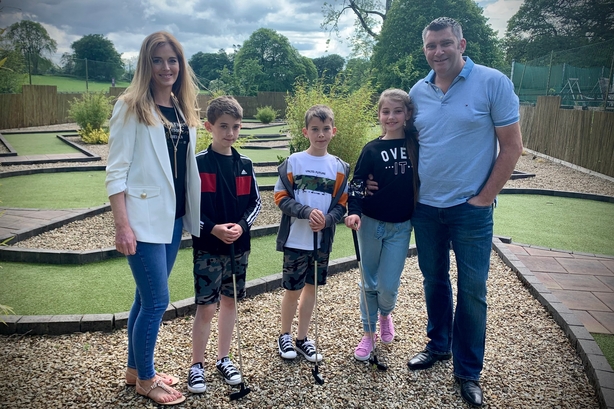 The charity's medical director said it employs a therapeutic recreation model which "empowers and encourages" campers and rebuilds their confidence.
"The Covid-19 crisis has meant that children with a serious illness, like those who come to Barretstown, who are immunocompromised, are even more isolated.
"They have needed Barretstown's therapeutic programmes more than ever," Dr Peter McCarthy said.
The charity has been offering virtual camp programmes throughout the pandemic, attended by almost 7,000 children and their families.
CEO Dee Ahearn said Barretstown's mission is to make sure childhood does not stop for children with serious illnesses.
"Our mission is to rebuild the lives of children, and their families, affected by serious illness in a safe, fun and supportive environment," she said.
The number of attendees will be limited in line with Government Covid-19 guidelines but the camp hopes to once again accommodate 25 families per weekend.
All families visiting camp undergo Covid-19 testing on arrival in addition to two days prior to arrival.
Barretstown said it relies on public donations for more than 95% of its operations and due to postponed or cancelled fundraising it suffered an income shortfall of €1m in 2020.