A Co Wexford art project that connects shipwrecks, a blue whale and a 77-year-old woman's extraordinary collection of pieces of pottery, is nearing completion.
The 'Wexford Blue Whale: Chanies Across the Sea' project involves the creation of a large whale mosaic from shards of pottery washed ashore on Rosslare beaches.
The finished artwork, produced by Wexford Arts Centre in association with artist Helen McLean, is to be installed permanently at Wexford Quay with support from Wexford County Council.
It will be officially unveiled as part of the Arts Council's 'Brightening Air/Coiscéim Coiligh' festival, which begins next week.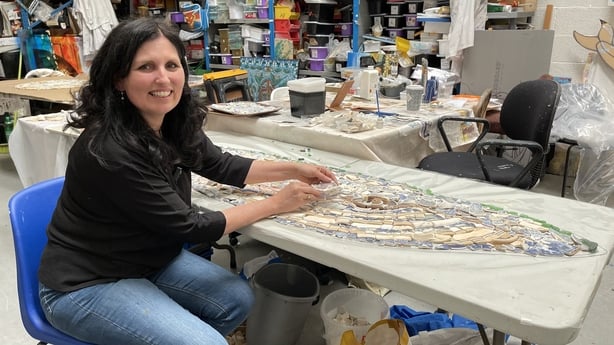 However, the origins of the project stretch back more than 150 years.
The mosaic is made up of shards of Staffordshire pottery, known as 'chanies', which have washed up on the shores of Rosslare.
Local resident Ann Borg, 77, has collected thousands of them since she was a child.
Ann said: "I started collecting them when I was about seven or eight. I would play in the sand and sometimes pieces would come up. I would bring them home and after a while I began to look forward to going to the beach to see if I could find these pieces of pottery. I didn't know what they were at the time, but I do remember trying to stick them together with flour and water!"
Many of the 'chanies' collected by Ann are believed to have come from a ship bound for Savannah, Georgia, USA in 1857.
She explained: "The ship went down in Moran's Bay in Rosslare. I am still always excited when I find a piece of the pottery it was carrying. It feels like I have found a piece of history."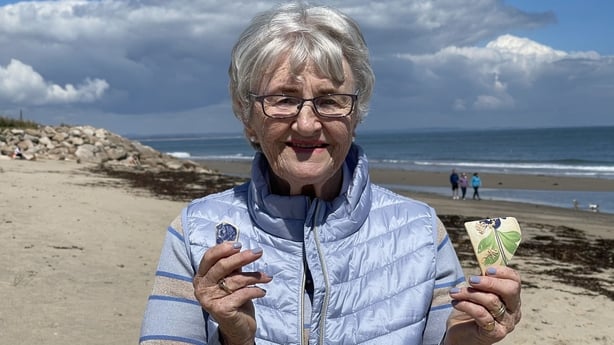 Over the years, Ann accumulated buckets of 'chanies', which she kept at home.
She also gave away many of them to curious tourists who passed by the car rental desk at Rosslare Harbour where she still works.
"They have gone all over the world. China, Jamaica, America. Different states and different places. People have always been really intrigued by them," she said.
Artist Helen McLean was also fascinated by Ann's collection.
She has been piecing together the pottery fragments in her studio in the Wexford Enterprise Centre.
Helen said: "There must have been about 60 buckets of them to sort through. But if there has been one positive thing about Covid, it is that I was locked away with all this pottery for four weeks. It was almost a therapeutic, meditative process to go through each box, making my selections."
The large whale mosaic that has taken shape recalls the 25m blue whale which beached in Wexford in 1891.
Its skeleton now hangs in the entrance hall of the Natural History Museum in London.
"The pieces of pottery feel like old bones, washed up more than a century later. In a sense it feels like we are resurrecting the story of the whale," Helen said.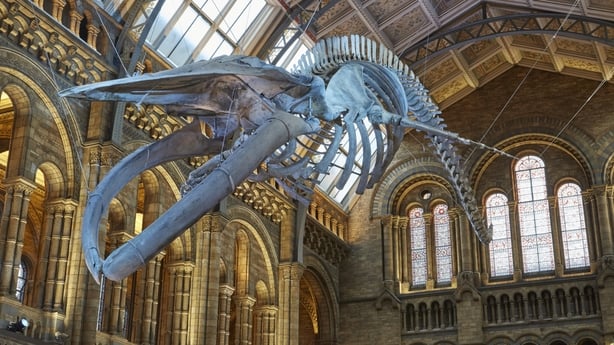 The whale mosaic, along with four buoy mosaics, are being secured in steel frames fabricated by a local firm, DC Fabrication Limited.
People have been invited to add their names to the back of individual pieces, as a way of contributing to the project.
Elizabeth Whyte from Wexford Arts Centre said: "The mosaics are symbolic of our ability to stay connected and sustain community collaboration on a local and international level. They also preserve the history and the journeys that connect Wexford with the UK and Savannah, home to generations of Wexford's emigrants. We have already had interest in this project from an Irish research centre in Savannah. They are interested in replicating the project on their side of the ocean.
"Histories can very quickly get forgotten in communities. So it's wonderful that a collection like Ann's can be passed on for future generations to appreciate, thanks to Helen's beautiful mosaic composition."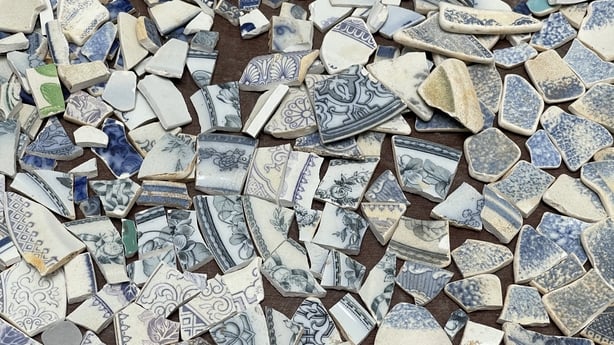 Ann, who still collects 'chanies' on her regular walks along the beach, believes the mosaic will be a fitting home for her collection.
She said: "I'm so delighted that something is being done with them. Particularly, with the whale, which is such a great tradition here. I can't wait to see it on the quay."