The Minister for Foreign Affairs Simon Coveney has told the Dáil that the Government affirms its solidarity with the people of Belarus.
It comes just over a week after a Belarusian warplane intercepted a Ryanair flight between European Union members Greece and Lithuania.
Belarus has been subject to EU and US sanctions since Belarusian President Alexander Lukashenko cracked down on pro-democracy protests after a disputed election last year.
But his decision to intercept an international airliner in Belarusian airspace and arrest 26-year-old journalist Roman Protasevich has brought vows of much more serious action.
Mr Coveney said the Government rejects the legitimacy of Belarusian President Alexander Lukashenko's regime, and condemned "the recent coercive forced landing" of a Ryanair flight in Minsk.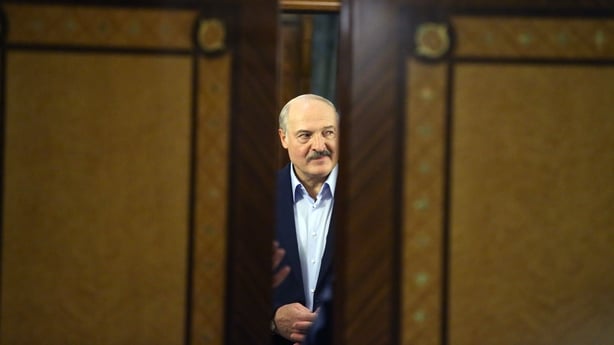 Introducing a motion on the situation in Belarus, Mr Coveney appealed for "universal support".
He called for the "immediate and unconditional" release of Mr Protasevich and his partner Sofia Sapega, who were detained on 23 May.
He said he has "deep concern" for Mr Protasevich's wellbeing.
He said that it is important that "those who are responsible for this outrageous attack on EU aviation" be held to account.
Mr Coveney noted the "the disturbing escalation" of the regime's moves to repress any opposition.
He said that the EU has responded with measures against the Belarusian air transport sector.
The bloc will bring additional sanctions against those responsible, and consider economic sanctions, Mr Coveney said.
"Lukashenko has all but criminalised freedom of expression", he added.
Mr Coveney said it "is clear that impunity breeds violence", and called for independent investigations into human rights abuses in Belarus, including those with "possible gender dimensions".
Sinn Féin's foreign affairs spokesperson John Brady said he supports the Government motion condemning the oppressive actions of the Belarusian regime.
He said when states are found guilty of breaking international law they must be held accountable.
He added it is shameful that the EU has not imposed sanctions on Israel.
Labour spokesperson Brendan Howlin said Government needs to do "much more" than monitoring the situation, as the motion proposes.
"We must harness whatever international pressure is necessary" in order to free Roman Protasevich and Sofia Sapega, he said.
"They entrusted their safety to the European Union," Mr Howlin added.
The motion was unanimously passed by the Dáil.
Ealier, a protest was held outside Leinster House to highlight the deteriorating human rights situation in Belarus.
One of the demonstrators outside the Dáil said she wanted to thank the Irish government for its ongoing solidarity.
However, Yuliya Aliakseyeva from the People's Embassy of Belarus in Ireland said media workers were living in terror due to widespread round-ups, and the wider population were now living "on the edge".
The Minister for European Affairs Thomas Byrne said the Irish government will continue to support activists opposed to President Lukashenko.
He tweeted: "I stood in solidarity with the Irish Belarusian community today outside Dáil Éireann and assured them of my continued support, and that of the Government for Belarus."
Additional reporting Paul Cunningham, Reuters