Britain's Prince William and Prince Harry have condemned the BBC for its treatment of their mother Princess Diana, saying a Panorama interview fuelled her "fear, paranoia and isolation" and a wider "culture of exploitation and unethical practices ultimately took her life".
Prince William's rebuke to the public broadcaster came after a report published yesterday said the inquiry found that BBC journalist Martin Bashir used deceit to win a sensational 1995 interview with Diana, and that the broadcaster covered up the deception.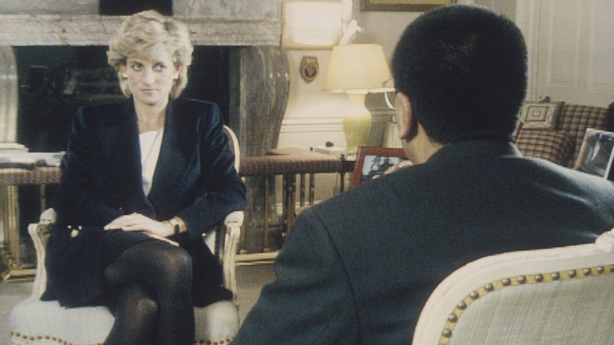 During the Panorama interview, watched by more than 20 million viewers in the UK, Diana shocked the nation by admitting to an affair and sharing details of her marriage to the heir to the throne and Prince William's father, Prince Charles.
Princess Diana died in a Paris car crash in 1997 at the age of 36.
"It is my view that the deceitful way the interview was obtained substantially influenced what my mother said. The interview was a major contribution to making my parents' relationship worse and has since hurt countless others," the 38-year-old Duke of Cambridge said in a statement.
"It brings indescribable sadness to know that the BBC's failures contributed significantly to her fear, paranoia and isolation that I remember from those final years with her."
In a separate statement issued at the same time, William's brother Prince Harry did not mention the BBC by name, but drew broader aim at the media and the "ripple effect of a culture of exploitation and unethical practices (which) ultimately took her life".
"To those who have taken some form of accountability, thank you for owning it. That is the first step towards justice and truth," the 36-year-old Duke of Sussex said.
"Yet what deeply concerns me is that practices like these - and even worse - are still widespread today. Then, and now, it's bigger than one outlet, one network, or one publication."
We need your consent to load this rte-player contentWe use rte-player to manage extra content that can set cookies on your device and collect data about your activity. Please review their details and accept them to load the content.Manage Preferences
Britain's Prince William has accused the BBC of failing his mother, Princess Diana, and poisoning her relationship with Prince Charles after an inquiry found a journalist for the broadcaster deceitfully obtained an interview with her in 1995 | More: https://t.co/d99TJQOKf1 pic.twitter.com/hr8SzxpJ9N

— RTÉ News (@rtenews) May 21, 2021
'Let my mother down'
The BBC set up the investigation, headed by former senior judge John Dyson, in November following allegations from Diana's brother Charles Spencer that he had been tricked into introducing her to Bashir.
Mr Dyson's report found that Mr Bashir, then a little-known reporter, had shown Mr Spencer fake bank statements suggesting that Diana was being bugged by the security services and that two senior aides were being paid to provide information about her.
After it was aired, Mr Bashir repeatedly lied to his bosses about how the interview was obtained, the report said.
As questions continued, BBC managers failed to scrutinise his version of events properly and covered up facts about how Mr Bashir had secured the interview.
The inquiry found that the BBC had fallen short of the "high standards of integrity and transparency which are its hallmark," and the BBC has written to Buckingham Palace to apologise.
Mr Bashir apologised for the fake statements, but said he stood by his evidence from 25 years ago and he did not believe they had prompted Diana to give the interview.
Prince William said that the BBC should have properly investigated when concerns were first raised in 1995.
"(Diana) was failed not just by a rogue reporter, but by leaders at the BBC who looked the other way rather than asking the tough questions," he said.
"These failings, identified by investigative journalists, not only let my mother down, and my family down; they let the public down too."
Britain's media minister Oliver Dowden said the government would consider whether further reform of governance at the publicly-funded BBC was needed.
"We will now reflect on Lord Dyson's thorough report and consider whether further governance reforms at the BBC are needed in the mid-term Charter review," Mr Dowden said on Twitter.
"I welcome the fact that the new leadership launched this independent inquiry and expect them to ensure that this can never happen again."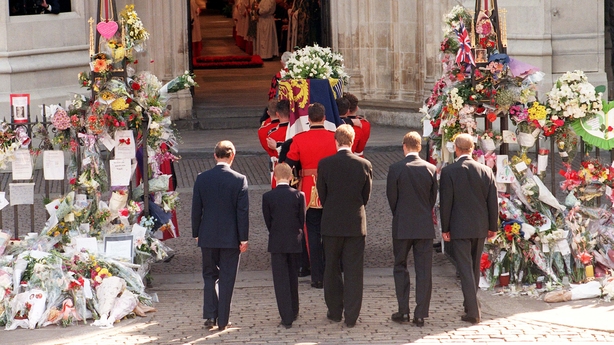 Harry says trauma of mother's death led to misuse of drugs and alcohol
Away from the Panorama scandal, Harry has admitted in his new documentary series with Oprah Winfrey, the trauma of his mother's death led him to use alcohol and drugs to "mask" his emotions and to "feel less like I was feeling".
Harry addressed traumatic memories from his childhood including the moment he was famously photographed with his brother, father, uncle and grandfather walking behind Diana's coffin at her funeral.
"For me the thing I remember the most was the sound of the horses' hooves going along the Mall," the 36-year-old told his series co-host Oprah Winfrey.
"It was like I was outside of my body and just walking along doing what was expected of me. (I was) showing one tenth of the emotion that everybody else was showing: This was my mum - you never even met her."
The series focuses on mental health, with Harry telling Ms Winfrey the trauma of the loss caused him to suffer anxiety and severe panic attacks from ages 28 to 32.
"I was just all over the place mentally," he said.
"Every time I put a suit on and tie on ... having to do the role, and go, 'right, game face', look in the mirror and say, 'let's go'. Before I even left the house I was pouring with sweat. I was in fight or flight mode."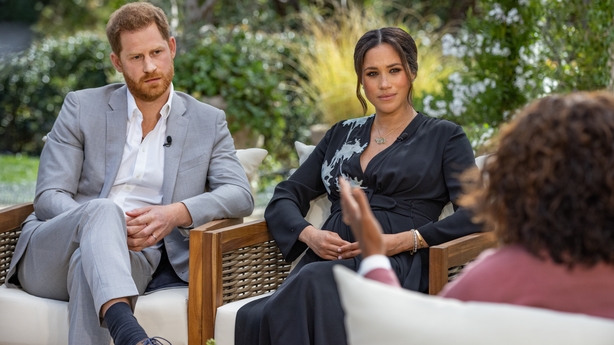 He said: "I was willing to drink, I was willing to take drugs, I was willing to try and do the things that made me feel less like I was feeling."
He told Winfrey he would drink a week's worth of alcohol on a Friday or Saturday night "not because I was enjoying it but because I was trying to mask something".
During the programme the duke also accused of "total neglect" when his wife Meghan was feeling suicidal amid harassment on social media.
That alleged abandonment was one of the "biggest reasons" the couple left the UK, Harry said.
"Certainly now I will never be bullied into silence," he added.
In his statement about Diana's interview, Harry said: "Our mother was an incredible woman who dedicated her life to service. She was resilient, brave, and unquestionably honest.
"The ripple effect of a culture of exploitation and unethical practices ultimately took her life. To those who have taken some form of accountability, thank you for owning it.
"That is the first step towards justice and truth. Yet what deeply concerns me is that practices like these-and even worse-are still widespread today.
"Then, and now, it's bigger than one outlet, one network, or one publication. Our mother lost her life because of this, and nothing has changed.
"By protecting her legacy, we protect everyone, and uphold the dignity with which she lived her life. Let's remember who she was and what she stood for."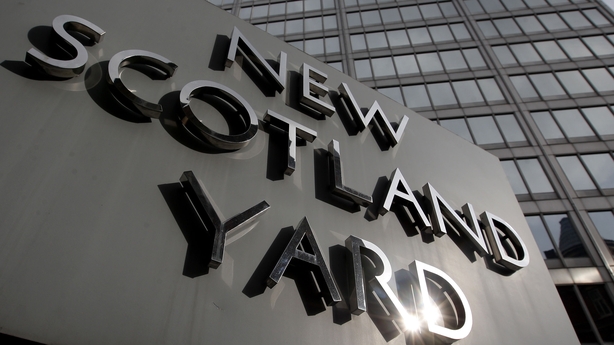 Police to assess contents of report
The Metropolitan Police have said they will "assess" the contents the report, "to ensure there is no significant new evidence", after previously deciding not to begin a criminal investigation.
Scotland Yard said in a statement that they had determined in March that "it was not appropriate to begin a criminal investigation into allegations of unlawful activity in connection with a documentary broadcast in 1995, but should any significant new evidence emerge it would be assessed".
They added: "Following the publication of Lord Dyson's report we will assess its contents to ensure there is no significant new evidence."
During an appearance on BBC Radio 4's Today programme on Friday it was put to the British Justice Secretary that some people say the police should be involved following the inquiry.
Robert Buckland replied: "That, of course, is a matter for the police and the independent prosecutorial authorities, and I'm not going to say anything to prejudge or to influence any such line of inquiry.
"But I think anybody reading the headlines and the summary of Lord Dyson's findings will be struck by his use of those words, fraud and deception and the like, and clearly those sort of issues, I'm afraid, could and do arise."
Asked if a second inquiry was needed to look at wider questions not in the remit of Lord Dyson's work, such as the handling of whistleblowers, Mr Buckland said: "I think all of us need to carefully comb through the report and if indeed there are issues that specifically Lord Dyson wasn't able, due to the remit that he was given to look at, then there should be, and I'm sure there will be, an opportunity to do just that. "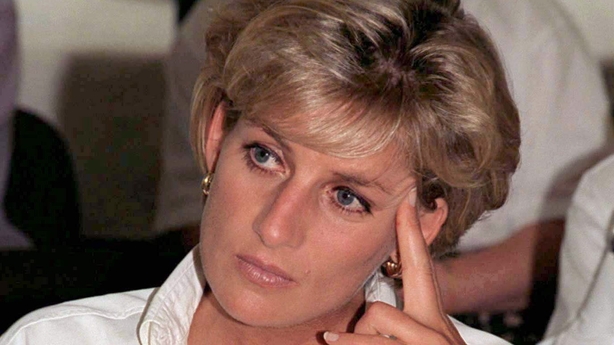 Whistleblowers criticise apology
Two BBC whistleblowers who tried to highlight the deceitful methods employed by Martin Bashir to obtain his explosive interview with Diana, Princess of Wales, have attacked the corporation's "generic" apology.
The journalist commissioned falsified documents purporting to show payments into the bank account of Alan Waller, a former employee of Earl Spencer; Patrick Jephson, Diana's private secretary; and Richard Aylard, private secretary to the Prince of Wales, the report found.
Graphic designer Matt Wiessler, who was commissioned by Mr Bashir to create mocked-up documents, has long claimed he was made the scapegoat for the scandal.
The documents falsely suggested the individuals were being paid for keeping the princess under surveillance.
Mr Wiessler said on Friday that his business had folded as a result of being blacklisted by the BBC, after blowing the whistle on Mr Bashir's tactics.
He told the Today programme: "Only under duress do we get some sort of apology and some sort of acknowledgement."
Mr Wiessler said all he had received was a "well-crafted letter" from the BBC at 10pm on Thursday which did "the absolute minimum" to acknowledge how poorly he had been treated.
He added: "It's just really weak, calculating and, quite honestly, after 25 years, it's nasty what they are doing to this day."
Mr Wiessler accused Mr Bashir of "arrogance" for saying recently he is still proud of the Diana interview.
Former Panorama producer Mark Killick, who was sacked from the programme within 24 hours when he raised concerns, called Mr Bashir a "dishonest reporter".
Speaking to BBC Breakfast, he said: "I think (the report) makes it very clear that Martin Bashir was a dishonest reporter, that he not only forged a number of documents, but he lied and lied."
Mr Killick said senior managers at the BBC had fostered a "culture of fear" to deter whistleblowers and orchestrated a smear campaign against its own employees.
"I was told we only want the loyal people on the programme - I had been on Panorama for 10 years - and I was effectively let go," he said.
"That is what happened to whistleblowers at that time."
Mr Killick criticised the BBC for its inadequate and "generic" apology to both whistleblowers and Diana's sons.
"Many people, both on the Princess Diana side of the line and in the BBC, had their reputations destroyed by a smear campaign authorised by BBC senior management, and many of them lost their jobs," he said.
"I'm not quite sure that a generic apology in the form of a press statement by the BBC is anything like adequate."
He continued: "The culture of fear that was established then, it was a long time ago, but they sent a clear message to everyone in the BBC, 'do not refer up, do not bring the BBC bad news'."
Additional reporting PA