A campaign is under way aimed at securing legal protection for basking sharks.
Conservationists have said the endangered species must be offered protection as soon as possible to ensure the population's long-term viability in Irish waters.
The Social Democrats have introduced a bill to amend the Wildlife Act, making it an offence to intentionally, or recklessly injure, disturb or harass a basking shark.
With some growing up to 12m in length, the basking shark is the largest fish species in the North Atlantic.
Research indicates that Ireland hosts up to 20% of the world's basking shark population.
They are at their most prolific in Ireland in late spring and early summer when they can be seen close to shore feeding on the surface of the sea.
Historically, the basking shark was hunted in Irish waters for its valuable liver oil.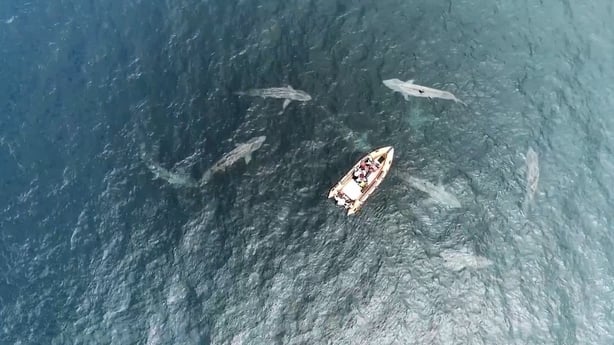 The most recent large-scale fishery in Ireland operated on Achill, Co Mayo, where up to 9,000 individuals were landed between 1950 and 1964.
A prolific basking shark fishery existed in Norway until it was closed in 2006.
Since then the species has been slow to recover and, with an estimated global population of 10,000, is classified as endangered.
Simon Berrow of the Irish Basking Shark Group said protection in Irish waters is long overdue.
Mr Berrow said: "There's some protection under fisheries management but it's minimal.
"Also, by simply getting too close to these animals, by taking a boat too near them, by trying to touch them, by swimming with them it disturbs them and it stops their natural behaviour.
"It may also be disturbing courtship activity, which is crucial to this species which has a very slow reproductive rate."
He added: "The bill that's been put forward to the Dáil is to list basking sharks under section 23 of the Wildlife Act.
"That would give them the same protection as whales and dolphins and seals for example.
"I think it's appropriate that a species which is vulnerable to the same kind of threats is given the same kind of protection.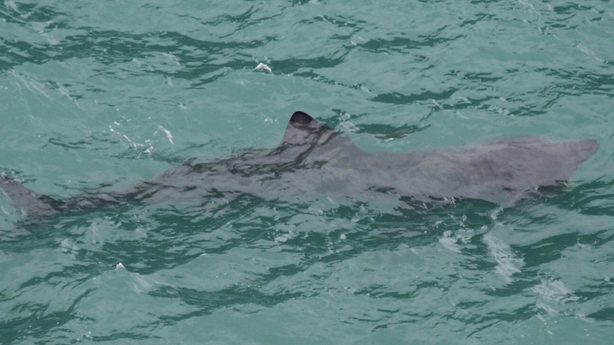 Mr Berrow said: "The time is now. There's huge pressure on our inshore waters – offshore wind farms, aquaculture, marine spatial planning."
Basking sharks have had legislative protection in the UK since 1998 and Irish conservationists said it is of paramount importance that Ireland follows suit.
Mr Berrow said: "Research has shown that basking sharks are a highly mobile species and that there is huge connectivity between the UK and Ireland.
"So it's wrong that they are protected in one area and not the other. It's the same sharks moving freely between these areas and we have a duty to do our part."
Mick Sheeran who operates eco-marine tours around the Blasket Islands said some people can tend to get too close to the basking sharks.
He said: "At this time of year, for about six weeks, they are quite plentiful on the surface eating the Spring plankton.
"They are very placid and calm animals and people get a bit deceived by them and come a little bit too close to them and they can inadvertently disturb the shark.
"There's also the danger that the person might get injured by the sudden whoosh of their tail when they are frightened. So the advice is to keep a distance."
The Wildlife Act is expected to be opened for debate in the Autumn and conservationists are hopeful that the proposed amendment will receive cross-party support.
The Irish Basking Shark Group is also launching an online petition.
Mr Berrow said: "The basking shark is an iconic species and Irish waters are one of the most important areas for this shark throughout the world.
"We are privileged in Ireland that we can see basking sharks close to shore on a regular and seasonal basis.
"That's unique. I think we owe it to them, to give them the legal protection they deserve."