Non-essential retail opened today for the first time in over four months as a further easing of coronavirus restrictions continues.
Retail Excellence, the representative body for the industry, said it is a landmark day for the 280,000 sector employees around the country.
In a statement, it said the vaccination roll-out means businesses can now plan for the weeks and months ahead.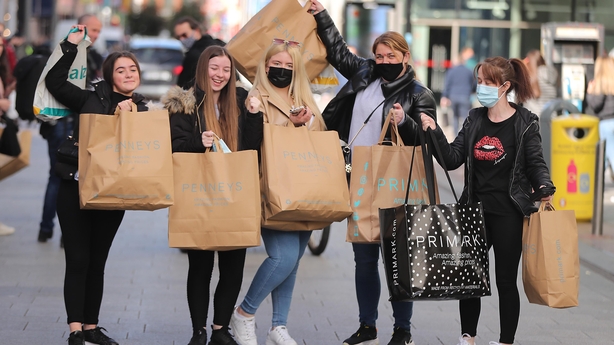 The organisation is asked customers to be patient as social distancing rules still apply.
Some large retail chains are expected to offer late opening hours, while Dundrum Town Centre in Dublin has an online crowd counter so that shoppers can find out in advance if it is too crowded.
The streets of Wexford town were buzzing with activity today as the last of the retail outlets closed since last December reopened their doors.
It was the first time for many businesses, including small shops and independent traders, to be able to trade for almost five months and the relief was palpable.
Some outlets were able to do some online businesses while the restrictions were in place, but others were not so lucky and were looking forward to being able to meet customers once again today.
---
---
Hore's Stores, a family-run department store, which has been in business in the centre of Wexford for almost 76 years, missed out on 37 weeks of trading in all since March of last year.
"It's probably been the most challenging period for this company since it started, really," Ger Hore said of recent times.
"The pandemic has been just something that has hit us out of the blue, like everyone in the country.
"It's been very challenging for us, financially, everybody was hit," Ms Hore said. "You have stock in and you can't sell it, you're wondering if you'll reopen. The uncertainty for your staff and your customers, but you know we got through it and we're open again today and it's great.
"Wexford is a great shopping town, and it's lovely to see everybody out on the streets."
Breda Doyle from the shoe department in Hore's said it was a relief to be able to "open the doors again" and "meet people again" after so many months of closure and a lack of face to face encounters. "It's good for your mind, as well."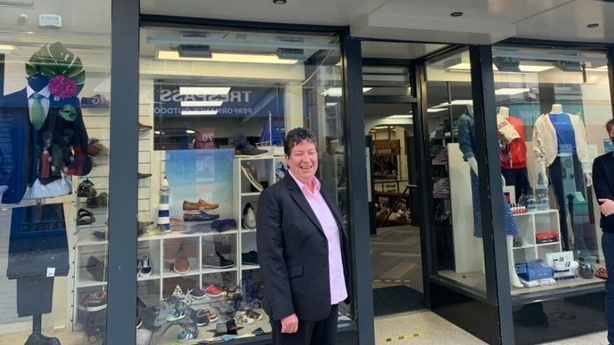 Further up the Main Street in the town, at West Gate Design, Mary Roche was back for her first day of work since December.
"You wouldn't know what to be doing with yourself at home," she said. "It's great to be back and meeting the girls and the boys [at work] again."
Owner of gift shop/restaurant business West Gate Design, Keith Jordan, said it was a welcome day for all such businesses and expressed the hope that everywhere would stay open.
"This is our first day open since Christmas Eve," he pointed out. "It felt like the building was completely empty," even while they were operating a takeout café.
"The vaccine rollout is going well, I think. Hopefully this is the last lockdown we'll have to live with and we'll continue to stay open."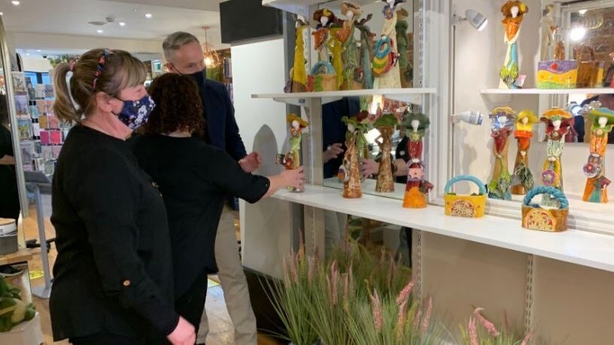 At St Peter's Square in the town centre, Wally O'Neill of Red Books said that they had only moved to that premises shortly before the first lockdown began. "We closed on the 28th of December. It's been difficult, it's been difficult for everyone… We're delighted to be back."
The message from places like Wexford is that they are now back in business and delighted to welcome shoppers and visitors, according to the bookseller.
"We're a safe place to business, we're open for business again, whether it's a day-trip or a short visit… The feedback has been great, we've been getting great messages of support."
Next door neighbour, Sharon Messitt of The Little Geek Shack, a vintage clothes, music and gift shop, took up the lease last October and was closed within a number of weeks because of the advent of the late-December lockdown, and has been closed ever since, until today.
"It's just been really difficult to try and keep motivated and keep positive. Once we got a date in place it was so much easier just to get everything ready and have a bit of excitement to re-open again."
Retail Excellence Managing Director Duncan Graham said this easing of restrictions was different to those that had happened before.
"Thankfully, our vaccination rollout is picking up pace and we have had strong assurances from the Government that we are not going backwards," he said.
He added: "Finally, this means that retailers can plan for the weeks and months ahead with the sort of confidence that has been missing for over a year.
Ibec group Retail Ireland said retailers were hopeful of a significant summer bounce in trade, with sales over the next month expected to be 40% higher than pre-pandemic times, due to pent up consumer demand.
It said that based on the experience from last year, it expects consumers to spend over €3 billion on debit and credit cards in shops in the next month, €800m more than over the same time pre-pandemic.
But despite the very positive news on reopening, the group said the sector was still concerned about the longer-term outlook and that Government supports for vulnerable businesses must continue.
"The last few months have been incredibly stressful for retail businesses and their staff, but there is a real sense of optimism," RI Director Arnold Dillon said.
"Government supports have been a lifeline for many businesses, but challenges remain. Debt levels have increased significantly, and many rent disputes remain unresolved.
"Supporting the experience economy and breathing life back into our towns and cities must be a top priority over the coming weeks and months. It is really important that a plan is put in place for getting offices open again," he added.
Minister for Business, Employment and Retail Damien English paid tribute to the resilience and patience of business owners and workers in the Irish retail sector.
"It has been a long road and I want to thank those in the sector who have worked closely with myself and the Government over the last few months to make this day possible," he said.
He also urged people to shop local and to support their local retailers in the coming days and months ahead.
Mr English said shoppers need to adhere to public health guidelines, to wear a mask in store and in busy outdoor areas for their safety and for that of other shoppers and staff, even if they have been vaccinated.
"Remember also to keep a two metre distance from others and to use hand sanitisers on entering and leaving any shop," he added.
Additional reporting John Kilraine, Samantha Librari, Conor Kane