Figures show that less than 1% of people deemed to be in the high-risk Group 7 for Covid-19 have received a vaccine so far.
The Health Service Executive said that vaccination of this group, estimated to be 300,000 people aged 16-59 years, will be completed by the end of May or early June.
People in Group 7 are at high risk of developing severe disease if they catch Covid-19 due to underlying conditions.
Latest figures show that by Sunday, 2,780 people in this group had been given a dose of vaccine, representing less than 1% of the group total.
People in this group are being vaccinated by hospitals or GPs.
A complicating factor is that a large number of GPs have opted not to be involved in vaccination of people in Group 7.
The HSE also said it appeared likely that some people in Group 7 may have been categorised incorrectly in the computer system as being in Group 4 when they got their first dose.
Group 4, which is for those at more risk than Group 7, is showing in excess of 110% vaccination.
The HSE said that these category errors are being corrected at the second dose and that a HSE Data Quality Team is working to correctly code people on an ongoing basis.
When people return for their second dose, staff are being reminded on the system to correctly categorise people.
The HSE also said that its priority is to administer vaccines to those in Group 4, and that it has moved on to Group 7.
The plan is to administer up to 60,000 vaccines to very high-risk and high-risk groups this week.
---
---
The Minister for Health said he wants to reassure everyone in Group 7 still to be vaccinated and that they are a priority for the Government and the HSE.
Stephen Donnelly said the very high-risk and high-risk groups were quite complex because there is no national patient register of these people.
The Minister said there will be a much higher volume of vaccination among Group 7 in the coming weeks.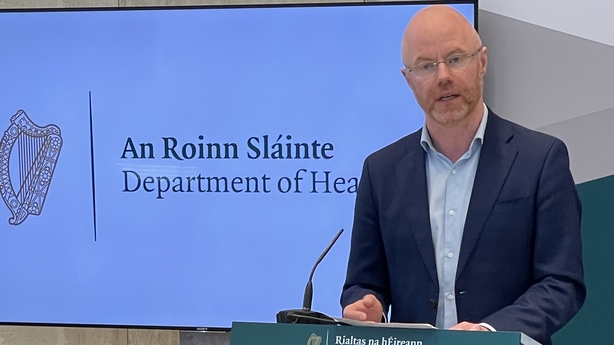 He said the HSE had put a lot of work into the vaccination of Group 4, those at very high-risk and wanted them to be vaccinated as quickly as possible.
Mr Donnelly said it now looks like some of Group 7 will have been vaccinated as part of Group 4 because there is some overlap.
He added that some in Group 7 will have been vaccinated as part of the age-groups.
Separately, the Minister said he is getting "quite frustrated" with the lack of progress in allowing partners into maternity hospitals for scans and births.
Mr Donnelly said he is expecting a report later today on the issue following a conversation with HSE Chief Executive Paul Reid this morning.
He said all 19 maternity hospitals are being contacted today and being told clearly what the guidance is from the HSE's chief clinical officer.
At a minimum they are to allow access for partners for 20-week scans, birth and neonatal visits.
Any maternity unit that does not believe that it is appropriate or safe to allow this at the moment is being told to submit a case back and that information is now being compiled.