Bathing water quality improved in 2020 compared to the previous year with 96% of bathing areas meeting or exceeding the minimum standard for cleanliness, according to the latest annual report from the Environmental Protection Agency.
The EPA has called on Irish Water to make "improvements" in urban wastewater systems in an attempt to cut down on incidents of pollution.
It also wants increased monitoring at busy beaches, outside of the traditional season of 1 June to 15 September, given the amount of people now swimming at all times of the year.
Of 148 designated beaches, mostly on the coast but also at some inland lakes, 142 were found to have water quality which was at least at the minimum standard in 2020.
Meanwhile, 111 areas were classified as excellent, up from 107 the previous year.
There were four beaches classified as having "poor" water quality: Cúas Crom in Co Kerry, the Front Strand at Balbriggan in Dublin; Lilliput at Lough Ennell in Co Westmeath, and Clifden in Co Galway.
The latter loses its status as a designated bathing spot, having been declassified for having poor quality water for five years in a row.
However, the beaches at Ballyloughane in Galway and Portrane in Dublin improved from "poor" in 2019 to "sufficient" and "good", respectively, last year.
The EPA says that 57 pollution incidents at beaches were reported to it during 2020, with discharges from urban wastewater systems the most common cause.
"Irish Water needs to make improvements in the operation and management of urban wastewater treatment plants and networks, where these impact on bathing waters," the report states.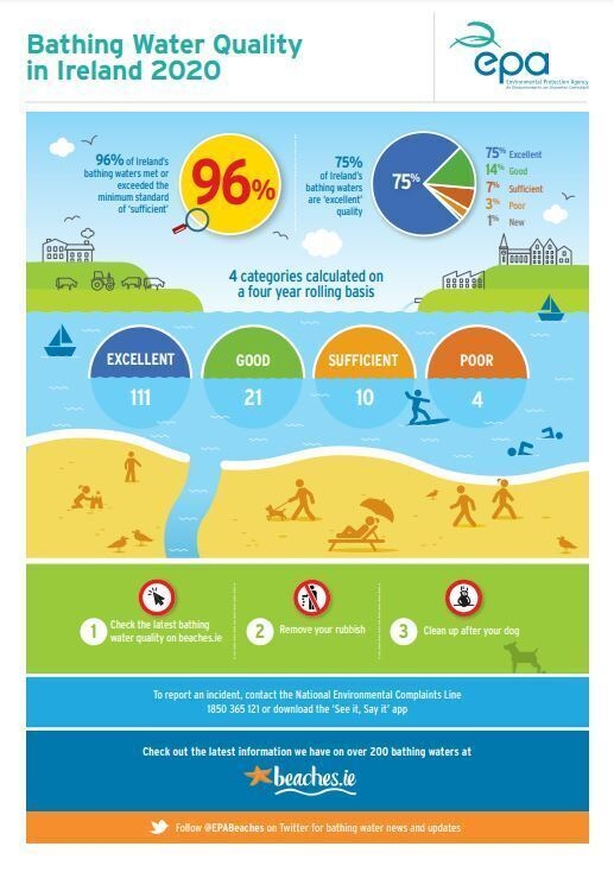 Some beaches can experience a downturn in water quality when pollution from wastewater or agriculture gets washed in during heavy rain.
New bathing waters at Carrigaholt and Quilty, both in Co Clare, identified in 2020, will be included in next year's report.
EPA director Dr Eimear Cotter welcomed the "continued improvement" in bathing water quality.
"Good quality bathing waters are important, now more than ever, as more people enjoy our national amenities, and particularly swimming," she said
"With many people now swimming outside the bathing season, the EPA is calling for additional water quality monitoring at beaches where there are large numbers of year-round swimmers, and that this information is made available to the public."
We need your consent to load this rte-player contentWe use rte-player to manage extra content that can set cookies on your device and collect data about your activity. Please review their details and accept them to load the content.Manage Preferences
EPA Programme Manager Mary Gurrie said the minimum requirement for testing is once a month. and there should be improved information on bathing waters for swimmers throughout the year.
Speaking on RTÉ's Morning Ireland, she said that additional monitoring and advice would reassure swimmers.
Water quality can decline for a number of reasons, such as heavy rainfall, and at these times local authorities put up advisory notices, she explained.
Ms Gurrie said that Clifden beach has been of poor quality for five years and now must be declassified, which in effect says it is permanently closed for bathing - unless the situation improves.
She said the problem is the result of waste water.