A month before the Government introduced mandatory hotel quarantine, Ryanair warned the Department of Transport that its staff were "in no position" to "interrogate" passengers about their hotel bookings.
Correspondence, released under the Freedom of Information Act, showed the airline's Director of Operations Neal McMahon sent a letter to a senior Department of Transport official criticising proposals for mandatory hotel quarantine.
In late February he told Fintan Towey, Director General of Civil Aviation at the Department of Transport, that airline staff should not be required to determine if passengers had booked a hotel quarantine facility before boarding a flight, adding that the airline's gate staff were "already performing essential aviation safety and security functions".
Instead, Ryanair appealed to the Department to make the Passenger Locator Form available online only.
The airline said that its IT staff, from "Ryanair Labs", could assist the Department in developing a new facility on the online form, where passengers could provide details of their hotel booking.
This would generate a unique QR code, similar to a barcode, which passengers could store on their smartphone or in hard copy and present to gate agents when checking in.
Ryanair said that this system would ensure that the hotel booking could be verified by Government agencies, including border security, which Neal McMahon said in his letter are "properly trained to make an appropriate judgement".
Mr McMahon said that airline staff should be provided with a "binary" option to decide if passengers should be allowed to board an aircraft.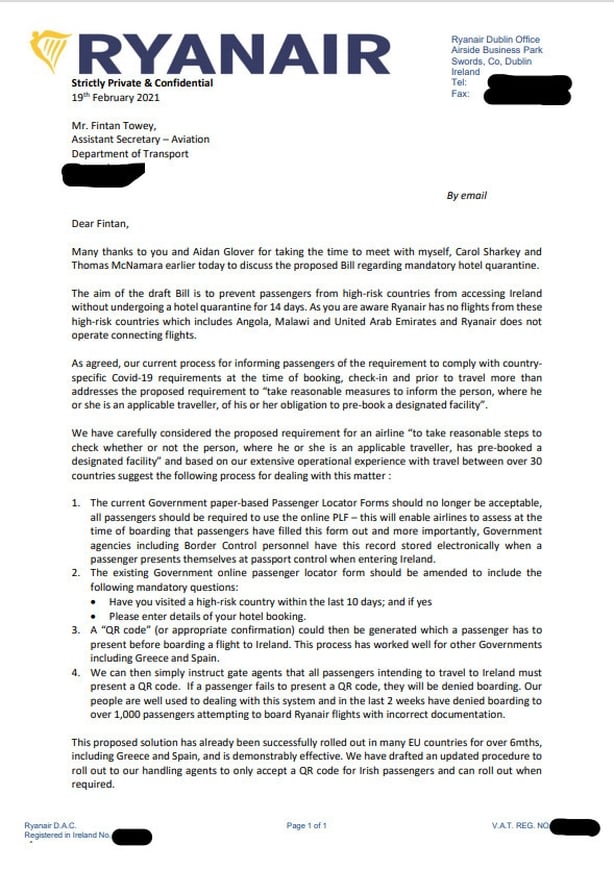 Ultimately however, Mr McMahon said that the fact remains that the border with Northern Ireland would allow people to "avoid the expense of hotel quarantine".
Mandatory Hotel Quarantine was subsequently introduced on 26 March.
Under the legislation airlines are required to take "reasonable steps to check whether or not the person, where he or she is an applicable traveller, has pre-booked a designated facility".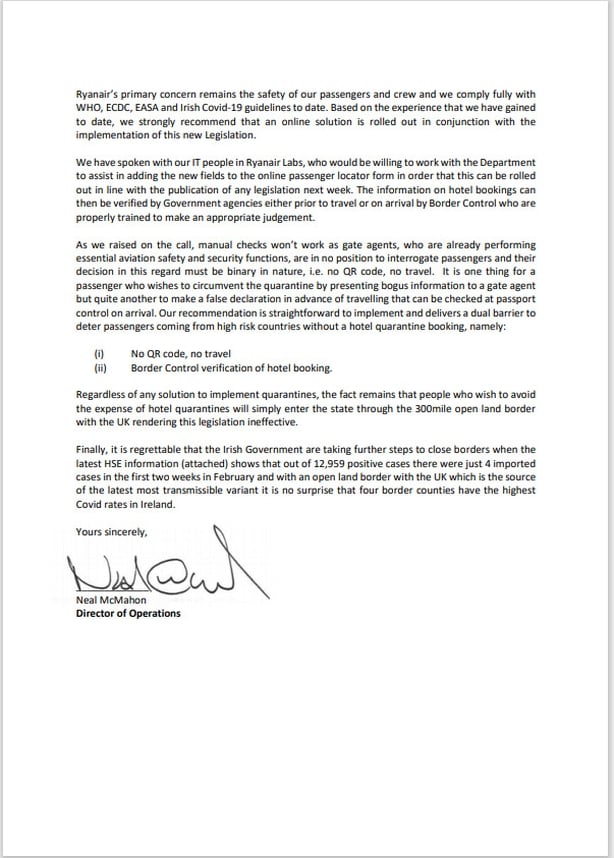 Government urged to produce an aviation recovery plan
Further correspondence, released under FOI, shows that Ryanair warned the Government that Ireland risked being left "disconnected from Europe" as no work had begun on an aviation recovery plan.
Ryanair's Carol Sharkey, Director of Safety and Security and Chief Risk Officer, told Fintan Towey in the Department of Transport that aircraft could be "allocated elsewhere in the event of an upturn" and therefore Ireland risked losing connectivity.
Sent on 5 February, the letter urges the Department to begin work on a recovery plan "without further unnecessary delay".
Ms Sharkey told Fintan Towey that this was "particularly important for Ireland" given that other EU countries would always have "land transport options".
In an email sent in January, Carol Sharkey also warned the Department that Government should not link Covid-19 vaccinations with the resumption of air travel.
The email, sent before Ireland adopted an age-based system for vaccinations, warned that linking vaccines and air travel would only serve to divert "vaccines away from those who need it most".
In the same email, she requested that the Government lift "unnecessary quarantine and/or testing requirements" for air travel once the most vulnerable members of society are vaccinated.