Taoiseach Micheál Martin has warned that any unilateral move away from the Stormont House Agreement, which deals with legacy issues of the Troubles in Northern Ireland, would be a "breach of trust."
He said: "I'm conscious these are newspaper reports.
"There is an agreement in place with the British government, with the parties in Northern Ireland and indeed with victims' groups and that is the Stormont House Agreement of 2014. Any move from that would be a unilateral breach of trust."
The Daily Telegraph and Times newspapers are reporting that UK authorities are to ban prosecutions of former British soldiers who served in Northern Ireland during the Troubles and the move is to be announced in Queen Elizabeth's speech next week.
It is claimed the legislation would introduce a statute of limitations so there would be no prosecutions for any alleged crimes committed before the signing of the Good Friday Agreement in 1998.
The reports say the ban would apply across the board, so would also include former members of the IRA and loyalist paramilitary organisations.
Mr Martin added: "For us, the victims are the priority and the victims remain the priority. There has to be adherence to that agreement. If people have new ideas to present they have to involve all of the parties, and above all the concerns of victims irrespective of who committed the atrocities. People must be held accountable."
He said there had been engagement with officials in the British government over the reports this morning and there would be contact with Prime Minister Boris Johnson "in the coming while."
He said there was no proposal on the table and proposals would have to be dealt with in the context of the Stormont House Agreement.
We need your consent to load this rte-player contentWe use rte-player to manage extra content that can set cookies on your device and collect data about your activity. Please review their details and accept them to load the content.Manage Preferences
The Government had been aware the UK was considering the possibility of such legislation, but strongly advised that it would oppose any such move and has made it clear it remains fully committed to the 2014 Stormont House Agreement.
It included a proposal for an Independent Historical Investigations Unit to investigate all outstanding Troubles related killings.
The Taoiseach has repeatedly made it clear that any deviation from the Agreement would upset many victims and their families.
How to deal with the legacy of the Troubles was one of the items discussed when Minister for Foreign Affairs Simon Coveney met Northern Secretary Brandon Lewis in Dublin yesterday.
It is understood there was no suggestion during the meeting of any announcement next week.
"The Irish Government discussed with our UK colleagues the commitments of the Stormont House Agreement and strongly advised against any unilateral action on such sensitive issues," a spokesperson for Minister Coveney told RTÉ News.
"We reiterated that only through a collective approach can we deal with these issues comprehensively and fairly in a way that responds to the needs of victims, survivors and society as a whole.
"Victims and their families are the only priority."
I've met many victims of the Troubles & their families. I've seen ongoing heartbreak & pain whenever legacy is in news. Irish Govt is clear that we oppose any unilateral action on legacy, contrary to SHA. Victims&NI must be the priority, the only priority! https://t.co/sra1KACinD

— Simon Coveney (@simoncoveney) May 6, 2021
Tánaiste Leo Varadkar has said the Government is "very alarmed and deeply disturbed that the British government is even considering this move".
Speaking on RTÉ's News at One, Mr Varadkar said a ban on prosecutions of former British soldiers would be in violation of the Stormont House Agreement and could not even be considered without the agreement of parties in Northern Ireland.
He said the Government "stands four square behind victims of violence" whether at the hands of British soldiers or other forces.
Mr Varadkar reiterated that the issue was not discussed with Mr Lewis yesterday and said there should have been conversations with the Irish Government and parties in Northern Ireland if the British government is considering doing this.
Relations are not as good as they were "before Brexit caused difficulties", but, he said, even though there have been issues "we have always been able to come to an agreement."
"It's a rocky relationship and not as good as had been in the past but we do manage to get things done," he added.
The Minister for Foreign Affairs, Simon Coveney, said unilateral actions do not work as they cause division, polarise opinion and upset people and the only way to move forward in Northern Ireland is by consultation with all parties.
Speaking on RTÉ's Six One Minister Coveney said this is particularly the case in relation to legacy issues when victims and their families have to be assured they are at the heart of everything that is being done and not blindsided as they had been in the past twenty-four hours.
PSNI 'consistently' voiced support for agreement - Byrne
PSNI Chief Constable Simon Byrne said he has had no advanced sight of what the gGovernment is planning in relation to legacy cases.
Mr Byrne declined to be drawn on whether or not he would support the reported statute of limitations, insisting it was appropriate to wait to comment until the details were officially announced.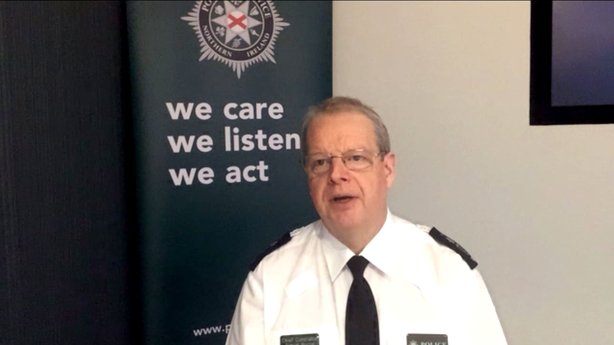 However, he made clear that the PSNI had "consistently" voiced its support for the Stormont House Agreement mechanisms, which include a new investigative unit for Troubles crimes.
"I haven't had a conversation with the Secretary of State (Brandon Lewis) in relation to what would appear in the public domain today," he told a meeting of the NI Policing Board.
"We did have an indication from the NIO that something will be said on the 11th of May (Queen's Speech) but we were no (more) sighted in terms of the detail than what has been put out in the public domain today."
He added: "We've said on previous occasions that we support the Stormont House Agreement. We've said that consistently over a number of years.
"But I just don't want to get drawn at the moment until we've seen the specifics in the Queen's Speech, because we might end up upsetting a whole can of worms that we don't need to because we haven't got any further insight at the moment."
Irish Govt needs to be very forceful, says McDonald
The Sinn Féin leader, Mary Lou McDonald, has called for the "strongest possible political pushback" to any move away from the Stormont House Agreement.
She said the British government is determined that no British soldier would be held to account for their "dirty war" in Ireland and doing this is "not acceptable".
Ms McDonald said the Irish Government needs to be very forceful in its engagements with Mr Johnson and use all available diplomatic channels across Europe and with the US to exert maximum pressure on the UK to stop it acting unilaterally on this matter.
She said Stormont House Agreement is an international agreement with binding obligations.
She said that she believed international allies need to stand with Ireland and "stand against what is an act of gross bad faith and a breach of an international agreement".
Asked about suggestions that the story could be linked to elections taking place in the UK, Deputy McDonald said, "you don't pay political games or electoral games with those people or those families, that is outrageous and divisive and toxic".
The UK needs to "get back to what was agreed and demonstrate some level of respect and humility for the nightmare caused... to countless families for decades," Ms McDonald added.
She said that in 2015 the Irish and British governments signed off on mechanisms needed to give "information, comfort, closure and access to justice to families that have been hurt and harmed".
From the get-go the British state has used every opportunity to "block, frustrate and delay" the delivery of the mechanisms of that agreement, she added.
Ms McDonald said that 367 people were killed by British soldiers during the Troubles and that just three soldiers were convicted and one conviction was later overturned.
Earlier, Stormont's Deputy First Minister and Sinn Féin's leader in Northern Ireland Michelle O'Neill reacted with anger, describing reports of a possible amnesty for "state forces" as "another slap on the face to victims".
In a tweet, she added: "Another cynical move that will put British forces beyond the law. This is legal protection for those involved in state murder. This is not acceptable."
Sinn Féin MP for North Belfast John Finucane said the reported plan is divisive and toxic and needs to be condemned across the board.
Mr Finucane said he does not believe the decision is a reaction to a particular trial, but is a continuation of a policy, "which is that the British government does not want any accountability for their actions in Ireland, where many people were killed over a long and sustained period of time."
He said it is another example of the British government taking unilateral action to breach an international agreement, adding that "frankly I don't think they care very much about the repercussions of their actions."
Speaking on RTÉ's Morning Ireland, Mr Finucane said the Irish Government needs to be very strong in its response.
He said the British government has no credibility when it comes to the legacy process and this decision is not something that has been constructively proposed in the context of helping families find information.
Concerns amnesty planned for 'quite some time'
SDLP leader and the MP for Foyle Colum Eastwood said there have been concerns that the British government would allow such an amnesty for "quite some time".
Speaking on RTÉ's Morning Ireland, he said the British government has not spoken to victims or other parties about the move.
"The British government just doesn't care", he said, adding that Boris Johnson has no interest whatsoever in dealing with the issues that have arisen in Northern Ireland over the last number of months.
Every victim is entitled to seek truth and be offered a proper investigation, he said, adding that it is difficult to have any faith in the British government.
"I think they're the most cynical and untrustworthy government British government that we've seen in many years, frankly that's saying something."
Stormont's Justice Minister and Alliance Party leader Naomi Long also criticised the move.
In a post on Twitter she said this kind of briefing "before any meaningful engagement with victims' families typifies the contempt with which Govt are treating victims".
Meanwhile, Green Party leader Eamon Ryan said there is a need to be sensitive and not to just respond to newspaper headlines.
Mr Ryan said Minister Coveney made clear that the Government opposes unilateral moves during his meeting with the Northern Ireland Secretary yesterday.
It is "a highly sensitive issue", he said, adding, "you don't abandon those agreements lightly."
Mr Ryan said he did not believe the reports of possible unilateral action being taken by the UK government was raised in that meeting by Mr Lewis.
"I don't believe it was. Had it been it would have clearly been a very serious issue and that meeting would have immediately raised real concerns which would have been addressed straight away."
Green Party leader @EamonRyan tells RTÉ's @MorningIreland he expects North-South cooperation to continue regardless of who succeeds Arlene Foster as leader of the DUP pic.twitter.com/pSYsERNupN

— RTÉ News (@rtenews) May 6, 2021
Patrick Corrigan, Director of Amnesty Northern Ireland, said the reported plan "would amount to a blanket amnesty for human rights abuses committed by all sides during the three decades of violence".
In a tweet, he added: "It would be an utter betrayal of victims' fundamental right to justice and fly in the face of international human rights standards."
Additional reporting Vincent Kearney, David Murphy