This week, we are hearing from some of Ireland's most inspiring teenagers in our "Quaran-teen" series of reports. They share their views on life now and their hopes for the future.
Seventeen-year-old Elizabeth Zion wants to change the world, and she has started with her community.
In 2018, Elizabeth and her family entered into emergency accommodation after they became homeless. They lived in a B&B for seven months. During this time, Elizabeth completed her junior certificate exams.
She is now in first year in UCD studying politics and social justice, and her family have a home in Lusk, Co Dublin.
While in the B&B, Elizabeth helped some of the younger children with their school work, and now during the pandemic she has continued to do so, as well as helping other children in her neighbourhood.
She said: "I really think I have a knack for helping people to experience undesirable situations in a positive way. I have found that there are children all around me experiencing the pandemic in worse ways than I am.
"They've been out of school for months and are lacking the time to learn the basic skills like reading and writing and their parents are trying to be both teacher and parent at times, so I found it would be my pleasure to help them to continue with their reading and writing skills and it's been so fantastic. They are my silver lining and I am theirs."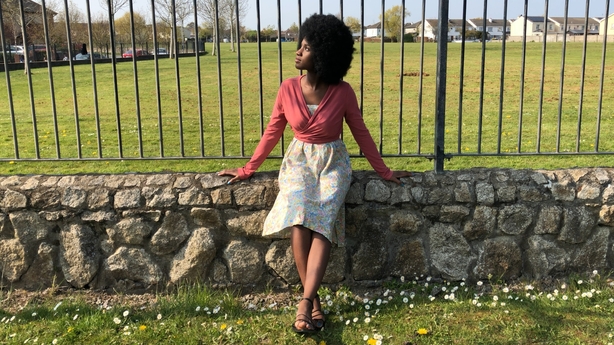 Elizabeth described her time in the B&B as "very tough", adding that it tested their family in many ways.
She says the experience has made her more determined to succeed.
"I came out better because of it, and I've gained a lot of life experience that has shaped my mindset to different levels," she said.
"When you look at society right now and people could say because of your race, gender or socioeconomic background, that the odds are stacked against you, and that made me think the world was against me and there was no way for me to escape all of this.
"I realised there's nothing to stop me, I am limitless and I can achieve everything I want to achieve, I'm limitless if I believe I am, I'm limitless if I work harder than what's working against me."
Elizabeth hopes to be a positive role model for the children she helps.
For her, this work is just the beginning.
She said: "I've always had a passion to, as naïve as it sounds, change the world, and I just feel with my heritage, being Nigerian, there is so much I could do over there, and so much potential for development I could possibly contribute to."