The CEO of the Health Service Executive has said the progress of the vaccination programme is "overwhelmingly positive", but that it is important to still watch for "impacts" of the virus and how it can change quickly.
Speaking on RTÉ's Today with Claire Byrne, Paul Reid said the benefits that the HSE is seeing from the vaccine roll-out so far is significant.
From a health perspective, he said, the HSE has seen a combination of reduced hospitalisations, illnesses, ICU patients and mortality from Covid.
Mr Reid said 1.3 million doses have been administered to date, with 24.5% of the eligible population receiving one dose and 10% of the population fully vaccinated.
He said it is a huge relief for healthcare workers.
Yesterday, saw the highest number of vaccinations at almost 39,000, with close to 150,000 vaccinations expected to be completed by the end of this week.
Mr Reid "strongly urged" for those who are eligible to register for vaccination, to do so.
He said those who may choose to "wait" for an alternative vaccine "are putting themselves at an extremely higher risk".
Mr Reid said 95% vaccination of the over-70s will be completed this week.
He said there is a small number of this cohort that will carry forward into next week due to a "timing issue" of the Moderna vaccine.
Mr Reid has said that 26,000 60 to 69-year-olds have been vaccinated this week.
He said 160,000 people within that age group have registered to be vaccinated via the HSE's online portal.
So far this morning, 7,250 64-year-olds have registered, with 1,750 people in the age group registering by 7am.
Mr Reid urged people who are aged 65-69 to continue to register for vaccination, if they have not already done so.
He described the uptake for vaccination among those aged 65-69 as "phenomenal".
Mr Reid has said that the HSE will "double the resources" devoted to vaccinating people who are housebound. He said the delivery of vaccination to that group of people "is not a simple programme".
"From Monday we're doubling the number of paramedics and advanced paramedics that we have on this programme. It is so it's not a simple programme," he said.
"It is difficult, we're going to double the resource. We're making contact via out call centres to contact those concerned."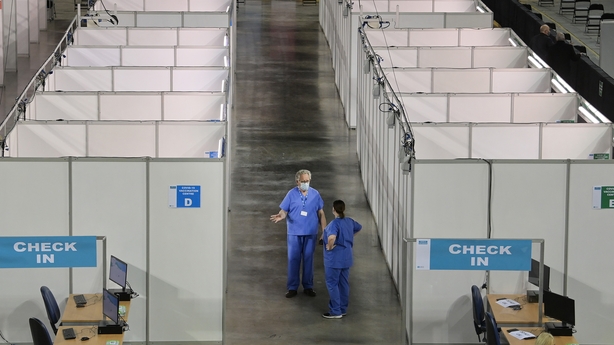 Mr Reid also reflected on the comments made by the Chief Medical Officer Tony Holohan yesterday evening on the vaccination programme, stating that Mr Holohan was making the point that people have to be conscious that while they have vaccinated most of the vulnerable parts of the population, there is a significant number that still need to be vaccinated.
He said "strong gains" have been made so far in fighting the virus and vaccinating people.
Mr Reid also said the options, particularly through the vaccination programme, is giving the Government stronger choices as it considers reopening parts of society.
However, he expressed his frustration with the supply issues, saying "I can tell you our frustration levels with AstraZeneca, would blow the roof off me.
"Even look to next week, we were due delivery of 165,000 vaccines, which is important for us towards the end of May, that was pushed out to the following week.
"This week, we were due 45,000 and now we're told at very short notice that it's 9,000. So, from an operations perspective, from planning perspective, to give predictability it's very frustrating."
---
Latest coronavirus stories
Can the Government still achieve its vaccine targets?
---
Side effect reports
The Chief Executive of the Health Products Regulatory Authority (HPRA) said that out of 1.3 million doses of vaccines here, they have received over 6,600 reports, the "vast majority" of which described "common side effects" associated with vaccines.
Speaking on RTÉ's News at One, Dr Lorraine Nolan said it is important to highlight that when they speak about blood clotting events, it is a combination of thrombosis and thrombocytopenia.
She said they have received "a very small number" of reports that describe a combination of those two factors.
"I'm talking about less than five reports out of that 6,600," Dr Nolan said. "For the individuals in question, this issue was picked up very quickly after vaccination. They received the appropriate treatment and they are all making a very good recovery."
She said they are continuing to investigate the cases, adding that it is important to emphasise the rarity of these events.
"We really are talking about something that is happening in or around the numbers of one to ten per million," she said.
Dr Nolan said it is important to get information "out there earlier" to people who are being vaccinated and to healthcare professionals, to show the kind of symptoms to be aware of.
In relation to AstraZeneca, she said it is not possible at this point to determine if there are specific risk factors, such as age or gender. She said that at all stages, the overall benefit risk of the vaccine remains positive.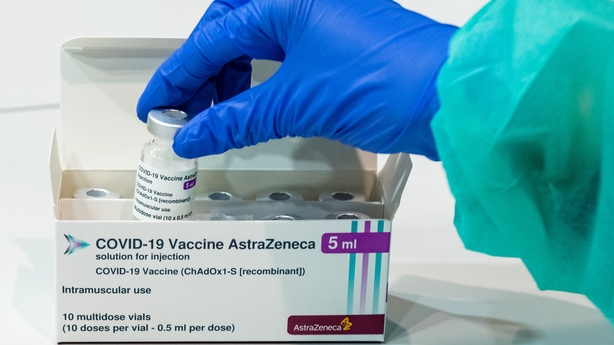 Earlier, Chair of the Irish Medical Organisation's GP Committee Dr Denis McCauley said he believed the vaccination programme is going well and that the Government's vaccination targets can be met.
Speaking on RTÉ's Morning Ireland, he said the country is doing as well as it can and people should be pleased with how the rollout is going.
He said rates are steady in the community, which he said is "primarily due to the good actions of the Irish people".
Dr McCauley said he thinks case numbers are not coming down because the dominant variant is more infectious.
"If you compare us with Denmark, the only difference is that they got extra Pfizer," Dr McCauley said.
"So I think we should be pleased. The infrastructure and the people are working hard, as soon as we get vaccines we're giving it."
In relation to possibly lengthening the gap between doses of some vaccines, Dr McCauley said any change in the programme has to be "shown to be a very obviously good idea".
He said the roll-out is going well, but nothing "dents that confidence" more than a "bit of confusion and change".
'Real world evidence' on vaccination for pregnant women
The Chair of the Institute of Obstetricians and Gynaecologists, Dr Cliona Murphy, has said there is good real world evidence reassuring women regarding Covid vaccines and pregnancy.
Speaking on RTÉ's Six One news, she said that pregnant women were not prioritised initially because more information was required on safety and efficacy, but clinical trials are now taking place and more than 90,000 women have been vaccinated with MRNA in the United States.
She added that, after a policy change in Israel in January, more than 80,000 pregnant women were vaccinated and there have been no red flags, however she said more follow-up on this was needed.
Dr Murphy said that there does not appear to be any difference in adverse outcomes between vaccinated and unvaccinated women.
She said there is a wealth of evidence showing pregnant women are at more risk of complications should they get the virus.
She said the European Teratology information service, an international expert group which examines safety in medicines and pregnancy, issued a statement saying that vaccination is the best way to protect pregnant women from Covid-19.
She said it is not a case that pregnant women should or should not get a vaccine but they should have the option.
She said that cocooning is not a realistic option for some pregnant women who have other responsibilities to consider and she would like to see more access for women who want to get a vaccine.
Call over J&J recommendation
Labour leader Alan Kelly has called for further information to explain why a NIAC recommendation on the Johnson & Johnson vaccine won't be issued until next week.
"Every day is precious and every day that NIAC take to actually come to a decision on Johnson & Johnson and the spaces between vaccine roll-out is a day lost," he said, adding that such decisions will play a critical role in deciding how restrictions might be eased.
Deputy Kelly also expressed "deep concern" about the performance of Minister for Health Stephen Donnelly.
"It's exceptionally worrying that he regularly comes into the Dáil and makes statements that don't turn out to be accurate," he said, referring to comments from the minister yesterday in which he stated that the European Commission had commenced legal action against AstraZeneca. However, a decision has yet to taken on the action.
Deputy Kelly said the minister had also told him in the Dáil that medical students were administering vaccines, however a Parliamentary Question has revealed that they are not.