The rate of new Covid-19 infections in Sweden has jumped to the second-highest in Europe after land-locked San Marino, data showed, as the Scandinavian country that has shunned lockdowns throughout the pandemic faced a third wave of cases.
The number of patients treated at Swedish intensive care units has now risen past the peak of the second wave around the turn of the year.
The country has registered 19,105 new cases since Friday, health agency statistics showed.
Sweden had 625 daily new cases per million inhabitants in a rolling seven-day average, statistics from Our World In Data showed, second only to San Marino, a small nation that is surrounded by Italy.
"Unfortunately we see an increased spread in Sweden. We'll see how this week turns out, but it's definitely a high spread and no signs of a decrease," Sweden's Chief Epidemiologist Anders Tegnell told a news conference.
Deaths remained at a relatively low 1.7 daily fatalities per million people, below the European average of 4.3 deaths.
"We have increased spread but also vaccinations that work as a break. With these two forces combined we have a relatively even level of deaths", he said.
The country of 10 million inhabitants has administered 2.1 million shots so far.
---
---
Sweden recorded 39 new deaths, taking the total to 13,660. The deaths registered have occurred over several days and sometimes weeks.
Sweden's death rate per capita is many times higher than that of its Nordic neighbours, but lower than in most European countries that have opted for lockdowns.
Dr Tegnell also said Sweden would decide how to use Johnson &Johnson's (J&J) Covid-19 vaccine within the coming days, following reports of rare blood clots similar to those reported for the AstraZeneca shot.
Sweden is due to receive its first doses of the J&J vaccine later this week.
It paused the use of the AstraZeneca vaccine in March but later resumed use for people aged 65 and older.
India's daily Covid-19 tally is world's highest as festival, rallies raise concern
Hundreds of thousands of devout Indians are set to bathe in the Ganges river tomorrow, the third key day of a Hindu festival, even as peaks in daily coronavirus infections prompt government critics to demand the cancellation of huge events.
Since 2 April, India has reported the world's highest daily tallies of infections, reaching more than 100,000 in the last week, or many multiples of its figure earlier this year of fewer than 10,000.
Today's milestone of 161,736 fell just shy of a national record the previous day. Deaths rose by 879 to 171,058, while total nationwide infections stand at nearly 13.7 million.
The widely-read Hindustan Times newspaper called for an immediate halt to mass gatherings.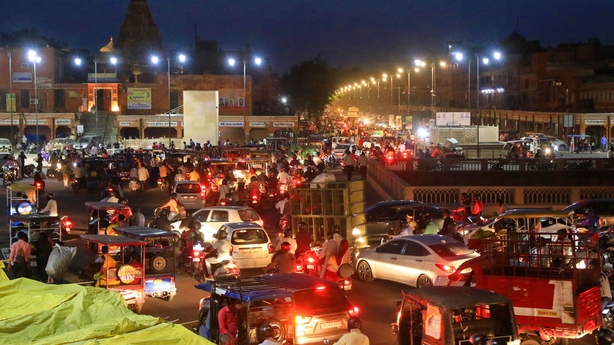 "Governments have happily allowed mega religious festivals,(and) political leaders are still, even in the middle of this nightmarish pandemic, addressing hundreds of thousands," it said in an editorial.
Of nearly a million Hindus who bathed on Monday in the Ganges, in the belief that its waters wash away their sins, more than 100 have tested positive for Covid-19, media said.
Few of the throngs at the mass religious gathering called the Kumbh Mela, or pitcher festival, observed precautions such as social distancing or mask wearing, Reuters witnesses said.
Hundreds of thousands more are expected to plunge into the waters in the northern city of Haridwar on Wednesday, the next key day of the festival.
Elsewhere, massive election rallies by the ruling Bharatiya Janata Party and opposition parties during polls in four states and one federally-run region have fuelled concern.
Prime Minister Narendra Modi and Home Minister Amit Shah addressed huge rallies yesterday in the eastern state of West Bengal, a key political prize, with Shah posting Twitter pictures of meetings with crowds of supporters while unmasked.
A second wave of infections that began in India's major cities, such as its financial capital of Mumbai, is increasingly spreading into the hinterland, where data show healthcare facilities can often be rudimentary.

Health Minister Harsh Vardhan has blamed several factors for the surge.
"There have been elections, religious gatherings, reopening of offices, lots of people travelling, attending social functions, not following rules, little mask-wearing in functions like weddings, even on crowded buses and trains," he told a video conference last week.
India is currently reporting around double the daily cases of the United States and Brazil, the two other worst affected countries, though its daily deaths lag both nations.
India's total infections rank after only the United States, having overtaken Brazil yesterday.
France suspends all flights to and from Brazil due to Covid variant
France will suspend all flights to and from Brazil in a bid to prevent the spread of the coronavirus variant first detected there, French Prime Minister Jean Castex said in parliament.
"We take note that the situation is getting worse and we have decided to suspend all flights between France and Brazil until further notice," Mr Castex said.
Several leading French doctors have been calling on the government for days to stop all air traffic with Brazil.
A month ago, Health Minister Olivier Veran said that around 6% of Covid-19 cases in France were from the more contagious variants first found in Brazil and South Africa.
AstraZeneca good if safety issues can be overcome - Fauci
US infectious disease official Anthony Fauci said AstraZeneca's Covid-19 vaccine had good efficacy, but safety concerns needed to be straightened out and it might not be needed for Americans because of supplies of other shots.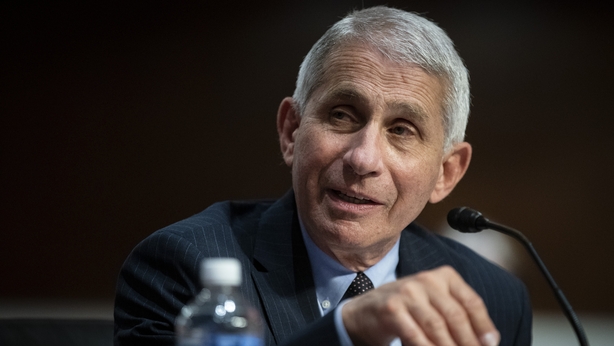 "I think that the AstraZeneca vaccine from a standpoint of efficacy is a good vaccine, and if the safety issue gets straightened out in the European Union ... the efficacy of that vaccine is really quite good," he told BBC radio today.
"Whether or not we ever use AZ is unclear but it looks right now at this point in time that we will not need it. It's not a negative indictment of AZ, it is just possible that given the supply that we have from other companies that we may not need to use an AZ vaccine."
As the United States loosens its Covid-19 restrictions, Dr Fauci also said there was a "really risky situation" when bars and restaurants were reopening in some places where the use of masks was not being enforced.
He said the vaccine rollout would blunt "a real explosion of a surge" but it would not stop a moderate increase in cases.
"This is not a time to prematurely declare victory because we have such a successful rollout," he said.
The AstraZeneca vaccine is being investigated by European regulators over concerns about rare cases of blood clots. It has not yet been approved in the United States.
European regulators have found possible links between the shot, which has been given to tens of millions of people, and blood clots but they have reaffirmed the vaccine's importance in protecting people against Covid-19.
More than a dozen countries have at one time suspended use of the vaccine, but most have resumed, with some, including France, the Netherlands and Germany, recommending a minimum age.
Officials in Britain, where the vaccine was first approved, have advised that those aged under 30 should be offered an alternative.
AstraZeneca's vaccine is by far the cheapest and most high-volume shot launched so far, and has none of the extreme refrigeration requirements of some others, making it the planned mainstay of many inoculation programmes.
UK offers all over-50s first Covid-19 shots

The UK has offered all over-50s a first dose of Covid-19 vaccine as the rollout of Moderna's shot in England began today, the government said, adding it was on track to give a shot to all adults by the end of July.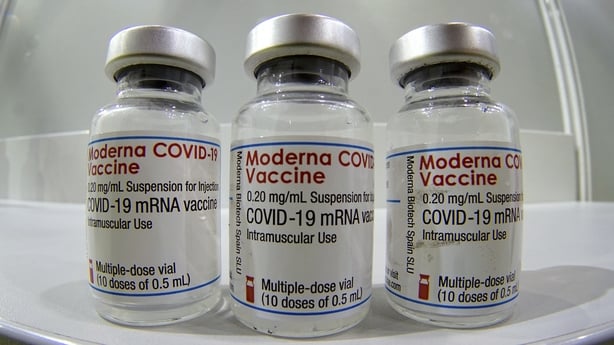 The UK has seen one of the world's quickest vaccine rollouts, behind only Israel in the proportion of its population receiving at least one dose of a Covid-19 shot.
The government said it had offered at least one shot to priority cohorts 1 to 9, which include all adults over 50, the clinically vulnerable, and health and social care workers, ahead of a target to do so by Thursday.
"We will now move forward with completing essential second doses and making progress towards our target of offering all adults a vaccine by the end of July," Prime Minister Boris Johnson said in a statement.
Britain has slowed down the pace of first doses, to ensure people in high-priority groups receive a second dose despite lower vaccine supplies in April than March.
In a boost to vaccine supplies for first doses, the rollout of Moderna's shot in England begins today, after first doses were given in Wales last week.
Mr Johnson's office said that the government remained on track to offer all adults a shot by 31 July. People in their late 40sare expected to be the next to be invited for shots, his office said, pending confirmation from vaccine officials.
The success of the vaccine programme has underpinned Mr Johnson's roadmap out of lockdown, which on Monday saw all shops and outdoor hospitality settings in England reopen, with some celebrating on the street into the evening.
Adding a note of caution to the optimism, the government announced an expansion so-called surge testing in the south London boroughs of Lambeth and Wandsworth to detect cases of the variant first found in South Africa.
There have been 74 confirmed and probable cases of the coronavirus variant, known as B1351, in the boroughs, and there is concern that vaccines are less effective against it.
Thailand reports 965 new Covid-19 cases as biggest holiday begins
Thailand today reported 965 new Covid-19 cases after registering record rises in the past two days as the country started its Songkran new year holiday amid a third wave of infections.
Authorities have banned for a second year the water fights that usually happen on the streets during Songkran and urged people to avoid unnecessary travel and reduce gatherings to help curb the outbreak, which includes the highly transmissible B117 variant first identified in Britain.
Of the new infections, 956 were local transmissions, including 194 in the capital Bangkok, the epicentre of an outbreak that has spread to most parts of the country.
"If we reduce activity ... it will help lower daily cases to 500-600," Opas Karnkawinpong, director-general of the Department of Disease Control, told a briefing.
If more people work from home, it will cut average daily cases to less than 400, he said.
The new outbreak that emerged at the start of this month has added 5,597 domestic cases, including 1,625 in Bangkok, taking the total since last year to 34,575 cases and 97 deaths.
Thailand could lose more than 130 billion baht (€3.37bn) in tourism revenue in the first half of 2021 due to the fresh outbreak and a second wave that emerged in late December, according to Kasikorn Research Center.
Last week, the central bank said the economy could grow less than its 3% forecast this year.
Nightspots such as pubs and karaoke bars in Bangkok and 40provinces will be closed until 23 April.
The measure should slow down infection rates by nearly a third in the next month, a health official said, warning that otherwise under a worst-case scenario infections could hypothetically reach over 28,000 per day.
Authorities have said they would install 10,000 field-hospital beds in Bangkok after last week some hospitals said they had stopped testing for Covid-19 over a lack of kit orbed capacity.