A 13-year-old boy is among eight people arrested in connection with riots on the streets of Belfast.
Police said 15 officers were injured on Friday night after being targeted by a crowd of mainly young people in Sandy Row, throwing stones, fireworks, flares, manhole covers and petrol bombs.
The PSNI's Belfast District Commander, Chief Superintendent Simon Walls, said "a small local protest quickly developed into an attack on police officers" and that at points there were up to 300 people of all ages on the streets.
He called for calm, urging anyone with influence in the loyalist community to dissuade young people from causing violence and harm.
He said: "I'm not going to enter into dialogue about political commentary.
"What I would ask is that people with influence, people in local communities, would dissuade young people, or anyone else, intent on causing violence or intent on harming police officers."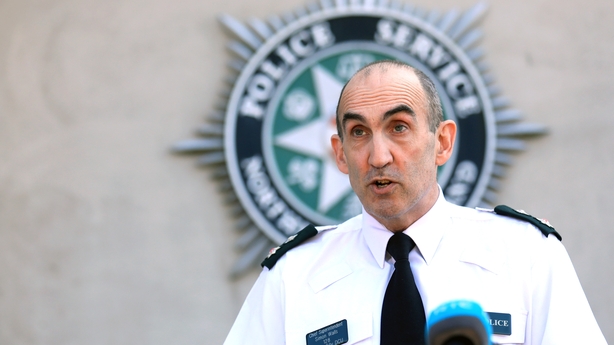 He described it as a "real tragedy" that children as young as 13 and 14 were among those arrested.
On Saturday night, the PSNI said that three men aged 25, 21 and 18, along with a 19-year-old woman had been charged with riot in connection with the disorder in the Sandy Row area.
All four are due to appear at Belfast Magistrates Court on 30 April.
Three males aged 17, 14 and 13-years-old were also charged with riot and they are to appear at Belfast Youth Court on 30 April.
A 19-year-old man was released on police bail pending further investigations.
Political leaders have also called for calm over the Easter weekend following the riots.
We need your consent to load this rte-player contentWe use rte-player to manage extra content that can set cookies on your device and collect data about your activity. Please review their details and accept them to load the content.Manage Preferences
Violence 'will not make things better'
Stormont's First Minister Arlene Foster urged young people "not to get drawn into disorder", saying violence "will not make things better".
The DUP leader said: "I know that many of our young people are hugely frustrated by the events of this last week but causing injury to police officers will not make things better.
"I appeal to our young people not to get drawn into disorder which will lead to them having criminal convictions and blighting their own lives.

Northern Ireland Secretary Brandon Lewis described the unrest as "completely unacceptable".
Mr Lewis said: "Violence is never the answer. There is no place for it in society.
"It is unwanted, unwarranted and I fully support the PSNI appeal for calm."
PSNI officers attacked in Derry
Twelve PSNI officers were injured in Derry after being attacked on Friday evening.
Derry City and Strabane Area Commander Chief Superintendent Darrin Jones said police received reports on Friday night of youths gathering in the areas of Nelson Drive and Tullyally in the city.
"On their arrival, they came under sustained attack from a large group of youths and young adults throwing masonry, bottles, petrol bombs and fireworks," he said.
"As a result 12 officers sustained injuries including head, leg and foot wounds."
Mr Jones also said a care home was damaged in the Nelson Drive area during the trouble causing "untold fear and distress" to residents.
He said it was "totally unacceptable" that Friday was the fifth successive night of disturbances in the unionist Waterside area of the city.
Loyalists and unionists are angry about post-Brexit trading arrangements which they claim have created barriers between Northern Ireland and the rest of the UK.
Tensions ramped up further this week following a controversial decision not to prosecute 24 Sinn Féin politicians for attending a large-scale republican funeral during Covid-19 restrictions.
All the main unionist parties have demanded the resignation of PSNI Chief Constable Simon Byrne, claiming he has lost the confidence of their community.
'Someone planned it, someone encouraged people on to the streets'
The Sandy Row disturbances have been met with widespread political condemnation.
Ulster Unionist Policing Board member Mike Nesbitt said the riot "did not just happen" and people were encouraged to take part.
"Someone planned it, someone encouraged people on to the streets," he said.
"I challenge them to explain a strategy that portrays loyalists and unionists as law-breakers, prepared to attack the PSNI, injure officers and frankly take the focus off Sinn Féin and the republican movement.
"The history of street violence is unambiguous. It does nothing to advance our cause.
"It is a huge mistake and should not be repeated."
Alliance South Belfast MLA Paula Bradshaw said responsible leadership is required from all quarters to stop a repeat of the scenes in Sandy Row.
Ms Bradshaw said those involved in the rioting had "achieved nothing other than bringing misery upon their own area".
"There is no future in this type of behaviour," she said.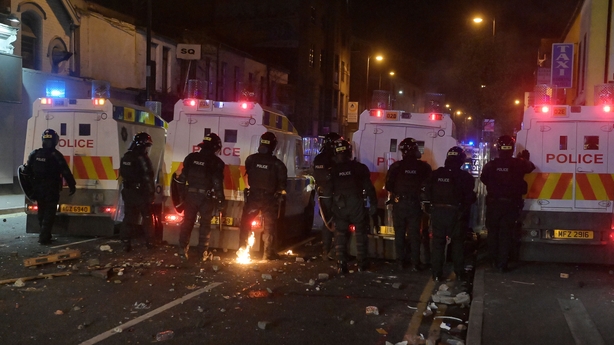 Condemning the riots in Sandy Row last night, the MLA for the area, the DUP's Christopher Stalford said: "Given the actions of the Deputy First Minister some folks may believe that they can break the rules. That is not the case - two wrongs don't make a right".
"Everyone must be equal under the law and equally subject to it, from the highest office holder in the land to every other citizen", said Mr Stalford.
Bradbury Place/Sandy Row near the centre of Belfast last night. pic.twitter.com/ruXbIP1erR

— Mark Simpson (@BBCMarkSimpson) April 3, 2021
Sinn Féin MP for West Belfast Paul Maskey said: "The DUP and political unionism are failing unionist working class communities through their dangerous and irresponsible rhetoric which is continuing to lead to heightened tensions".
"This is a time for calm heads and responsible leadership", said Mr Maskey.
The Police Federation, which represents rank and file officers, tweeted: "Once again the outworkings of political flux in Northern Ireland results in our @PoliceServiceNI colleagues being attacked.
"No excuse for violence and condemnation across the political spectrum would be welcome."
Once again the outworkings of political flux in Northern Ireland results in our @PoliceServiceNI colleagues being attacked. No excuse for violence and condemnation across the political spectrum would be welcome. #weareyou @NIPolicingBoard @naomi_long https://t.co/pU35BnsioX

— Police Federation for Northern Ireland (@PoliceFedforNI) April 2, 2021