The Deputy Chief Medical Officer has appealed for people to adhere to Covid-19 guidelines over the Easter weekend.
In a post on Twitter, Dr Ronan Glynn asked people to keep their contacts low, only meet up with people outdoors and to avoid crowds.
Today, the Department of Health was notified of eight further coronavirus-related deaths and 591 new cases.
It brings the number of coronavirus-related deaths to 4,713, while the total number of cases now stands at 237,187.
Four of the deaths occurred last month, and four occurred in February.
Dr Glynn advised that people should not travel in cars with people from other households, and also contact a GP to a arrange a Covid test if they have flu-like symptoms.
For people who have received a Covid vaccine, Dr Glynn said that people are not fully protected from the virus until two weeks after the second dose.
3. Avoid crowds
4. If you have cold or 'flu-like symptoms please isolate and contact a GP to arrange a test - do not 'wait & see'
5. For those who have been vaccinated remember you are not fully protected until 2 weeks after your second dose
6. Encourage one another
Thank you.

— Dr Ronan Glynn (@ronan_glynn) April 2, 2021
In a statement, the National Public Health Emergency Team said that of the new cases, 292 are men and 295 are women. 72% are under the age of 45, while the average age is 31.
The majority of the new cases - 288 - were reported in Dublin, 40 in Kildare, 30 in Meath, 28 in Westmeath, 27 in Laois and the remaining 178 cases are spread across 19 other counties.
The number of people being treated for the virus in intensive care is down one to 62. NPHET has said that there were 18 additional hospitalisations in the last 24 hours, bringing the total number of coronavirus patients in hospital to 264 - the lowest level since Christmas Day.
The 14-day incidence rate of the virus per 100,000 population now stands at 166.6.
The counties with the highest rate of infection are Offaly (510.5), Donegal (286.4) and Westmeath (258.0). The counties with the lowest rate of infection are Kerry (25.7), Sligo (36.6) and Kilkenny (40.3).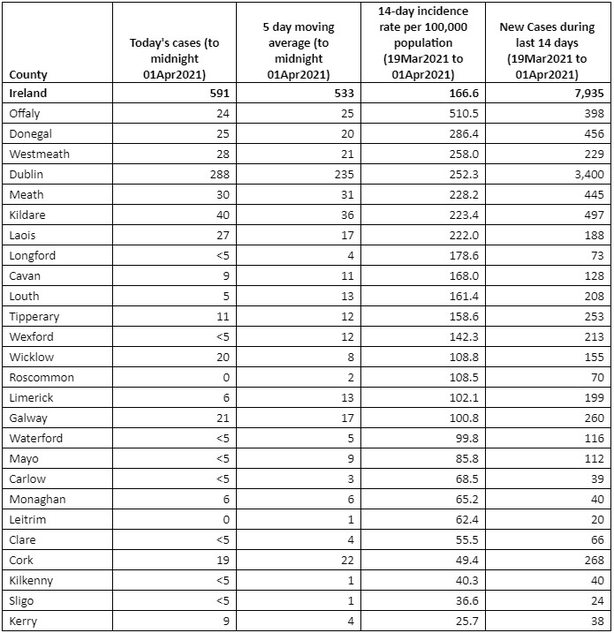 The latest figures for vaccines show that 840,561 doses were administered up to Tuesday, 30 March with 20,885 jabs delivered that day alone. 603,802 people have received their first dose, while 236,759 have received their second dose.
This means 12.1% of Irish citizens have received their first Covid vaccine shot while 4.8% are fully vaccinated.
It comes as four new walk-in pop-up swabbing sites open for people who have no symptoms of Covid-19 but still wish to be tested for the virus.
This brings to seven the number of temporary testing hubs seeking to find asymptomatic infections among the general population that have opened in the past two days.
New pop-up swabbing centres opened this morning in Counties Dublin, Kildare, Westmeath and Galway | Read more: https://t.co/D60oNSDUHC pic.twitter.com/xTE96tlqPH

— RTÉ News (@rtenews) April 2, 2021
The centres opening are at Naas Racecourse in Co Kildare, Crumlin GAA Clubhouse in Dublin, Athlone Regional Sports Centre in Co Westmeath, and the Town Hall and Library car park in Ballinasloe, Co Galway.
Similar centres opened on Wednesday at Finglas and Balbriggan in Dublin and Navan in Co Meath.
They will operate for seven days in the Dublin locations and five days outside of the capital.
The tests are free for local people over the age of 16, with no symptoms.
At least 14,000 people were tested over the past week at other walk-in centres and 3% tested positive for the virus.
Today, more than 2,000 people presented for Covid-19 testing at the seven walk-in swabbing centres across the country.
Up until 5pm, the number of swabs taken stood at 2,146.
The one in Finglas had the highest number of presentations today at 358, followed by Naas at 356, Crumlin at 319 and Balbriggan at 317.
289 samples were taken in Athlone, 259 in Navan and 248 in Ballinasloe.
Another new walk-in swabbing centre being set up in Crumlin GAA club this morning. It will be open for 7 days, swabs starting at 11am @rtenews pic.twitter.com/VodOAio2Yp

— Laura Hogan (@LauraHoganTV) April 2, 2021
---
Read more: Latest coronavirus stories
---
Meanwhile, the Dr Glynn and Northern Ireland's Chief Medical Officer, Dr Michael McBride, have jointly warned that the virus is very dangerous and very transmissible.
They are appealing for people to work together to prevent a further wave of infections over the Easter period by sticking to the public health advice in all corners of the Island.
Rule breaking leads to 'breakdown in trust'
If people see others flaunting Level 5 restrictions then "the whole thing will break down", Infectious Disease Specialist Professor Sam McConkey has warned.
Speaking on RTÉ's Today with Claire Byrne, he said rule breaking leads to a "breakdown in trust and governance" and there is a risk that other people will start to ignore the rules.
The pandemic can only be fought with "voluntary cooperation", he said, adding that there is a risk that people from areas with higher rates will travel to areas with lower rates and reintroduce Covid-19.
"If you're going somewhere, you're inevitably going to be shopping and meeting people, potentially talking without a mask and potentially spreading the virus in an inter-county way that isn't helpful", he said.
"So I think it's slight loss of control - I don't think it's dramatic at this point - but I think it's important to try and prevent and avoid that until we get several million people vaccinated and then hopefully things can open up more."
Prof McConkey said Covid-19 returned after restrictions were loosened last summer and the same mistake should not be made again.