A 92-year-old writer has plotted a novel way for his neighbours to come together while staying apart during lockdown.
Alan Grainger, who has been cocooning at his Co Dublin apartment since the pandemic began, invited his neighbours via email to "relay write" a murder mystery thriller with him.
Seven residents of Old Connaught House, as well as Mr Grainger's three daughters, each contributed a chapter to the novel entitled 'The Secrets of Beacon Court'.
"When you get old and you are locked in because of this damn disease you sit and do a lot of thinking," explained Alan.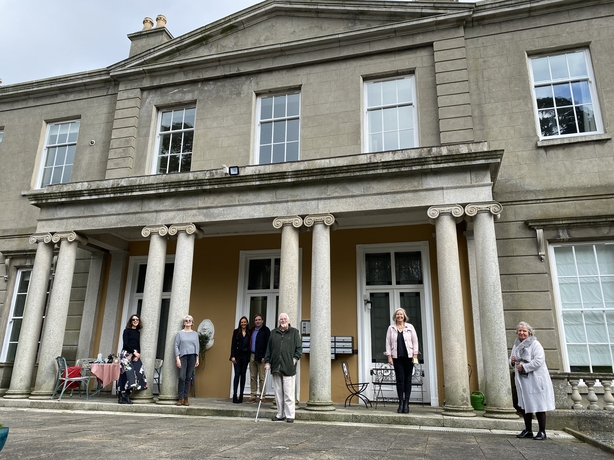 "I remember the first line of the email. It said 'I'm bored'," recalled Alan.
"Relay writing, well, it's not unlike a relay race. You keep passing something on to the next person and they carry it on to the one after that. In a book, someone writes the first chapter or a preface in our particular case," explained Alan.
"I had no idea whether they would think the idea was utterly daft or whether they would go for it. To my astonishment they absolutely went for it," he added.
Alan wrote the preface to the book and emailed guidelines and rules for the other participants to follow.
Natalie Cox-Phillips found it to be "a lovely creative experience".
"I suppose because we have been living here throughout lockdown and working from home throughout lockdown I've gotten to really know everybody here," she said.
Derek Phillips said taking part in the relay writing project "was a great distraction from Covid".
"The conversations were about the virus and the number of deaths and the number of cases and when is the vaccine coming? Suddenly, that all went. We suddenly had these conversations about, 'What are you doing with Bunty? or 'What are you doing with the superintendent?' or 'Where are you going with this?', he said.
Micheál MacSuibhne, who wrote chapter nine of the novel, says "this project enriched our lives for the months that we've been at it".
"It's like a recipe for making brown bread or sourdough as everyone was making recently. Once you had the recipe and the guidelines you couldn't go too far wrong, I hope," said Micheál.
Annie Devine also contributed a chapter. 
"I was on my own that week. I have children and my husband was away so I got up at 4am in the morning and drank copious amounts of coffee and I felt like a real writer. It was a great experience and I was really honoured to be asked to do it," she said.
Each contributor was also asked to write their version of the book's ending with an independent party choosing the most fitting one. However, all versions of the endings are also available to read in the book.
Alan's daughters also contributed chapters over email from their homes in Dublin, Dunmore East, Co Waterford and London.
Alan Grainger says he feels "tremendously proud" of the project.
"What we've done is we have unleashed talent which people didn't know they had. We had some very good writing in this book, I have to say. People who have never written anything more than a pamphlet before," he said.
'The Secrets of Beacon Court' under the pen name Lotta Vokes has been published on Amazon.
Alan, who received his Covid-19 vaccine, has plans for another relay book.
"You feel as if you are finally going to come out of the mist and see where you are going again and when your days are measured it's pretty important because there are all sorts of little things you want to do," he explained.