It's almost there. Two months since Government first announced plans for mandatory hotel quarantine, preparations are nearing completion.
From 4am on Friday, mandatory hotel quarantine will come into effect for arrivals from 33 designated countries, deemed to be "high-risk". This list is subject to change at any time.
It's quite a departure from the "Céad Míle Fáilte" that tourists are usually met with, or non-essential travellers as they've since become known.
However, we're a far cry from ordinary times and there has been overwhelming political support for a tougher quarantine system for some time.
It's hoped that the system will also help to prevent the importation of new variants. In fact, Opposition parties say the new quarantine system wasn't implemented fast enough and doesn't go far enough.
However, Government will argue that what Ireland is about to introduce will be the most robust quarantine system in the EU.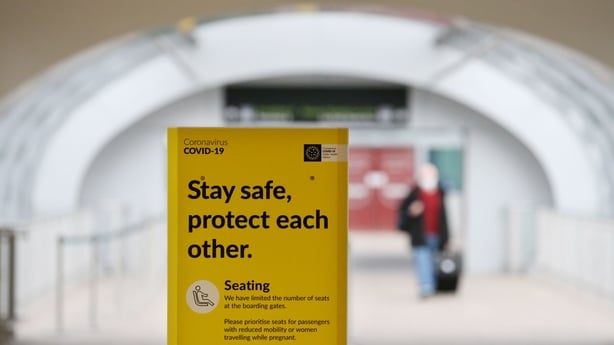 I'm travelling to Ireland, will I have to quarantine?
If you were in one of the 33 designated "high-risk" countries over the past 14 days, then yes. This includes people who were in one of these countries to catch a connecting flight. You'll be staying in a hotel owned by the Tifco hotel group.
Passengers are required to complete 14 nights of mandatory hotel quarantine, however, this could be reduced if a passenger receives a negative Covid-19 test, which will be taken on day 10 of quarantine.
Tifco owns the Crowne Plaza, Holiday Inn Express and Travelodge hotels. The first hotel they'll be using will be the Crowne Plaza at Dublin Airport.
If you arrive to Ireland without a negative PCR test, then you will also be required to stay in these facilities. However, in this circumstance, when you've received a negative result, you'll be allowed go. Test results usually arrive the day after your test.
What if I arrive by ferry?
If you are the driver of a Heavy Goods Vehicle (HGV) and are travelling as part of your duties, then you won't be required to quarantine in a hotel. However, if you're not, you'll be told to park your car at the port and will then be brought to a mandatory hotel quarantine facility.
Who else is exempt?
The following are also permitted to arrive in Ireland without having to quarantine: air crew, maritime crew, An Garda Síochána or Defence Forces (or their equivalent from abroad carrying out their duties), those travelling for unavoidable and time-sensitive medical reasons, members of the Oireachtas or European Parliament travelling for work reasons.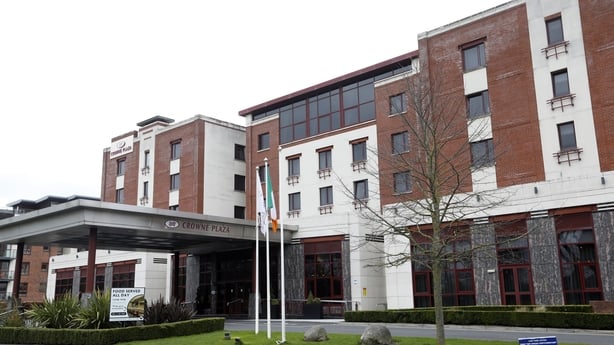 Who will bring me to the hotel?
The Tifco Hotel Group will be responsible for transporting people to the hotel. They will also be responsible for providing security.
However, the Irish Army will have a supervisory role. Once passengers touch-down in Ireland, an announcement will be made on the plane/ferry, asking people who are required to avail of mandatory hotel quarantine to remain on-board and allow other passengers to disembark.
From this point onwards, those passengers staying in hotel quarantine will be escorted through the port/airport. The Tifco group will ensure that they are transported to their hotel and ultimately shown to their hotel room. The Defence Forces will escort buses as they travel to the hotel, but they will not be on the bus.
Will I have to book my own quarantine?
Yes, and the system is now live on Gov.ie/quarantine.
If you are arriving from one of the 33 designated countries then you must book a 12-night stint, at a cost of €1,875 per person.
If you are arriving to Ireland without a negative PCR test, then you must book using the day rate, which costs €150 per night, per person.
You'll have to remain at the hotel until you receive a negative PCR test result.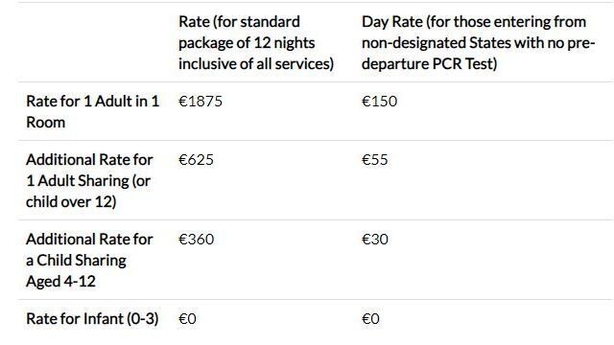 If you're required to quarantine for 14 days, why is the standard package for 12 nights?
People will be tested on day ten of their quarantine. If their result is negative, they will be permitted to leave the hotel.
According to the Department of Health, "Minister Donnelly has decided that the 12-day programme is the most anyone will pay for".
Therefore if somebody receives a negative result and must extend their stay, extra payment will not be sought.
The department added that "the assumption is that people will leave after a negative test taken on day 10, results of which would be back on day 11 or 12".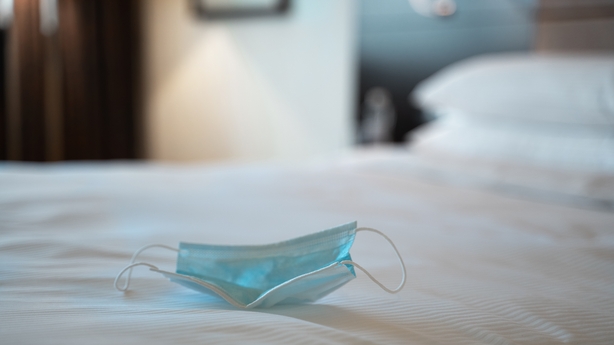 Can I leave the hotel room?
Unlike other hotel quarantine systems around the world, in Ireland people will be allowed to leave their hotel room, albeit under strict conditions and supervision.
Once travellers have a negative PCR test, they will be permitted to leave their room up to three times a day for fresh air. However, they will be supervised by personnel from a private security firm. 
How will I keep myself occupied? 
The full suite of in-room services will be made available to quarantining guests. This includes free-wifi and television. The hotel movie package has also been thrown in for good measure as part of the accommodation package. There will also be room service.
What if I fall ill while quarantining?
Anybody availing of this service will have a health assessment the day they arrive in Ireland. There will then be two daily well-being check-ins. A full-time doctor or nurse will also be present in the hotel. People staying in the hotels will also be asked to fill out a questionnaire every three days to check their mental health. Some people may be exempted from quarantine for time-sensitive medical reasons. This would be certified by a doctor, for example a terminal illness.
What if I test positive for Covid-19 while in quarantine? 
If people test positive while in quarantine the State will cover the extra cost in such circumstances where the normal period is extended. Before they leave, the passenger would need to be five days free from symptoms and may need a PCR test at the end.
Is it a form of detention? 
Taoiseach Micheál Martin insists that quarantine facilities "are not prisons" and Health Minister Stephen Donnelly said that the hotel staff will do their best to ensure the experience is "as comfortable as possible".
However, it is an offence to leave mandatory hotel quarantine if you're not authorised to do so. Gardaí will be alerted if anyone attempts to leave. Those who leave quarantine could be met with a €2,000 fine, a one-month prison sentence, or both.
What sort of demand is Government expecting?
It's hard to know, say Government. It is hoping that the thought of having to stay in a hotel room for 14 days, coupled with the cost of it, will be enough to deter people from travelling to Ireland. However, within hours of the online portal going live, some bookings were already coming through. But the exact number of bookings has not been revealed.
Will mandatory quarantine help to reduce Covid-19 case numbers in Ireland?
The system of mandatory hotel quarantine is unlikely to have a dramatic impact on Covid-19 case numbers in the short-term. Figures from the Health Protection Surveillance Centre show that 1.72% of all cases detected over the past two weeks, up to Saturday, were connected to travel.
Dr Eoghan De Barra, consultant in infectious diseases and senior lecturer at the RCSI, described the hotel quarantine system as a "very important first step", adding that "we need to be able to control the virus and the variants of concern that could come into the country".
However, he warned that "there's an awful lot of unchecked community transmission within the country at this time", adding that "travel related infections are a small percentage of things right now".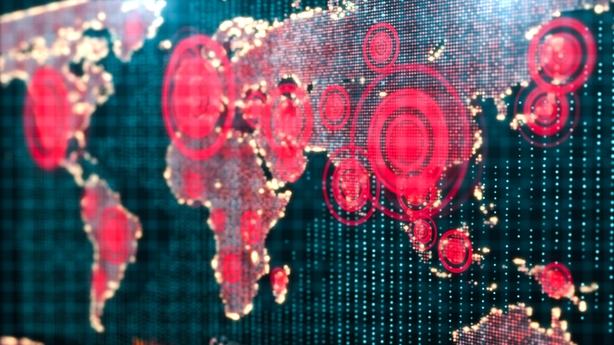 What are the current 'high risk' states?
Brazil and South Africa were the first two nations designated as high risk on 5 February, with 18 states added to the list on 12 February.
They were: Angola, Austria, Botswana, Burundi, Cape Verde, Democratic Republic of the Congo, Lesotho, Malawi, Eswatini, Mauritius, Mozambique, Namibia, Rwanda, Seychelles, Tanzania, United Arab Emirates, Zambia, and Zimbabwe.
Argentina, Bolivia, Chile, Colombia, Ecuador, French Guiana, Guyana, Panama, Paraguay, Peru, Suriname, Uruguay and Venezuela were added to the list at the end of February.
What happens if you're not travelling from a 'high-risk' country?
Anyone arriving in Ireland, no matter where they travel from, are required to provide a negative PCR test result. If they fail to produce this test result they will have to stay in the mandatory hotel quarantine system.
This rule has been in place since 16 January. All passengers must also complete a Covid-19 passenger locator form.