The Tánaiste has said that changing things like the use of the titles, such as Taoiseach and Tánaiste, would have to form part of a discussion about a United Ireland.
Leo Varadkar said these things would have to be considered as part of a wider conversation in the Republic about what people would be willing to do to facilitate the one million people who live on the island who identify as British.
Mr Varadkar also said that while he believes in reunification, he feels that setting a date for a border poll right now would be divisive.
Speaking during a debate on the issue on Claire Byrne Live, Mr Varadkar said he believed time was needed to consider what a United Ireland means.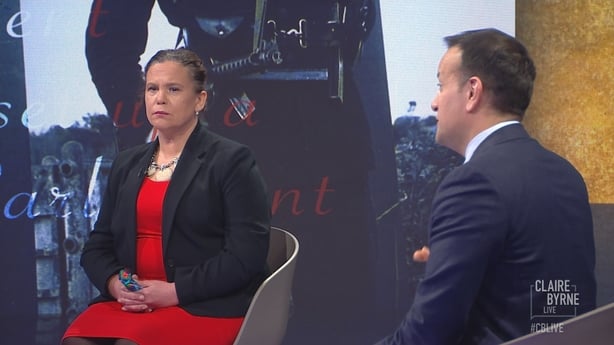 He said the focus for now should be making the Good Friday Agreement work and reaching out to unionists and the middle ground in Northern Ireland to learn about how they would see a United Ireland.
Also speaking during the debate, Sinn Féin Leader Mary Lou McDonald said preparations for constitutional change need to begin now to ensure it was done in an orderly fashion.
"This conversation is underway, in nationalism and unionism" -@MaryLouMcDonald

The leader of Sinn Féin Mary LouMcDonald speaks about the possibility of a united Ireland on #CBLive pic.twitter.com/huMqsLf3G7

— Claire Byrne Live (@ClaireByrneLive) March 22, 2021
Ms McDonald said there was an "incredible opportunity" to realise an Ireland of equality and to look at what has gone wrong as a country and fix it.
She said there was a cost to partition and Brexit, and the pandemic had highlighted that, adding that the country was currently at "end game" and this was about "nation building".
Ms McDonald said it was wonderful that the conversation was under way and she said while unionists will argue for the union and push back against it, there are people with other positions.
She said "thinking people" would recognise that there is a settlement that puts consent "front and centre" and she said "the unionists position of no, nay, never is not the position of the majority, not anymore".
Mr Varadkar said be believed that the tectonic plates of politics are shifting and the conversation about a United Ireland has begun, but said a border poll could polarize people and lessons needed to be learned from the Brexit referendum.
'The tectonic plates of Irish politics have changed' but 'we shouldn't be focusing on a date' for a border poll on a united Ireland

Tániaste @LeoVaradkar speaking on #cblive pic.twitter.com/9iv5RsKhlw

— Claire Byrne Live (@ClaireByrneLive) March 22, 2021
He said it would be a mistake to set a date now as "it would be like setting a date for your wedding before the courtship" and he said that the Sinn Féin approach is the wrong approach, which puts off the centre ground.
Ms McDonald said it would be "reckless" not to prepare for a United Ireland as, she said, the lesson of Brexit was to "prepare, prepare, prepare".
She said that she did nott want a referendum to take place "tomorrow or next week" but that it did need to happen in a "defined space".
"My fear if we are reluctant or if we fail to feel the winds of history and change moving around us, that we will be too slow," she said.
Ms McDonald said the conversation was under way in both nationalism and unionism and that "we can't be deniers of the change that is around us".
On the same programme, the Taoiseach said that symbols such as flags and anthems were not the substance of the issue and that it was not for us to prescribe what they should be.
"I had very simplistic views about the North when I was a child, it was Brits out and everything is solved" - @MichealMartinTD

Taoiseach Micheál Martin joined #CBLive and explained how his views about Northern Ireland changed over time. pic.twitter.com/yg1hjPRZun

— Claire Byrne Live (@ClaireByrneLive) March 22, 2021
Micheál Martin said symbols can be manipulated, used and abused and that he believed the issue of a United Ireland was much deeper than that.
He said we need to understand people better and that there needed to be engagement with all parties on the issue and that is why he had established a shared island unit.
Mr Martin said there was an electoral agenda to Sinn Féin's calls for a border poll and accused Ms McDonald of trying to out do everyone and be "the best republican in the classroom".
He said it was not appropriate to the complexity and the challenge of the issue, and that he did not believe that putting dates on a border poll was helpful.
Mr Martin said a strong British and Irish relationship was the anchor of the Good Friday Agreement and the two countries now need to establish a strong post-Brexit relationship.
He said the current relationship is different and that Brexit has made it difficult, but that the personal relationship between Britain and Ireland is fine and needs more effort to maintain it.
The DUP's Gergory Campbell said a United Ireland is not going to happen because the DUP is not going to agree to it.
"You just do not get it. We are British, those three words." - Gregory Campbell

Gregory Campbell, MP for the DUP on #CBLive discussing his views on whether a United Ireland is possible. pic.twitter.com/X2BFDCtUzn

— Claire Byrne Live (@ClaireByrneLive) March 22, 2021
Mr Campbell said the census that was taken today would show there were now three minorities in the North and all would have to agree how it was governed.
He said Sinn Féin were in a "parallel universe" and in "cloud cuckoo land", adding that people would be better working within the confines of what is in place at the moment.
In response to Mr Varadkar's comments that joint sovereignty might be part of any reunification process, he said: "You just don't get it do you. We are British, there's nothing you can say, nothing you can do, that will change that."
However, Mr Campbell said he accepted that a border poll probably will happen.
'I don't think we should be setting target dates at all'

Former Taoiseach John Bruton disagrees with fellow former Taoiseach Bertie Ahern's timeline for a border poll on a united Ireland #cblive pic.twitter.com/lNS7pYRp0Q

— Claire Byrne Live (@ClaireByrneLive) March 22, 2021
Former taoiseach John Bruton said be believed suggestions that a unity referendum should be held in 2028 was "too soon".
He said it was a mistake to set a target date and he said his nightmare would be that a border poll was carried in one direction or the other by 51 to 49.
He said a narrow victory either way would result in people talking about territory and not people.
'People would be shocked at the depth of segregation in our society'

Alliance party leader @naomi_long on the blind spot of people who do not have the lived experience of living in Northern Ireland #cblive pic.twitter.com/zBHntsSEiA

— Claire Byrne Live (@ClaireByrneLive) March 22, 2021
The Leader of The Alliance Party and the North's Justice Minister Naomi Long said people needed to rewind from talk of a border poll and discuss what a United Ireland actually means.
"How can you unite this island when in Northern Ireland we are divided and segregated," she said.