Sage Advocacy has said it has received calls over the last 48 hours from "upset families" who say some nursing home providers are not facilitating two visits per week as expected from today. 
Guidelines issued by the Department of Health say visits are being allowed on general compassionate grounds, where a facility has a high level of vaccinations.
Sage Advocacy, which offers support and advocacy service for older people, said families have been asked to refer to Health Service Executive guidelines to ensure they are aware of the new guidance. 
Sage said "nursing home residents have a right to see their families and should have choice and control over their contact with their families". 
Visitors must wear masks or personal protective equipment and book appointments, while there is also no requirement in the new guidelines to limit the time with loved ones to less than one hour.
Visits can also take place with people living more than five kilometres away from the nursing home.
Last week, NPHET said there was an obligation on nursing homes to implement the guidelines after it was reported that some facilities Homes were not allowing visits on compassionate grounds during the winter period.
---
---
There has been relief for thousands of people in long-term residential care facilities following the change from today however. 
This day last year, Padraig McMahon dropped his mother Leena to Millbury Nursing Home in Navan, Co Meath. 
It was the day after Mother's Day and the country was still learning about the pandemic.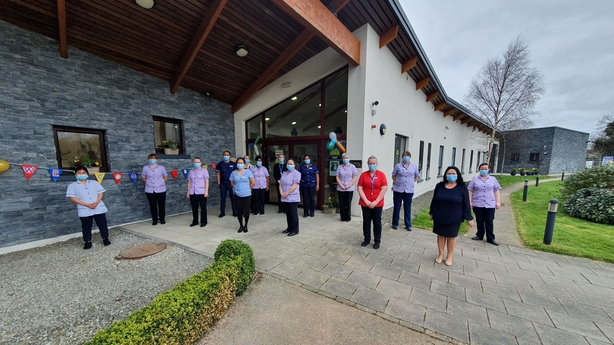 Four days later Millbury, which has 66 private rooms, recorded its first case of Covid-19. 
Owner Lucy Flynn Grillet was one of the first nursing home proprietors to go on national television to explain the impact of the virus on the residential facility. 
By April 2020, seven people had died in her home, staff were isolating, and families could not visit their loved ones. She described the impact as "heartbreaking". 
One year on, as she prepared to welcome residents' families to the home this morning, she was emotional. 
"It was the most difficult year we've had and it's a great achievement to be standing here today", she said, "we think of those we lost this time last year and of all the information we now have about this pandemic". 
Staff and residents at Millbury Nursing Home have received their two vaccines, but considering the number of cases in the community, Ms Flynn Grillet has continued to err on the side of caution. 
She was not encouraged by last night's Covid-19 figures and does not want complacency to set in.
"We've got to be cautious and careful. This virus is going to be part of our lives. It's about how we cope with it and being aware of the NPHET and Department of Health guidelines". 
Padraig was one of the first to arrive this morning to see Leena.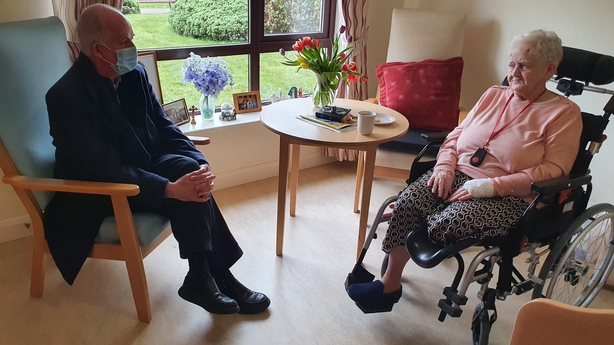 "I'm elated, my mum will be 90 over the next couple of weeks and I'm so looking forward to seeing her". 
In recent weeks, Leena has been asking him when he will be going in to see her. 
"Sometimes there's an understanding we can't go in and other times she seems to expect us in so really delighted to get in to see her today," he said. 
Leena was equally thrilled to see her son. 
With visits lasting no less than an hour, there was time for some banter about an A4 sized picture of her 'favourite daughter', Padraig's sister, which looms larger than the other pictures on her windowsill. 
Across the hallway, Anne Fitzpatrick was with her mother Mary who has Alzheimer's Disease.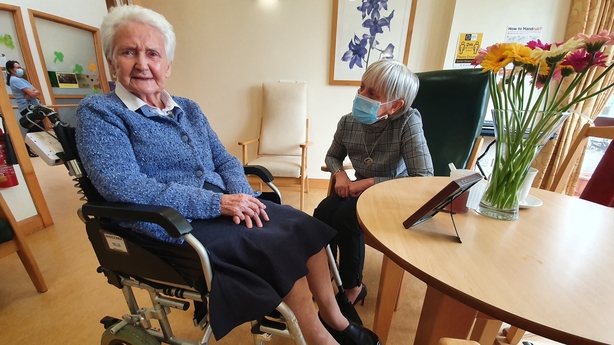 Anne was allowed some compassionate visits since Christmas.
While she tried her best to communicate with her mother through a window and at a special visitor hub installed at Millbury, it was difficult. 
"I'm not sure that she really could focus in and see properly what was going on and as much as I'd show her the camera of family activities, I don't think she could take it in". 
Anne says Mary's condition is about sensory engagement and while she was not allowed to hug her mother this morning, she was just happy to be in her mother's presence. 
"Even though we can't touch each other, the sense of calmness that can come when you are with people, I think that's really important that I can have that with my mum again". 
Over in the Comeragh wing, Anna Byrne waits her son Tom to pop into her room. 
She celebrated a significant birthday several weeks ago. 
"There was a big fuss made. I didn't like to be 90, but I enjoyed the day immensely", she says. 
Anna says the reason that she looks so well is because "the wonderful staff" at the Nursing Home which is "first class" look after her "from the top to the bottom".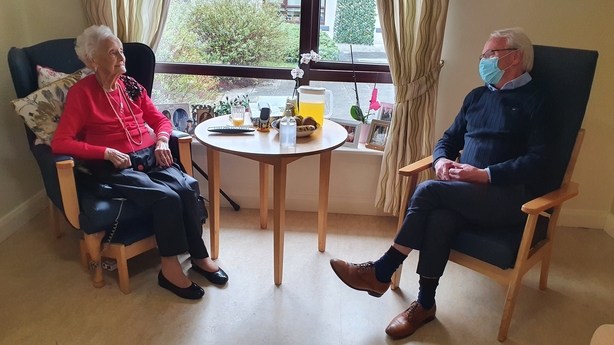 Shortly after 10.30am her son Tom arrived at the room. 
Impulsively she leaned forward to give him a hug but sat back in her chair again. 
The hug would have to wait. 
Tom described the last year as very tough on the residents, on the staff and on family members. 
"But this is the real thing, it's great to get back, in room and you can really have a proper conversation, it's much more satisfying", he says. 
Like other Nursing Homes where residents have received two vaccinations, residents at Millbury are allowed two visits per resident per week. 
All appointments must be booked, and it will be done on a slow basis according to Lucy.
"We have managed to get this far, we really don't want to take a step backwards", she said. 
We need your consent to load this rte-player contentWe use rte-player to manage extra content that can set cookies on your device and collect data about your activity. Please review their details and accept them to load the content.Manage Preferences