The Director of Public Health with the HSE in the Midwest has outlined three examples of how Covid-19 can easily spread between households.
Speaking at this evening's Covid-19 briefing, Dr Mai Mannix said the mixing of six houses resulted in at least 30 cases.
She said the outbreak was not related to a party and was from the "non-student population".
Dr Mannix said the example was "what happens when people visit each other for cups of tea or a beer" and are not "adhering to social distancing or wearing a mask".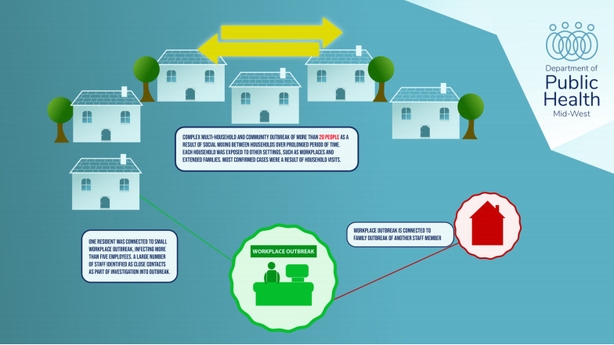 She said there was a community outbreak due to mixing from the households and it originally caused around 20 cases.
Dr Mannix said then one of the households "brought it into their workplace" and it caused a further five cases in the workplace.
A member of the workplace then infected their own household, which resulted in a family outbreak.
She said it is an example of how "easily it can spread" and it is a "situation we have seen on a number of occasions over the past number of weeks".
Dr Mai Mannix, Director of Public Health, HSE Mid-West told the briefing how the mixing of six households resulted in a community Covid-19 outbreak, a workplace outbreak and then a separate household outbreak | https://t.co/gaWKT5uDYd pic.twitter.com/zBL1qaDilX

— RTÉ News (@rtenews) March 18, 2021
The second example was of a funeral outbreak.
Dr Mannix said there was an index case (who was infected in the community), who went into a healthcare setting and there was "widespread transmission" in that setting, with more than 30 confirmed cases.
From the healthcare outbreak, the virus then "extended into an extended family. That family unfortunately had a funeral," she said.
It then resulted in two more cases in the extended family. One of the infected from the family then had a social contact separate from the funeral.
The social contact then infected their own household.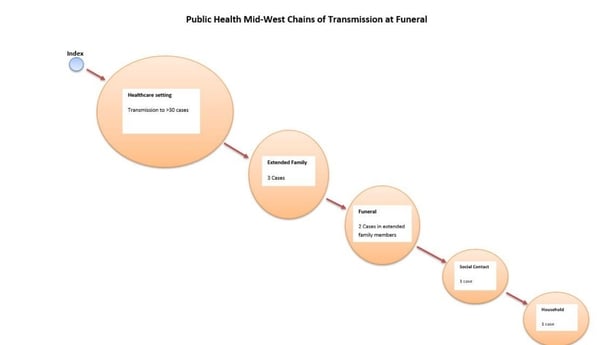 Dr Mannix then outlined an example of a workplace outbreak, which resulted in 40 confirmed cases.
She said while two-metre social distancing was adhered to, people did not wear masks and said congregation at smoking breaks contributed to the spread of the virus.
HSE's Dr Mai Mannix outlines how 40 people in a large workplace contracted Covid-19. She said that the B117 variant of the virus means that if it gets into a workplace, it is more difficult to stop it spreading | https://t.co/LcNT52h9PP pic.twitter.com/ZEMcR9dq6g

— RTÉ News (@rtenews) March 18, 2021
Dr Mannix said it was important for people to remember to social distance during break times.
She said the variant, first discovered in the UK, means if it gets into a workplace it is more difficult to stop it spreading.
Dr Mannix said the key message was that people should not have contacts other than their own household.