Sinn Féin leader Mary Lou McDonald has accused the British Prime Minister of trying to evade his responsibilities.
She and Stormont's Deputy First Minister Michelle O'Neill had sought a meeting with Boris Johnson during his visit to Northern Ireland today.
Ms McDonald said that the Prime Minister's decision to meet with the DUP and not Sinn Féin sent "a very clear signal as to what the priorities of Boris Johnson are".
Mr Johnson's official spokesman said: "Michelle O'Neill was invited to join the PM on the visit."

But Ms O'Neill, leader of Sinn Féin in Northern Ireland, said her request for a meeting with Mr Johnson involving herself and party leader Mary Lou McDonald was not facilitated.
Ms McDonald criticised the way Mr Johnson's visit to Northern Ireland was organised and called on him to "re-orientate his efforts and approach and recognise that he will not get away with bad faith actions".
She said there are "serious matters that we have agreed and that have not been delivered and I am absolutely determined that the British government will act in good faith and will measure up to the commitments that they entered into, with us, just over a year ago".
She said her party will reach out again to Downing Street and she trusts that they will facilitate that meeting.
The Sinn Féin leader said it wasn't a case of being disappointed with Boris Johnson but that there were a lot of issues to discuss, such as the announcement by the Council of Europe that it will reopen its examination of the case of murdered Belfast solicitor Pat Finucane.
Deputy McDonald said that she has never regarded the British government as an impartial co-guarantor of the Good Friday Agreement.
She said that it is "very clear" that Boris Johnson's first concern is to "himself, to his Tory government and certainly he has no track record, unfortunately, of acting in good faith or honouring those agreements that we have entered into with him".
We need your consent to load this rte-player contentWe use rte-player to manage extra content that can set cookies on your device and collect data about your activity. Please review their details and accept them to load the content.Manage Preferences
Mr Johnson was reported to have held "frank" conversations with the DUP on the Northern Ireland Protocol when he visited the region.
He toured a mass vaccination centre in Arlene Foster's Co Fermanagh constituency. He was joined by the DUP leader and Stormont Health Minister Robin Swann at the converted Lakeland Forum leisure centre in Enniskillen.
Ms Foster urged him to "stand up for Northern Ireland" and ditch the "intolerable" Protocol governing Irish Sea trade post-Brexit. She said he had been in "listening mode" and "alive to the issues".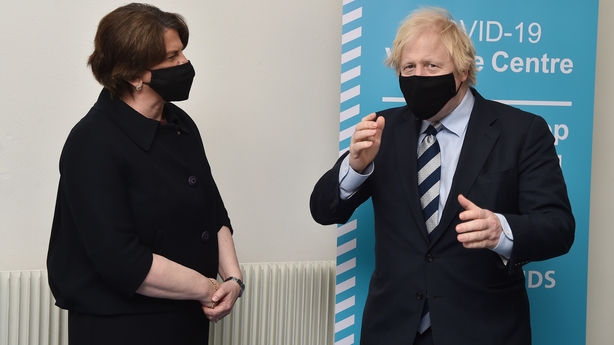 In a virtual press conference this evening, Mr Johnson said the Northern Ireland Protocol is not operating in the way he envisaged.
The British Prime Minister said he did not think arrangements he agreed with the EU would involve restrictions on the movements of food products such as sausages, on parcel deliveries and on soil from Britain entering Northern Ireland.
He said the protocol was operating in an imbalanced way and causing irritation to the loyalist and unionist community in Northern Ireland as a consequence.
Mr Johnson added: "It needs to be corrected, you can't have a situation in which soil or parcels or tractors with mud on their tyres or whatever are prevented from moving easily from one part of the UK to another - it's all one United Kingdom."
He said the Protocol was an act of "good neighbourliness" by the UK towards Ireland and the EU to stop goods moving into the single market in an "uncontrolled way".
Also today it was revealed that 100 British military medics are to be deployed to Northern Ireland to help accelerate its vaccination programme.