Residents of long-term residential care facilities, including nurses homes, can receive two visits per week from 22 March on compassionate grounds where a facility has a high level of vaccinations.
This will be allowed under Levels 3, 4 and 5 restrictions, according to new guidelines announced by the Department of Health.
This is an increase from the current situation where one visit per resident is facilitated every two weeks on compassionate grounds.
There is no requirement in the new guidelines to limit visits to less than one hour.
While the previous guidance provided for visiting on critical and compassionate grounds, today's announcement allows for visits on "general compassionate grounds".
Minister for Older People Mary Butler said that between now and Monday week, nursing homes are expected to make arrangements in response to the guidance.
She said visitors will be required to book appointments and there will be a requirement to wear personal protective equipment (PPE) in the care facilities.
Where a Covid-19 outbreak occurs, the minister said that staff will do their utmost to facilitate one visit per fortnight.
The guidelines were recommended by the Health Protection Surveillance Centre and approved by the National Public Health Emergency Team.
Speaking on RTÉ's Drivetime, Ms Butler pointed out that the vast majority of nursing homes are coming out of significant outbreaks in January and February.
She said those residents who receive the vaccine need to be 28 days clear of the coronavirus.
Asked if nursing homes would require more PPE to facilitate visits, the minister said she did not expect so.
"Nursing homes have put in place everything in relation to infection prevention and control," she said.
Ms Butler also said that visits to care facilities can take place outside the 5km travel limit under compassionate grounds.
---
Latest coronavirus stories
Grandmother in care home 'really needs to see family'
---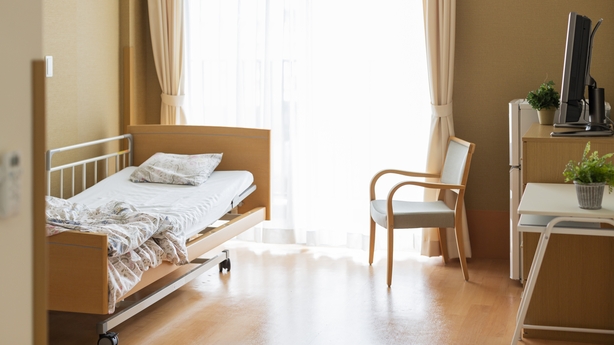 She acknowledged that the majority of residents would have had their last visit before Christmas and all visits were suspended in January and February.
Ms Butler said that vaccine take-up among nursing home residents was close to 99%, which she described as "absolutely fantastic".
She said that when the first rollout was complete, four nursing homes were unable to receive any vaccinations because the level of outbreak was "so high".
Those homes have now received their first vaccines, the minister said, and they now have "almost all the nursing homes done".
She said that 104 nursing homes are dealing with a Covid-19 outbreak.
In a statement, Minister for Health Stephen Donnelly said meaningful contact with family and friends is important at all times which is why these additional grounds will be facilitated.
"Compassionate grounds could be for example to see a family member or friend as prolonged absence is causing upset or for personal reasons, to make financial or other arrangements or to advocate on their behalf."
Nursing Homes Ireland said the easing of the restrictions will make a psychological difference to many residents.
The organisation represents private nursing home owners - which are the majority of settings - said it will give hope to the wider population that the vaccination programme is proving effective.
CEO Tadgh Daly said the guidelines mark an important step in resuming in-person visits to facilitate meaningful contact for residents and family.
Meanwhile, Tánaiste Leo Varadkar said it will be May "at the earliest" before personal services like hairdressers will reopen.
Speaking on Newstalk radio, Mr Varadkar said the restrictions the Government is considering easing from next month are limited.
He said the reopening of services is based on risks associated, so shops and personal services would be open before hospitality.
Mr Varadkar said while outdoor sports training could be eased in early April "there might have to be rules" around the level of contact.
"It is going to be a step by step slow reopening. We just don't want to move too fast and end up falling backwards."
Regarding requests for the numbers allowed to attend funerals to be increased, he said the Government is not going to ease any restrictions on this or anything else before 5 April.
The Tánaiste said to go down that road could create something called "anticipatory behaviour", which sends out the message that things are fine now and "we could end up on the wrong track again."