There is sustained and "perhaps even accelerated progress" in suppressing transmission of Covid-19, a briefing by the National Public Health Emergency Team has heard.
Professor Philip Nolan, chair of NPHET's Irish Epidemiological Modelling Advisory Group, made the comments after the Department of Health reported 437 new cases of Covid-19, taking the total to 223,651.
No further deaths were recorded today, meaning the toll remains at 4,422.
The figures show that 418 people with the coronavirus are being treated in hospital, 103 of whom are intensive care. There were 20 additional hospitalisations in the past 24 hours.
Of the cases notified today: 216 are men and 218 are women, 71% are under 45 years of age, and the median age is 34.
Dublin accounts for 184 of the cases, 31 are in Limerick, 26 in Donegal, 20 in Galway, and 18 in Offaly. The remaining 158 cases are spread across all other counties.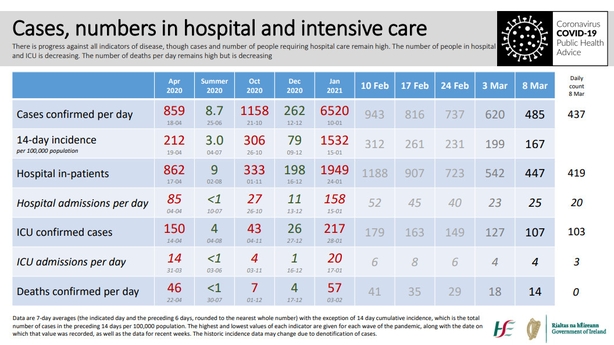 The Deputy Chief Medical Officer said that market research carried out for NPHET by Amárach shows compliance with the key public health measures remain very high.
The vast majority of those surveyed said they wash their hands regularly (93%), use hand sanitiser (95%), and social distancing while in a queue (93%).
Dr Ronan Glynn said: "While levels of anxiety (36%) and boredom (38%) are understandably high, it is encouraging to see that a sense of hope continues to rise across the population with 48% of people reporting that they feel the worst of the pandemic is behind us.
"This hope is justified in the context of the continued improvement in the key indicators of the disease and with the ongoing roll-out of the vaccination programme over the coming weeks.
"However, it is vital that this hope does not give way to complacency; across Europe countries are seeing a deteriorating picture and our own disease incidence remains high.
"We must do all we can to continue to suppress this virus and to ensure that as many people as possible get to benefit from vaccination over the coming months. Keep your guard up and hold firm."
Dr Cliona Murphy, chair of the Institute of Obstetricians and Gynaecologists, told the NPHET briefing there is "no evidence" that taking a Covid-19 vaccination affects a woman's future ability to conceive or continue a pregnancy.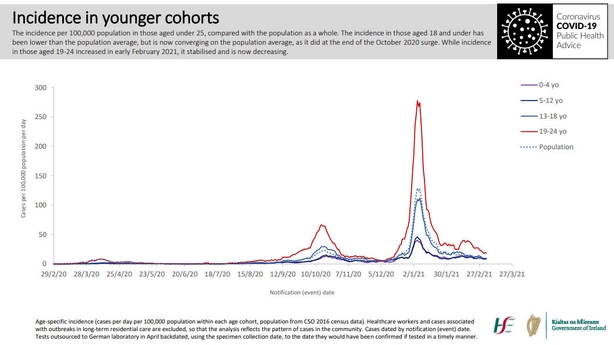 Prof Nolan said the average case counts have fallen by at least 100 week-on-week over the past four weeks.
He said there is sustained progress in suppressing transmission of the virus and "perhaps even accelerated progress in suppressing transmission".
Over the past ten days, the reproduction number has stabilised at around 0.7-0.8, or improved, he said, and this is reflected in all indicators of the disease.
Prof Nolan said officials are seeing a seven-day average case count of just under 500 cases a day.
He said this remains very high, but it is very significant progress when you compare it to a week ago, which was 620.
Prof Nolan said the 14-day incidence is under 170 and heading quickly towards 150.
Prof Philip Nolan says there has been "accelerated progress" in suppressing transmission of Covid-19. He says that over the last ten days, the R rate of the virus has stabilised at around 0.7 or 0.8 | https://t.co/MMJV6CUenV pic.twitter.com/3D5GVr5mpl

— RTÉ News (@rtenews) March 8, 2021
He said the average number of people in hospital with the virus over the last seven days was 447, with 25 admissions per day.
The average number in ICU over the past week was 107, with four admissions per day.
Prof Nolan said, on average, over the past seven days, there were 14 deaths per day confirmed, which he said was "high" but very much lower than what we have seen in recent weeks.
He said over the last few days, the number of people requiring mechanical ventilation has fallen quite rapidly, from 80-90 last week to 65 people this morning.
"This was a very positive sign of progress," Prof Nolan said.
Prof Philip Nolan says there has been a rapid reduction in Covid-19 case counts. He tells the briefing that the number of people requiring mechanical ventilation in ICU has fallen "quite rapidly" from 80-90 people last week to 65 this morning | https://t.co/MMJV6CUenV pic.twitter.com/GUTyQo4JL9

— RTÉ News (@rtenews) March 8, 2021
He said the transmission rate is reducing by 20% per week, or 3% a day and if this continues for the next two-three weeks, cases should reduce by 70-100 per week.
He said incidence of the disease continues to decrease in those age 65 and older so that now all of them are below the population average for cases.
Prof Nolan said the incidence among 19-24-year-olds had increased in mid-February, but has decreased week on week since then and is half what it was in mid-February.
He also said that over the past four weeks, there has been a weekly decrease in cases in those aged 18 and under.
He said depending on the cohort (based on 0-4 yrs/5-12 yrs/13-18 yrs), the incidence is decreasing between 7-18% per week.
Prof Nolan said that across all cohorts, there has been a 14% reduction per week in cases.
Prof Philip Nolan says that the incidence of the coronavirus is continuing to decrease across all age cohorts | https://t.co/MMJV6CUenV pic.twitter.com/YfH2DtgsVo

— RTÉ News (@rtenews) March 8, 2021
On compliance with public health guidelines, Prof Nolan said it was clear to him that over the past fortnight there has been extra attention to complying with the measures.
Dr Glynn said there needs to be as much improvement as possible through March in relation to Covid-19 case numbers and while Ireland is on a good path, the situation is precarious and the possibility of another wave cannot be ruled out.
He said: "The level of vaccine that we have in people in this country at present, that's simply not enough to avoid a deterioration or another wave, if we drop our guard at this point."
In relation to misinformation about vaccines, particularly online, Dr Glynn said a key point to note is the vast majority of people who have questions will turn to their GP and "that's appropriate".
Dr Lucy Jessop, director of the National Immunisation Office at the Health Service Executive, encouraged those seeking accurate information about vaccines to go to reputable websites.
On nursing home visits, Dr Glynn said that NPHET will examine the issue on Thursday and he is hopeful that over the coming weeks, "they'll start to be able to tell people what the bonus of vaccination is and what you can and can't do".
However, the Deputy CMO said this needs to be balanced, as not everyone will be vaccinated, vaccines are not 100% and we do not yet know everything about whether they can stop transmission.
He said there were 19 virus outbreaks reported in workplaces - a number of these in the midlands - and 30 outbreaks in the Traveller community, some of which have also occurred in the midlands.
---
---
Earlier, the Deputy CMO said a drift upwards of indicators of mobility across the population "is a cause for concern".
NPHET said the indicators of mobility are low and there was continued, slower yet constant progress against all disease indicators.
In his latest letter to the Minister for Health, sent last Thursday and published today, Dr Glynn said the situation in Ireland is improving, but remains finely balanced.
Meanwhile, this week sees the first Covid-19 vaccinations among medically vulnerable people aged between 16 and 69 who are at a very high risk of severe disease and death.
This will be the fourth cohort on the prioritisation list to get vaccinated.
It is estimated there could be up to 160,000 people aged between 16 and 69 who are deemed to be at a high risk from Covid-19 because of serious illness.
The Health Service Executive said that the first 10,000 patients from this group will get their first dose of vaccine later this week, beginning with people with neurological conditions in disability settings.
Also those aged over 85 who have yet to get their first dose, which is thought to be around 500 people, are due to get their jabs this week, along with other housebound patients.
A further 37,000 doses have been allocated for people aged 80-84 this week, from the overall target of more than 84,000 to be administered this week.
Latest official figures show that 513,322 doses of Covid-19 vaccine had been administered up to last Friday.
This comprised 363,601 first doses and 149,721 second doses.
Those who have received a second dose are regarded as fully vaccinated.
In Cohort 3, over 92,000 first doses have been administered, mainly to those aged 85 and over but also to some in the 80-84 group.