A five-year-old girl from Canada is cutting her hair to raise money for the Irish hospital that cared for her newborn cousin.
Lilliana Praznik, who lives in Toronto, has never met six-month-old Poppy Dolan in real life, but the two share a bond that stretches over 3,000 miles.
Poppy was born in Dublin in August and needed emergency treatment due to issues with her lungs. She has been at Children's Health Ireland (CHI) Crumlin ever since and has not been able to go home yet. 
To show her support for Poppy, Lilliana has set up a Just Giving page where she is raising money for the hospital through her sponsored haircut.
And when Lilliana cuts her hair live on Facebook on 14 March, she will donate her hair to Canadian charity, Angel Hair for Kids. It provides wigs and hair loss solutions to financially disadvantaged children in Canada.
Lilliana is keen to help children on both sides of the Atlantic, with the monetary donations going to help children in Ireland, and the hair itself helping children in Canada.
"I wanna help Poppy and other kids like Poppy," Lilliana said.
"I'm doing this for people who are sick, I want them to feel better." 
On cutting off her long hair, Lilliana added that she is "excited to help other kids that need hair". 
Back in Dublin, Poppy's mum Leanne Dolan said she is "so proud" of her niece Lilliana. 
"She's such a beautiful, brave little five-year-old girl," Leanne said. "It's just not something you'd imagine a little girl doing."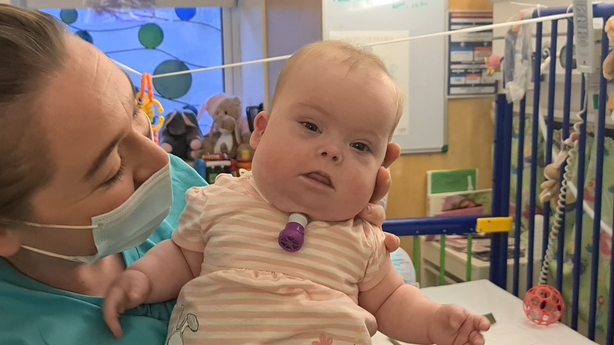 Lilliana and her parents, Kaitlin and Paul, visited Ireland last February. Leanne thinks this is where Poppy and Lilliana's bond began as Lilliana would "lay in bed with me and rub my bump and sing to my bump, she was just so excited to become a big cousin". 
Leanne said it has been very tough to not be able to introduce Poppy to any of their family members, in Ireland or Canada, due to Covid-19. 
She finds it particularly difficult to not be able to share the experiences of being a new mum, with her own mother in person. 
"It's been really, really hard, on both me and my mam, I actually have no words for that, that's been the worst of it all," Leanne said. 
"Video calling your mam for your mam to see her, weaning her, in the bath... It's just not how it was supposed to happen."