There have been no Covid-19 admissions to intensive care units in the last 24 hours, something that has not happened since December, according to the National Public Health Emergency Team. 
It follows confirmation of one further coronavirus-related death and 687 new cases. In a statement, NPHET said that the death occurred in January. 
It brings the total number of Covid-related deaths in Ireland to 4,319, while the number of confirmed cases now stands at 220,273.
There are currently 540 confirmed cases of the disease in hospitals, with 120 patients being treated in intensive care, a decrease of 13 since yesterday.
The Department of Health has been notified of one further death, and 687 new cases of Covid-19. The number of people in ICU is down 13 to 120. | https://t.co/2qtV57mgHP pic.twitter.com/dx8H23YXwo

— RTÉ News (@rtenews) March 1, 2021
Of the new cases announced today, 352 are male and 334 are female, with 71% under the age of 45, while the average age is 30 years old.
NPHET said that 240 of the new cases are in Dublin, 49 are in Limerick, 44 in Offaly, 40 in Galway, 36 in Louth and the remaining 278 cases are spread across 19 other counties.
The Chair of the NPHET Irish Epidemiological Modelling Advisory Group has said that case numbers are continuing to decline albeit slowly.
Speaking at a Department of Health briefing, Prof Philip Nolan said the overall test positivity rate and the number of admissions per day to hospital seem to be decreasing at this point.
He said they are seeing a decrease of 8-10% per week in terms of case counts and we are in the phase now that we were in at the beginning of December.
"The wave we've just had, that huge burden of disease is coming to an end, the impact on the hospitals is coming to an end," he said.
Prof Nolan said all that is telling us is that we have dealt with that problem.
"We need to keep going in terms of bringing the case numbers down further to give us options for the future," he said.
The 14-day incidence rate of the virus now stands at 209.2 per 100,000.
The counties with the highest incidence rate are Offaly (433.6), Longford (352.3) and Dublin (287.7). The counties with the lowest incidence rate of the virus are Kerry (53.5), Cork (67.4) and Kilkenny (79.6).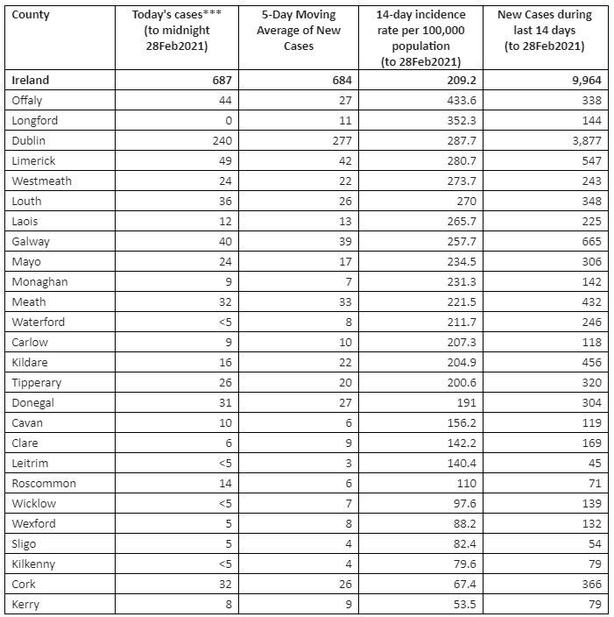 Prof Nolan said that the number of deaths per day have declined from on average 50 deaths per day a number of weeks back, compared to 26 per day.
He said the number of people in hospital is below 600 on average over the last week. The number of people in ICU continues to fall, he said, with the number of admissions falling from six last week to four this week.
Deputy Chief Medical Officer Dr Ronan Glynn said the protest that happened in Dublin at the weekend cannot be condoned, should not have happened and should not happen again.
"The silent majority in this country are fed up, they're annoyed, they do not want this pandemic to be going on a day longer than it has to", he said.
We need your consent to load this rte-player contentWe use rte-player to manage extra content that can set cookies on your device and collect data about your activity. Please review their details and accept them to load the content.Manage Preferences
"But they're sticking with it. We don't see what they're doing because they're doing it quietly in their houses and community. That's the message the majority need to hear and remember when they see the actions of a very small minority of people."
He said there will have been people in the crowd who were genuinely frustrated, and he would ask them to reflect on what the population has done and to look at what the country as a whole has done over the last year.
Dr Ronan Glynn says what happened at the weekend can't be condoned. The silent majority in this country are fed up and annoyed, but they are sticking with it. That's what people need to remember when they see the actions of a minority, he says. | https://t.co/2qtV57mgHP pic.twitter.com/8cMt1EN0Lo

— RTÉ News (@rtenews) March 1, 2021
Dr Glynn said there will be ups and downs over the coming weeks as schools reopen and public health teams have a difficult few weeks ahead, but we know that the school communities "all got behind this" in September and made it a success between then and December.
He said he was confident it could be a success again, but his biggest concern was not necessarily what happens in the schools, but that everyone "buys into the measures" beyond the school community.
Dr Glynn said parents should wear masks while dropping their children off at school.
It is not formally recommended that children under 13 should wear a mask, he said, but any child who wants to wear a mask should not be discouraged.
Dr Glynn said the topic of children wearing masks will be discussed by NPHET this week, although he is not necessarily anticipating a change.
Prof Nolan said it is not in any way inevitable that a return to in-class education would threaten a decrease in the number of cases, if it is handled correctly.
He said he does not see a particular impact on the transmission of the virus among children learning in school, versus children learning at home.
"One could imagine case numbers continuing to decline at the rate they are despite that intervention," Prof Nolan said.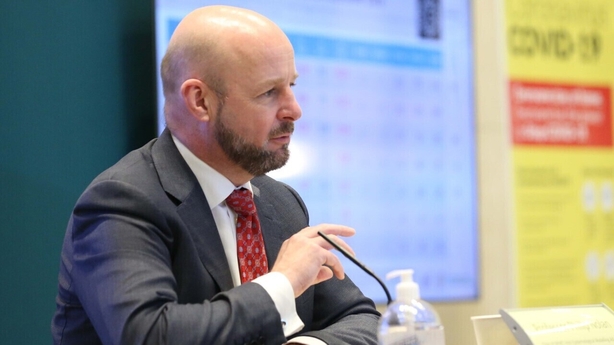 Dr Glynn said they would prefer to see closer to 200 or 400 Covid-19 cases, but the key point is that we are still making progress.
It is worth noting that we have had a prevalence of over 90% of a more transmissible variant in recent weeks, he said, and despite that we have actually made really significant progress.
Dr Glynn said there is "no question" that the B117 variant has played a "very significant role" in the disease here over the past six to eight weeks.
However, he said that there is no one factor that is contributing to case numbers hovering around 600-700 per day.
Dr Glynn told the briefing that they are seeing outbreaks and clusters in extended families, in workplaces and while people in many of those worklplaces have no choice but to go to work.
He said they have seen outbreaks linked to funerals, religious events also and it is really the broad spectrum.
There is no one factor responsible for the high case numbers at this point, says Dr Ronan Glynn. There are outbreaks in extended families, in workplaces, among third level populations, and there are new variants to contend with. | https://t.co/2qtV57mgHP pic.twitter.com/xRSnRbRYtB

— RTÉ News (@rtenews) March 1, 2021
Prof Nolan said that if we keep doing what we are doing, case numbers will decline.
Dr Glynn said that the issue of vaccine passports is "something that requires consideration" and it is under consideration.
He said he is not sure that it requires a conclusion in the next week or two, so they will engage with colleagues across Europe on it over the coming weeks.
The latest report on Covid-19 cases from the Health Protection Surveillance Centre shows that there were 1,403 cases in children aged 12 years and younger, in the two weeks to 27 February.
Of these, 28 were admitted to hospital, but none were in intensive care units.
There were 589 cases among those aged 0-4 years, with 814 cases in those aged 5-12, while there were 710 cases in the 13-18 age group.
According to the latest figures from the Health Service Executive 426,070 vaccine doses had been administered by last Friday.
Of these, 285,780 were first doses and 140,290 were second doses.
Meanwhile, Tánaiste Leo Varadkar has told his party colleagues that only a limited amount of restrictions are likely to be eased before May.
In Northern Ireland, two further coronavirus deaths have been recorded in the past 24-hours. It brings the official death toll to 2,057.
There were 138 new cases of the disease confirmed from tests on 960 individuals.
There are 302 confirmed coronavirus patients in hospital, with 34 in ICU, 29 of whom are on ventilators.
The NI Department of Health has said that as of 28 February, 558,597 Covid-19 vaccines have been administered. 525,400 were first doses and 33,197 were second doses.
Additional reporting Fergal Bowers, Vincent Kearney