At Scoil Mhuire in Carrick-on-Shannon, Co Leitrim, principal Caroline Healy is ready to welcome back pupils from junior infants to second class tomorrow morning.
"The children will assemble in their lines in the school yard and their teachers will escort them into the school building class by class," she told RTÉ's This Week.
"Parents of young children in infant classes must walk with their child to the school yard but they are not permitted to enter the building."
Ms Healy said parents know this from the first school term. She and her staff will not be allowing any groups of parents to linger and chat in the school yard or by the door.
"It's drop off and move on as quickly as possible," said Ms Healy.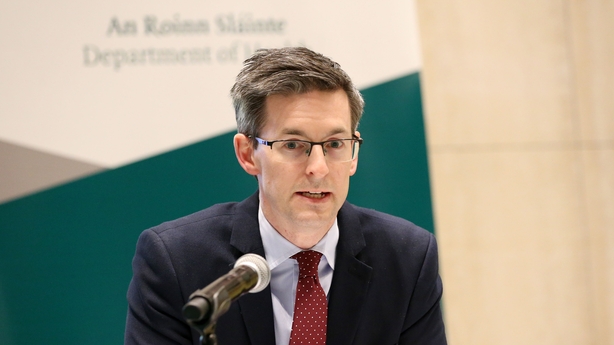 Deputy Chief Medical Officer Dr Ronan Glynn also appealed to parents not to congregate outside schools when dropping off children.
Inside, Caroline Healy said the procedure for students will be the same as it was from last September to December.
"Regular hand sanitising, ventilation with windows and doors in classrooms open, maybe a little more so now that spring weather is getting warmer, and staggered breaks."
Call for medical grade masks for all teachers
The INTO has called on the Department of Education to provide medical grade masks to all teachers. While these have been sanctioned for teachers coming into close contact with students, the INTO is encouraging schools to draw them down for all teachers.
Recent negotiations secured Covid -19 leave for teachers who are pregnant or those over 60 years old, a move that has been welcomed at school level.
"We have two teachers who will be taking that leave, because they are expecting a baby, and one teacher who is over 60. We are very happy that that is in place. It gives those teachers leave under Covid-19 high risk, rather than sick leave," said Caroline Healy.
INTO General Secretary John Boyle told the programme a recent survey of parents found that 15% felt their children had fallen behind during this lockdown.
During the month of March, he said, teachers would be working with groups of students to help them catch up.
Thirty-three days of school have been missed due to the third lockdown – one sixth of the school year.
The INTO has called for the return of special services in schools such as occupational therapy and speech and language therapy.
Mr Boyle said these have not been provided since March and he would like to see them back as early as tomorrow.
Ms Healy said the junior students had engaged surprisingly well with online platforms during the lockdown but that teachers were glad to return to in-person teaching. "Nothing compares with the live classes for infants," she said.
John Boyle said the INTO will be keeping a close eye on the weekly test and trace reports published by the Health Service Executive.
He said the next group of classes were due back on 15 March, subject to a close scrutiny of the trends this week and next.
Mr Boyle said the INTO will continue to push for the senior students at primary level to wear masks. And the union will also continue to push for rapid antigen tests to help mitigate the risk to teachers and students.