Director of the National Virus Reference Laboratory Dr Cillian de Gascun has said one case of the B1525 variant, which was first identified in December in the UK and Nigeria, has been confirmed in Ireland.
He said the reason they are potentially concerned about B1525 is because it possesses the E484K amino acid change, which has been associated with reduced response to neutralising antibodies.
It also possesses a deletion in the spike protein, which has been associated with increased transmissibility.
There are now 15 cases of the variant first identified in South Africa confirmed here, which Dr de Gascun said the majority were travel-related, with a couple of investigations still ongoing.
When asked about the variant first reported in California, he said that while he has not seen the data on that published or reviewed, based on what they are reporting it seems that it "does possess a couple of mutations that would be of concern".
He said they had not seen any of those lineages in Ireland to date.
The Department of Health was notified of 35 further deaths and 613 additional cases of Covid-19.
There has been a total of 4,271 Covid-19 related deaths and 217,478 confirmed cases.
Of the deaths notified today, 21 occurred in February, 12 in January, one in November, and one further death is under investigation.
The age range was 53-102 years and the median age was 85.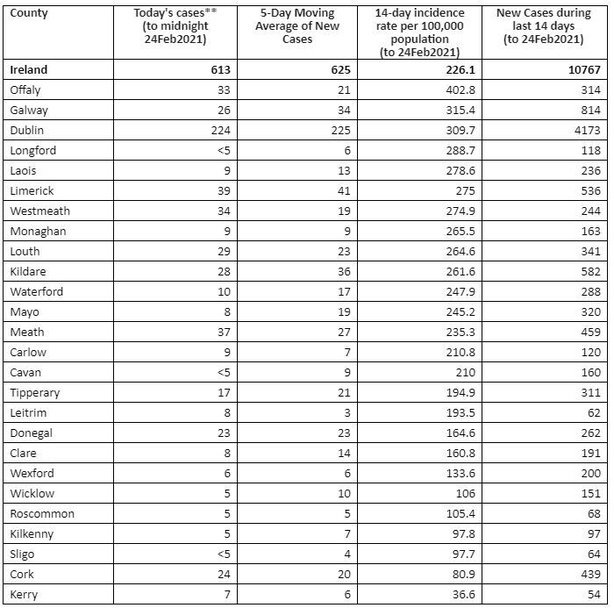 Of the latest cases notified, 308 are men and 304 are women with 66% of those under the age of 45.
The median age is 34 years old.
There were 585 Covid-19 patients being treated in hospital at 8pm and 140 in Intensive care.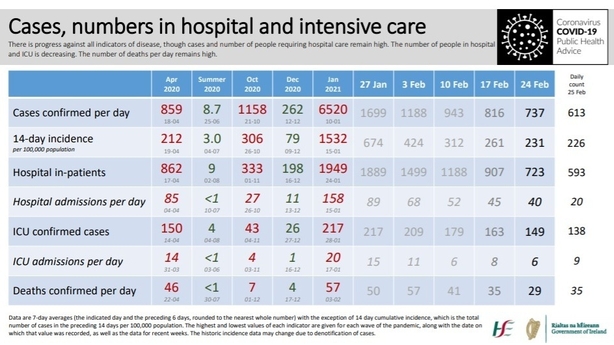 Chair of NPHET's Epidemiological Modelling Advisory Group Professor Philip Nolan said Ireland continues to make "really quite significant progress against all indications of disease".
Prof Nolan said: "Even though that progress is slower than it has been, the progress is still there."
He said NPHET is "beginning to see strong early evidence of a protective impact of vaccination" in the cohorts that are in the course of being vaccinated at present.
Prof Nolan said the seven day moving average "is about half as was four weeks ago".
"We're seeing continued improvement in all indicators.
"Less so in the case numbers where progress is more slow, but very significant progress in terms of severe disease and mortality," he said.
Prof Nolan said the last 14 days has seen a "plateau" in test positivity, and he said there may be "early signs of a renewed decrease in test positivity".
He said incidence across age groups continues to decrease across, almost all age groups.
The exception, he said, has been in 19 to 24-year-olds and a "persistence of disease in the over 85s".
Prof Nolan said there had been a lot of discussion about mobility and incidence in younger age groups and said they have not yet seen a sustained increase or increasing trend in the incidence in 19 to 24-year-olds.
"There is as yet no sense that we're seeing the kinds of increases of the disease in younger adults that we did see, for instance, back in late September, early October or as we came into Christmas," he said.
We need your consent to load this rte-player contentWe use rte-player to manage extra content that can set cookies on your device and collect data about your activity. Please review their details and accept them to load the content.Manage Preferences
---
---
Prof Nolan said there had been an increase in the number of close contacts, but that people should not be discouraged by this, as he said it was largely driven by a set of outbreaks that they know about.
He said it was going to happen as the total number of cases goes down and outbreaks appear bigger relative to the total number of cases.

Prof Nolan said that considering we have lower case numbers and outbreaks, they are seeing more uncertainty in their estimate of what growth rate is or reproduction number is, rather than being able to say there is any formal change.
He said the reproduction number last week was somewhere between 0.65 and 0.85. This week, it is between 0.6 and 0.9.
"In other words there's no evidence that it has increased, there's no evidence that the rate of decline in case numbers has further slowed," he said.
"It's just because of the emergence of outbreaks as the disease in the community recedes. There's more uncertainty in our estimate of reproduction number."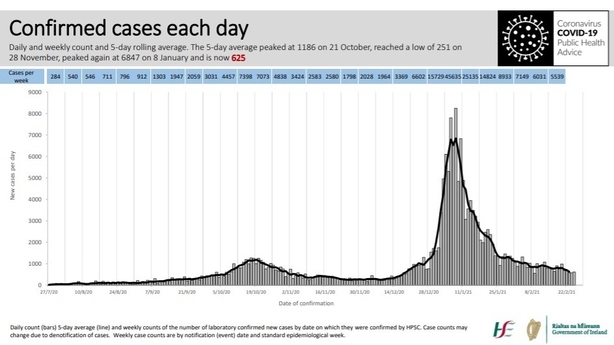 Prof Nolan said a "major contribution" to the fact that the R number has not really changed between last week and this week is that the B117 variant has gone from around 50% of our cases to around 90%.
He said they can see early but clear evidence of a protective effect of vaccination in long term residential care, mortality, and the apparent impact of vaccination on disease level in healthcare workers.
Professor Nolan said the vast majority of people continue to make an extraordinary effort to keep their close contacts at very low levels in order to prevent transmission of the virus.
He said that in association with that, there is very little difference that they can see in terms of transmission this week compared with last week or the week before.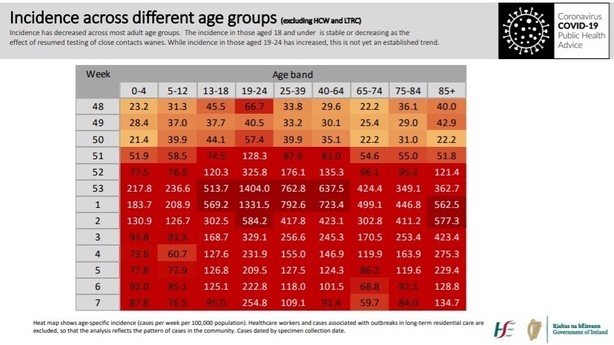 Deputy Chief Medical Officer Dr Ronan Glynn said good progress was being made and that many of the key indicators were continuing to fall.
He said this was what was enabling schools to reopen "in a cautious and phased basis". He said they want to give people hope and certainty but they do not want to give people false hope.
Dr Glynn said basically we have a new virus and need to see how things go over the coming weeks.
He said if we can suppress the disease over March, we can give people much more certainty, but he said people need to continue doing what they are doing.
Dr Glynn said Ireland is continuing to progress and it is now in the top ten in Europe.
In Northern Ireland, a further five coronavirus deaths have been recorded, four of them occurring during the past 24 hours.
It takes the official Department of Health toll to 2,048.
There are 281 new cases from tests on 1,963 individuals, which takes the cumulative number of positive tests to 111,932.
There are 341 confirmed coronavirus patients in hospital, with 44 in ICU, 32 of whom are on ventilators.
The average seven-day incidence rate per 100,000 for Northern Ireland is 97.5, the first time it has dropped below 100 since September.
The council area with the highest rate remains Mid Ulster on 142.4, while the lowest remains Fermanagh and Omagh on 41.1.
Meanwhile, the Minister for Transport has confirmed that the Government's track-and-trace system is now back up and running, after a fall in Covid-19 infections.
Speaking in the Dáil this morning, Eamon Ryan said there were 900 people working in that area.
He said there is still "reasonably widespread community transmission" and the new strain of the virus has caused difficulties for track-and-trace because it is so transmissible.
Minister Eamon Ryan says that non-essential travel has to stop. Speaking during Leaders Questions, he says gardaí are doing checks on homes where people without PCR tests are supposed to stay and are issuing fines | https://t.co/s1Lbqwazqd pic.twitter.com/Ywd9NGb5VU

— RTÉ News (@rtenews) February 25, 2021
Minister Ryan was responding to the Social Democrats co-leader, Catherine Murphy, who said there was a spike in numbers for 18 to 24 year olds.
---
---
Minister for Tourism, Sport, Arts, Culture and the Gaeltacht Catherine Martin has said she believes if efforts can be kept up for a few more weeks the Government will begin examining whether it is safe to begin easing restrictions on outdoor gatherings and some sporting activities.
Speaking on RTÉ's Today with Claire Byrne, she said she was "extremely conscious" of sectors under her remit who are "hurting so badly".
She said she felt there was an expectation that the new Covid plan 'The Path Ahead' would have timelines but, she said, the advice from the Chief Medical Officer and Deputy Chief Medical Officer is that that cannot be done because of the agility of the coronavirus.
The minister said the Government has to wait and see how the next few weeks "pan out" and then they will meet in late March to see what can or cannot happen.