The Executive Director of the World Health Organisation's Health Emergencies Programme has warned that after frontline workers and the most vulnerable are vaccinated, reopening society will need to be managed carefully.
Dr Mike Ryan who received Trócaire's Romero Award at an online ceremony today said if societies open up, the virus will spread again and it will cause massive disruption.
He called for prioritisation in relation to children returning to school, getting essential health services back on track and ensuring social and mental health services are available to people who are suffering.
On Ireland's approach to Covid-19, he said the Irish people had done well to crush the curve three times, which he noted had been done quite quickly on each occasion.
While he said Ireland allowed itself get into that situation, the country was probably more efficient than others at shutting down the transmission when it reached a certain level.
Dr Ryan said it had taken a huge commitment on behalf of Irish society to achieve that and he stressed the importance of people being focused on solutions to try to stop the spread of transmission.
"I've said this since the beginning, if you focus on cases, contacts and clusters, if you focus on restricting the movement of those who are sick or their contacts then you don't have to restrict the movement of all of society", he said.
He said strong public health measures now linked to vaccination can solidly control of this virus.
Trocaire's Romero Award is given annually to mark the start of the organisation's Lenten appeal campaign.
The Irishman has been at the forefront of managing acute risks to global health for nearly 25 years.
The Romero Award commemorates the work of the late Archbishop of San Salvador Oscar Romero, who fought against poverty and repression in his native El Salvador.
The honour highlights efforts to raise awareness of human rights violations and support for people who are experiencing poverty and injustice.
This year's award was given jointly to Dr Ryan and Dr Lilian Otiso at a webinar today.
Trócaire CEO Caoimhe de Barra said: "The last 12 months has been enormously difficult for everybody. Combatting Covid-19 has required a global and local response.
"We are delighted to award the Romero Award to Dr Mike Ryan for his global leadership and to LVCT Health for their vitally important work in protecting young women in Kenya.
"Dr Ryan has consistently highlighted the threat of Covid-19 in the developing world and the need for global solidarity in our response to the virus.
"This message is so important now at a time when the unequal distribution of vaccines threatens to derail the global effort to combat this virus."
Accepting the Romero Award, Dr Ryan said: "Covid-19 does not discriminate. We too cannot, must not, discriminate in our fight against this pandemic.
"Doing so will only work in the pandemic's favour. The last eight months have shown us that unity, not singularity, defeats pandemics."
Dr Otiso is the Executive Director of a Kenyan NGO founded in 2001 called Liverpool Voluntary Counselling and Testing (LVCT).
She oversees more than 200 staff implementing programmes on HIV prevention, testing, counselling, care and treatment.
The LVCT programmes also seek to tackle gender-based violence against adolescent girls and young women.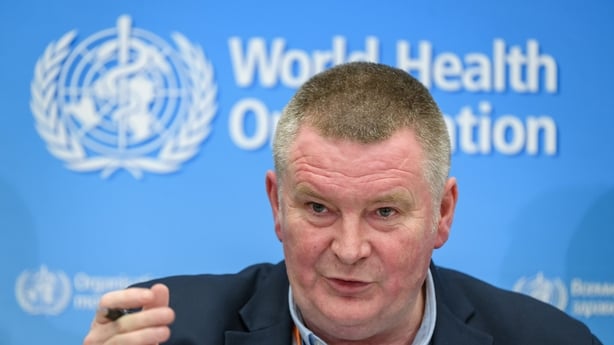 Trócaire works with over 400 local organisations worldwide to support communities facing threats.
The Trócaire Romero International Award recognises the outstanding work carried out by its partner organisations.
Dr Ryan came to global prominence in his current role as Executive Director of the WHO's Emergencies Programme.
His team has been responsible for the international readiness and response to Covid-19.
Despite the demands of his job in the past year, Dr Ryan has been generous with his time outside of the WHO.
He has spoken at webinars, accepted awards from NGOs and answered innumerable questions from journalists worldwide.
At a press conference organised by the Bar Council in Ireland last November - the first question put to him was whether he was a Mayo man or a Sligo man.
Ever the diplomat, Dr Ryan said he had allegiances to both counties, but played soccer for Sligo.
He trained as a doctor at NUI Galway before he specialised in public health and infectious diseases in the 1990s.
He joined the WHO in 1996 in a unit that focused on emerging diseases and epidemics.
During this time, he was deployed to a number of countries where he led responses to epidemics, before developing the Global Outbreak Alert and Response Network, which he became director of in 2005.
Dr Ryan joined the Global Polio Eradication Initiative in 2013 as a Senior Adviser, a role he held until 2017.
He was also deployed to west Africa in this period as Senior Advisor to the UN Mission for Ebola Emergency Response in West Africa.
In 2017, Dr Ryan was appointed as Deputy Director-General to the WHO Health Emergencies Programme and in 2019 as its Executive Director.
It was in this role that he came to public attention throughout the ongoing pandemic.
---