The Department of Health has been notified of 66 further coronavirus related deaths, with 1,078 new confirmed cases.
It brings the overall number of deaths to 3,931, while the total number of confirmed cases now stands at 208,796.
The department said that 41 of the deaths occurred this month, eight occurred in January, seven in December, nine in November and one further death is still under investigation.
The median age of those who died was 84 years and the age range was 39-98 years.
The number of people in ICU is down two to 171, with 898 Covid-19 patients being treated in hospital.
Of the cases notified today, 523 are men and 549 are women, with 70% are under 45 years of age. The median age is 32 years old.
A regional breakdown of the cases shows that 433 cases are in Dublin, 139 in Galway, 52 in Limerick, 49 in Wexford and 43 in Mayo. The remaining 362 cases are spread across all other counties.
The 14-day incidence rate is 286.8 which is down from 1,530.2 this day four weeks ago.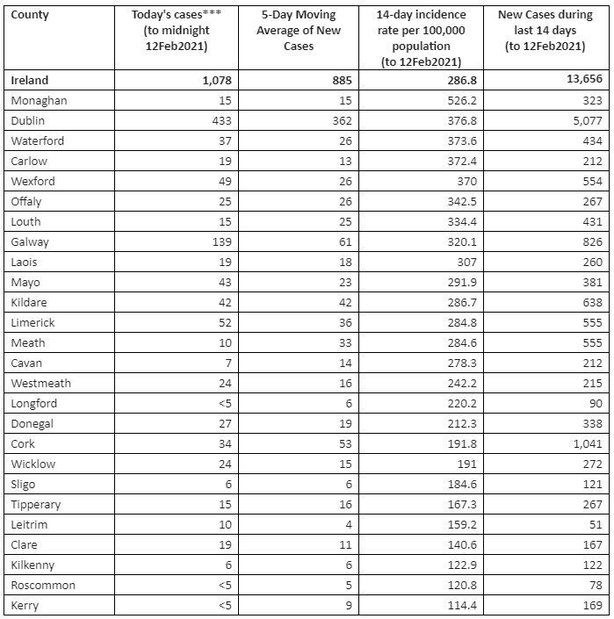 Deputy Chief Medical Officer Dr Ronan Glynn said: "If you have any symptoms suggestive of Covid-19, such as cough, fever, shortness of breath or a change in your sense of smell or taste, self-isolate (stay in your room) immediately and phone your GP without delay.
"If you are in any doubt about any symptoms you have, you should always contact your GP.
"Your test and GP assessment will be free of charge. This includes GP out of hours services, contact details for which are on the HSE website www.hse.ie. If you don't have a GP, any GP can arrange a test for you.
"The best way to protect ourselves and our vulnerable loved ones from serious illness as a result of Covid-19 infection is to continue taking the actions we know can effectively suppress this virus.
"Keep physical distance from others, wash hands regularly, avoid crowds and wear face coverings that are fitted correctly," said Dr Glynn.
The latest vaccination figures show that as of Wednesday 10 February, 256,681 doses had been administered in Ireland.
Ten further deaths from Covid-19 in Northern Ireland
A further ten coronavirus-related deaths have been recorded in Northern Ireland, eight of them occurring during the past 24 hours. It takes the official toll there to 1,985.
There have also been 303 new Covid-19 cases from tests on 1,883 individuals.
There are 470 confirmed Covid-19 patients in hospital, with 59 in ICU, 52 of whom are on ventilators.
The average seven-day infection rate per 100,000 for Northern Ireland is 120.7, the lowest since 1 October.
The council area with the highest rate remains Mid Ulster on 225.1 while the lowest remains Fermanagh and Omagh on 47.1.
The department said that 166,863 people have received their first dose and 89,818 people have received their second dose.
All GPs and practice nurses set to receive vaccine
The HSE has said almost all GPs and practice nurses will have received at least their first dose of a Covid-19 vaccine by the end of this weekend.
Almost 5,000 doses of the Moderna and AstraZeneca vaccines are being administered at vaccination centres around the country today and tomorrow.
The HSE said 1,800 of the doctors and nurses are getting their second jab of the Moderna vaccine in Dublin, Portlaoise and Galway.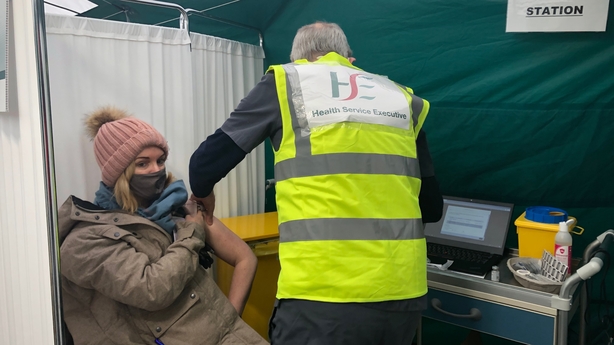 Speaking at a vaccination centre on the grounds of St Mary's Hospital in Dublin's Phoenix Park, the HSE Chief Clinical Officer said it is hoped the programme of giving a first dose will be completed for the vast majority of GPs and practice nurses this weekend.
Dr Colm Henry said: "Completing the programme for GPs and practice nurses will allow them in turn to vaccinate the over-70s."
He said the focus of the weekend is to "vaccinate the vaccinators" and he said "certainly our hope is to complete that exercise with GPs and practice nurses this weekend."
But he said some general practice staff may not be inoculated within that time frame.
"As with any other exercise, there will be reasons why some people could not have been vaccinated."
Dr Henry said: "We will pick them up as we go along. As we say, nobody will be left behind."
He said the roll-out for that priority cohort will begin next week with the over-85 age group.
"In order to vaccinate the over-70s, we need to ensure GPs and practice nurses themselves are vaccinated," Dr Henry said.
The doctors and nurses receiving their second Moderna dose will be fully vaccinated against the coronavirus seven days from today.
The vaccination centre in the Phoenix Park is being operated by the National Ambulance Service.
North Leinster Region Chief Ambulance Officer Richard Quinlan said "everybody was really happy and delighted they were getting the second vaccine".
He said around 800 GPs and practice nurses were administered their second jab today at the St Mary's Hospital site.
A further 500 GP staff were getting their second Moderna dose in Portlaoise and a similar number in Galway.
---
---
Dr Ray Walley, a Dublin GP and adviser to the HSE, said "there is a definite joie de vivre" in the vaccination centre.
He is among the doctors and advanced paramedics who have been administering the vaccines at St Mary's Hospital.
"Everybody is happy, everybody is basically very positive."
Dr Walley said the people getting vaccinated this weekend are frontline healthcare workers and "it ensures their safety".
He said it will allow general practices to "concentrate on the vaccine rollout in the next few weeks and months".
People who have been fully vaccinated will still be advised to adhere to the public health guidelines.
Dr Walley said: "We have got to practice the same safety profile, which is wear a mask, wash your hands and keep a distance."
He said the vaccine gives an "extra sense of security but it still doesn't take us away from the fact that we have a pandemic with serious numbers in hospital, with people unfortunately dying and we need to maintain vigilance in regard to that".
Starting on Monday, 12,000 doses of the Pfizer/BioNTech vaccine for the over-85s will be delivered to 108 large GP practices around the country.
Later in the week, 8,400 doses of the Moderna vaccine will be also delivered to GP practices, ahead of another 42,000 doses of the Pfizer/BioNTech vaccine during each of the following two weeks.
The aim is that all over-85s will receive their first vaccine dose within two to three weeks and that vaccination of 80 to 84-year-olds will already be under way.
7,079 first Covid-19 vaccination doses were administered on Wednesday and also 47 second doses were given to patients, the latest HSE Vaccination Graph published today shows. pic.twitter.com/MshtuGy2v0

— Fergal Bowers (@FergalBowers) February 13, 2021
Ireland is still on course to receive at least 1.1 million doses of the various Covid-19 vaccines by the end of March.
In all, 79,500 doses of various vaccines are to be administered next week, substantially more than in any week in the roll-out campaign to date.
Apart from the 12,000 doses earmarked for the over-85s next week, 42,500 doses will go to residents and staff at nursing homes, and 25,000 doses to other healthcare workers.
Some further welcome news for many patients & families. The number of hospitalised #COVID19 patients has reduced to 898 & 169 in ICU. Both numbers are still higher than our peak last April but we get a good sense that we're on the right side of the curve now. @HSELive

— Paul Reid (@paulreiddublin) February 13, 2021