More than 21,000 doses of the AstraZeneca vaccine have arrived in Ireland as preparations for a wider rollout have been finalised.
The Health Service Executive said a similar-sized batch will most likely be delivered next weekend.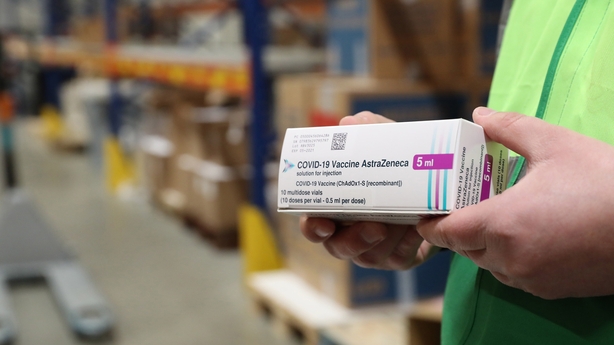 Minister for Health Stephen Donnelly tweeted a video of the vaccines arriving this afternoon.
?? Big day. The @HSELive has just sent me this video of the first 21600 doses of AstraZeneca arriving this afternoon from Belgium to the national cold chain store in Dublin. First doses to be given to healthcare workers on Monday. ?? well done to all pic.twitter.com/b6KsgljCFG

— Stephen Donnelly (@DonnellyStephen) February 6, 2021
Last night, the HSE agreed a programme with the Irish Medical Organisation for the administration of two other vaccines for the over 70s.
Under that plan, from Monday week the vast majority of the almost half a million people aged over 70 will be able to get the Pfizer and Moderna Covid-19 vaccine directly from their GP.
The vaccines will have to be used up within five days of leaving the deep freeze vaccine storage facility in Dublin where they will be kept.
The deliveries will start with the GP practices that have the largest number of over 85-year-olds, working down through the smaller practices over the following weeks, before continuing onto the next age groups.
The top 70% of the almost 1,400 GP practices in Ireland have more than 200 over 70s on the books and so between them cover the vast majority of the group within the population.
These practices have been deemed to be large enough to be able to cope with the logistical challenges associated with directly receiving and administering the highly delicate Covid-19 vaccines manufactured by Pfizer and Moderna.
It means that 80-90% of the over 70s will now be able to go directly to their own GP surgeries for vaccination.
Two alternative arrangements are in place for vaccinations by GPs with less than 200 over 70s on their books.
One will see the creation of centralised GP-run vaccination clinics in large urban areas. The first of these will be at the Helix Theatre at DCU in Dublin where 121 smaller GP practices will come together to administer the vaccines to their own patients.
The other will see a small number of practices outside of Dublin, Cork and Galway teaming up with a large GP practice in their own region from where vaccination will be delivered by the patients' own GP team.
We need your consent to load this rte-player contentWe use rte-player to manage extra content that can set cookies on your device and collect data about your activity. Please review their details and accept them to load the content.Manage Preferences
---
---
Phase one of the roll-out will target 72,000 over 85-year-olds from 15 February.
The first 66,000 of them will be vaccinated at their own GP surgery.
About 2,000 are patients at smaller practices in Dublin and so will be asked to attend the DCU Hub for vaccination.
The remaining 4,000 over 85-year-olds will be required by their GP to go to a neighbouring practice location or to a centralised hub in the large urban areas outside Dublin.
It is hoped that all over 85s will have received their first dose of vaccine within three weeks of 15 February.
Speaking on RTÉ's Saturday with Katie Hannon, Chair of the IMO GP Committee Dr Denis McCauley said he is confident the plan will work.
He said they have come up with solutions so that the vast majority of those over 70 will be contacted by their GP practice to come in when the doctor has the vaccine.
He explained that a small group of GP practices, around 30%, represent a small number of patients aged over 70 and because of their size getting the vaccine in the premises is not possible.
Outlining the alternatives, he said that in a rural setting a GP practice with a small number of patients aged over 70 will be asked to contact a practice close to them and have an arrangement made that they will give the vaccines together at that other practice.
While in smaller practices in urban areas, the over 70 patients will be asked to go to a designated building where they will meet their GP to have their vaccine there.
Dr McCauley said unfortunately for those who are housebound, and considered vulnerable with health or medical issues, the vaccines currently available to the over 70s will not be suitable for these people.
He said they will vaccinate this group of vulnerable people as soon as they have a vaccine that is deemed suitable for them.
When asked if that might be the AstraZeneca vaccine he replied that it remains to be seen, describing how the findings on this particular vaccine are ever-changing.
"AstraZeneca was in the doghouse last week and in the penthouse this week," he said.
For those who are over 70 and do not have a GP his advice is to ring the HSE helpline and he said there is a pathway by which you can get registered.
He explained that all GPs will be advised on the rollout of this plan on a webinar this coming Tuesday.
Speaking about the IT system for this vaccination programme, he said GPs will be able to use their own database and that will connect up with the HSE's so they will get the up-to-date data.
Call over vaccine targets and timeframes
Sinn Féin TD David Cullinane called on the Government and HSE to give "new targets and timeframes" on the vaccine programme.
Also speaking on Saturday with Katie Hannon, he said people want "clarity" and "maximum transparency".
He also expressed concern for people who have had life-saving operations postponed.
He said it is a cohort of people that have been "overlooked" within the vaccination groups and he contacted the HSE's Chief Clinical Officer Colm Henry regarding this.
Co-leader of the Social Democrats Catherine Murphy said the UK made a provision for people within those categories and at an early point she wrote to the HSE about this, highlighting the situation for those with advanced cancer, CF or transplant patients.
Minister of State at the Department of Finance Seán Fleming said early on there was a clear line on the vaccination priority list but now "we are picking up" situations that were not foreseen two months ago.
He said, for example, people who are requiring urgent surgery and those with blood disorders are not on a list.
While he said he is not asking for the lists to be fully changed, he has been in contact with the Department of Health and it said it is all dependent on supply.
"With the limited supply we have, everybody accepts the most vulnerable people have to get it first."
Deputy Cullinane said the focus also needs to be on the roll-out further down the line, including clarifying what the definition of key workers is.
He said key workers has not yet been defined and added he tabled a number of questions on this to the Minister recently and got multiple different answers.
He said he was told childcare workers were in this category and then this was followed up three days later with an email to say they were not. He said it was the same for carers and special needs assistants.
Meanwhile testing, which remains a core part of curbing the spread of the virus, is being ramped up in Cork from today.
Cork Airport is now providing antigen tests for truck and lorry drivers who require proof they are infection-free to travel to continental Europe.
The move comes after a significant increase in traffic at Cork port post-Brexit.
In Dublin, all 850 firefighter/paramedics with Dublin Fire Brigade are to receive their vaccinations next week.
There was controversy when supply problems caused the cancellation of vaccination appointments after one quarter of staff received their initial doses.
However, Labour Councillor Alison Gilliland said the remainder will receive vaccinations between Wednesday and Friday of next week.