The Air Corps has described its first aeromedical transfer of an ICU patient with Covid-19 as a "significant milestone".
The patient was moved by helicopter from a hospital in the southwest to Dublin at the weekend.
The Air Corps says it was tasked by the HSE to move the patient because of "hospital capacity issues".
A critical care retrieval team from the Mobile Intensive Care Ambulance Service (MICAS) joined two Air Corps pilots and a medically trained crewman on the flight.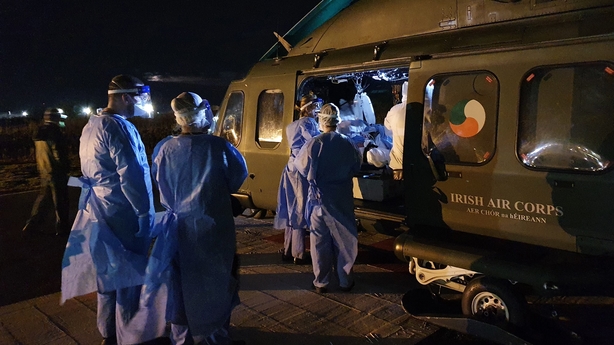 Commandant Stephen Byrne said: "It was an airborne ICU. On the night we transported a critical care doctor and a critical care paramedic from the National Ambulance Service. They departed with us from Baldonnel to the hospital in the southwest to receive the patient. Then they cared for that patient in the air on the journey back to Baldonnel and then during a road transfer to a hospital in Dublin.
"This was the first time we had operated with a team from MICAS and with a Covid-19 patient. It was actually forecasted several weeks ago, so we would have trained for this scenario and carried out all necessary risk assessments."
Last month the Clinical Director of MICAS, Dr David Menzies, said some Covid-19 patients were being transported "hundreds of kilometres" by road due to ICU capacity issues.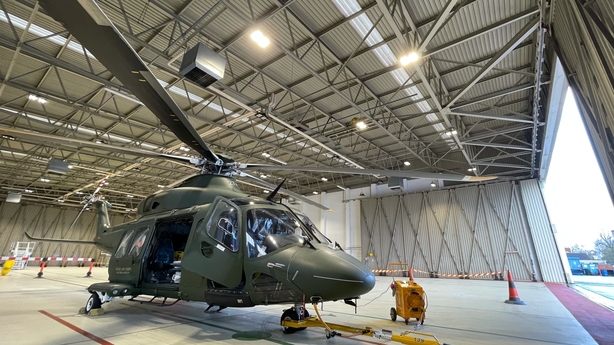 The round trip on the Air Corps mission took less than two hours, although Cmdt Byrne admitted there were challenges.
"It's a relatively tight space in the cabin and at altitude it can become noisy, with a lot of vibrations. So it is a significant challenge. That said, a level of care comparable to a hospital ICU is maintained for the duration of the flight."
The Defence Forces is continuing to provide other supports to the health service, including assisting in contact-tracing and swabbing.
Air Corps crews have also made a number of flights to Germany to deliver Covid-19 swab samples for laboratory testing.