A doctor is illustrating the pandemic through cartoons, drawing inspiration for his artwork from what he witnesses on the frontline of Covid-19.
Dubliner Eoin Kelleher is a trainee anaesthesiologist working at Children's Health Ireland at Temple Street, and until recently at University Hospital Limerick.
For the past six years, his cartoons about healthcare-related topics have been published in The Medical Independent.
Eoin, who also has a Masters in Epidemiology, says the topic for his cartoons this past year has focused on "the only thing that has been going on in the world since last March".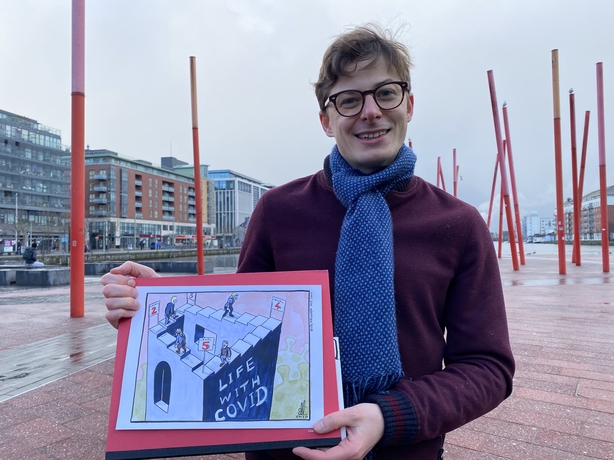 "Because you are working in a hospital and specifically working in anaesthesia and ICU you're being surrounded by Covid all the time, and talking about Covid and thinking about Covid, so inevitably I had to draw about Covid as well," explained Eoin.
"You want to draw about something that is really current and similarly I also want to keep it Ireland-focused with things that were happening in Ireland in relation to the pandemic rather than necessarily just the big global picture," he added.
While Eoin's cartoons are aimed at other healthcare workers, he also captures moments and feelings that many will relate to.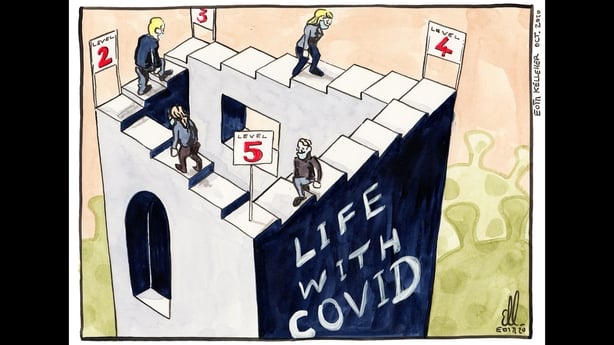 "It's based on Escher's staircase, the staircase that never ends and that's what it feels like at the moment that we are just walking around in circles."
---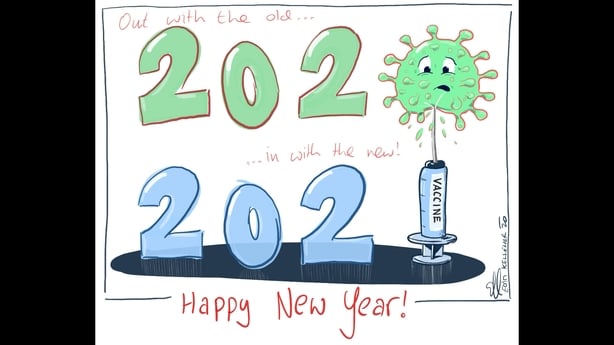 "What I was trying to capture with the New Year was that 2020 was pretty bad for most people. But as we are going into the New Year, there was and there still is, a kind of light at the end of the tunnel. So while 2020 might be the year of the coronavirus, 2021 will certainly be the year of the vaccine."  
---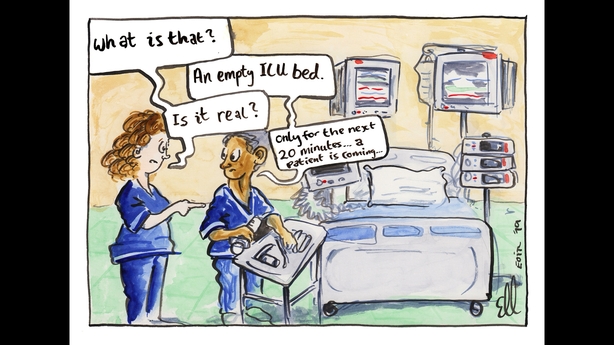 "I was trying to capture, I suppose, most people working in ICUs haven't seen an available empty bed for a long time and as soon as one becomes free it's been immediately booked in by someone else." 
---
With his series of pandemic-related cartoons Eoin is hoping to "capture a moment in healthcare in Ireland".
"I'd say in ten years' time we will all be discussing coronavirus in kind of a different way than we are now.
"And even now I am thinking about coronavirus in a different way than I was a year ago. And I think that is what I wanted, just that they might capture a moment in time," he explained.